BNY Mellon Employees Recognized as FT & HERoes Champions of Women in Business
WEBWIRE
–
Friday, September 21, 2018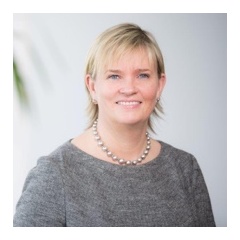 Carol Andrews
Five BNY Mellon employees have been recognized for their contributions to gender diversity in the Financial Times (FT) & HERoes Champions of Women in Business 2018 lists:
Susan Revell, Deputy Chair and General Counsel EMEA
Carol Andrews, Managing Director and Global Head of Service Directors, Client Experience, Asset Servicing
Dan Kramer, Chief Client Experience Officer, Asset Servicing
Tom Casteleyn, Managing Director and Global Head of Custody Product Management
Lucinda Wakefield, Head of Diversity & Inclusion EMEA
Hani Kablawi, Chairman of EMEA and CEO of Global Asset Servicing, said, "We all know that diverse perspectives in the workplace are good for business, lead to better decisions, challenge group mentality and improve overall financial performance. This in turn competitively differentiates us with our clients."
He added, "It's wonderful to see our people being recognized in this way, for their commitment to gender equality and the contributions they're making to our business and the wider community."
Yau Ching Cheng, Global Head of Diversity and Inclusion, commented, "These executives embody inclusive leadership, inspiring and influencing the achievement of gender equality and supporting the development and advancement of women at BNY Mellon. Dan, Susan, Carol, Tom and Lucinda understand that looking at issues from different perspectives and experiences leads to better solutions and outcomes, and they're helping us leverage our diversity to fuel innovation, engagement and performance."
FT & HERoes
Following the first-ever FT and HERoes Champions of Women in Business in 2017, the Financial Times and HERoes are once again celebrating female and male leaders who are committed to driving the female talent pipeline. Revell and Andrews are named as top 100 Female Executives, Kramer and Casteleyn are featured in the 50 Male Executives category and Wakefield is a top 50 Female Future Leader. This isn't the first time BNY Mellon has been recognized: last year Jean Wynn, Carol Andrews and Michael Cole-Fontayn were recognized in the inaugural awards.
Top 100 Female Executives
Susan Revell and Carol Andrews are both in the top 100 Female Executives list which comprises senior female role models who are helping to increase gender diversity in the workplace. 
Revell is the most senior female representative in EMEA, and supports the advancement of female leaders through mentorship at the 30% Club – a UK campaign with a goal of achieving a minimum of 30% women on FTSE 100 boards. She was integral to BNY Mellon signing the UK Women in Finance Charter in 2016. Revell is also Executive Sponsor for the Women's Initiative Network (WIN)EMEA, an internal employee group that has 760 members across 20 locations, and is also global sponsor for the legal team's global diversity and inclusion agenda.
This is the second FT & HERoes accolade for Carol Andrews who serves on the leadership committee for BNY Mellon's Women's Initiative Network and is country lead for the Ireland chapter of the 30% Club. Andrews uses her position of influence at BNY Mellon to further WIN's mission of advancing female potential, particularly at senior levels, and acts as a proactive ambassador for gender parity. She is one of the co-founders of the 30% Club in Ireland which is supported by the leaders of over 200 Irish businesses who believe in the value of better gender balance and that business leaders should drive change through voluntary actions. 
Top 50 Male Executives
Dan Kramer and Tom Casteleyn have been recognized in the Male Executives category, which honors male senior leaders who are making significant contributions to gender diversity and the promotion of women to senior business roles.
Kramer has been a member of the executive committee for WIN since 2016 and uses his position to actively shape the company's diversity agenda, particularly as it relates to women in the workplace. In 2017, Kramer recognized the benefit in formally encouraging men to engage with the gender debate by more visibly supporting women through mentorship and career advancement opportunities. He established the BNY Mellon Male Allies program, providing an opportunity for men and women to work together to foster a culture that provides equal opportunities for all to advance to their full potential. He also speaks publically on diversity issues and regularly appears on external panels and at conferences to advocate the benefits of greater gender equality in the workplace.
Tom Casteleyn has been at the forefront of BNY Mellon's efforts to drive gender parity in EMEA, using his influence to garner the support of fellow leaders and male colleagues. Casteleyn acts as regional co-chair for WIN and has proactively championed the gender debate across digital platforms, through participation in panel events and through the production of information resources. Like Kramer, Casteleyn is also a global champion of the Male Allies program and regularly participates in external events to share best practice around gender equality activities he has led in the workplace.
Top 10 Future Leader Role Models
Lucinda Wakefield, Head of Diversity & Inclusion EMEA, has made it into the top ten of the 50 Female Future Leaders list as a future leader role model. She joined BNY Mellon as a personal assistant in 2011 and has since progressed to become a Vice President in the EMEA Regional Management team. Wakefield has led WIN EMEA for the last three years and has helped drive its membership, which has seen 20 percent growth. She also collaborates with external companies, most recently Oliver Wyman and Women Ahead as part of a working group on the inaugural Mission Include Cross Company Mentoring Program which incorporates the inclusion of all diversity strands.
( Press Release Image: https://photos.webwire.com/prmedia/6/229061/229061-1.jpg )
Related Links
WebWireID229061

This news content was configured by WebWire editorial staff. Linking is permitted.
News Release Distribution and Press Release Distribution Services Provided by WebWire.