'BNP Paribas Young Talent Team': first ten young tennis players announced
WEBWIRE
–
Tuesday, September 18, 2018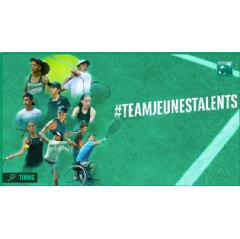 ON the occasion of the French Open tennis tournament at Roland Garros, BNP Paribas launched, in conjunction with the French Tennis Federation, the 'BNP Paribas Young Talent Team'
Now the 'BNP Paribas Young Talent Team' Selection Committee has made its choice of the first ten young players who will join the team to be mentored by Jo-Wilfried Tsonga
The purpose of this initiative is to give the most deserving young French tennis players an optimal chance of reaching the highest level of competition in their chosen sport.
These young players have been selected on the basis of both sports criteria (results and future potential) and more general criteria, including attitude, team-involvement and academic results, by a Selection Committee composed of:
Jo-Wilfried Tsonga, Mentor of the 'BNP Paribas Young Talent Team'
Thierry Champion, High-Level Director of the French Tennis Federation
Thierry Ascione, former player, now a leading coach
Emilie Loit, former player who attained a world ranking of 27 in 2004
Vincent-Baptiste Closon, Global Head of Tennis Sponsorship at the BNP Paribas Group
The 'BNP Paribas Young Talent Team' members will receive two kinds of support:
Financial assistance to be able to train and play the sport
Personal assistance in preparing for the high demands of the professional tennis world, including image management, training in the English language, advanced seminars in the history of the game, etc.
The Selection Committee will ensure regular follow-up with the young players throughout the tennis season. The players will also be able to draw benefit from the BNP Paribas Group's involvement in local communities. Group staff will call on their professional contacts all over France to help with the educational side of the programme.
The 'BNP Paribas Young Talent Team' programme will be backed by an operating budget of €1 million over the first three years, the aim being to prepare promising young players for the demands of top international competition. With this financial envelope, BNP Paribas is complementing the support provided by the French Tennis Federation to young French hopefuls between the ages of 12 and 18.   Each player will receive support for one year, renewable each year until s/he reaches the age of 18.
The first ten programme participants have now been selected. Eventually the 'BNP Paribas Young Talent Team' will be made up of 20 players – ten boys and ten girls – two of whom will be Wheelchair Tennis players.
About BNP Paribas and tennis
BNP Paribas is today the number one partner to tennis worldwide, with a commitment, unrivalled in sport, which goes back all the way to 1973. The Group's support covers all levels and dimensions of the game all over the world, including singles, doubles, team tennis, wheelchair tennis and family tennis, ranging from beginners' training to the top professional tournaments.
Professional Tennis: Official sponsor of the French Open at Roland Garros; title sponsor of the Davis Cup by BNP Paribas and the Fed Cup by BNP Paribas; title sponsor of three ATP Masters 1000 tournaments – the BNP Paribas Open at Indian Wells, the Monte Carlo Rolex Masters, the Internazionali BNL d'Italia (Italian Open) in Rome; title sponsor of the BNP Paribas WTA Finals in Singapore; the Open 13 (Marseille), the Moselle Open, the BGL BNP Paribas Luxembourg Open and the Fever-Tree Championships (Queen's Club, London)
Exhibition Tennis: The BNP Paribas Showdown in New York City
Wheelchair Tennis: BNP Paribas Open de France; BNP Paribas World Team Cup
Junior & University Tennis and Academies: The Junior Davis Cup by BNP Paribas and Junior Fed Cup by BNP Paribas; the Master'U BNP Paribas; the BNP Paribas Cup; the BNP Paribas National Tennis Academy of Dublin (Ireland)
Amateur Tennis: Sponsor of the BNP Paribas Family Trophy; providing support to over 1,000 amateur tournaments around the world through partnerships with more than 20 national tennis federations; also working with dozens of tennis-based charities such as Yannick Noah's charity organisation 'Fête le mur'; as well as being the mainspring of a number of ground-breaking social projects linked to tennis.
Having entered into all these partnerships, BNP Paribas set up in 2011 a programme called We Are Tennis, whose purpose is to promote interest in the game of tennis all over the world. The wearetennis.com website and its social network accounts bring together a community of tennis lovers and dedicated fans from all continents who are keen to obtain the latest news from the ATP, WTA and ITF circuits. In addition, in 2015 BNP Paribas created the We Are Tennis Fan Academy, which enables fans to express their passion for tennis as never before. BNP Paribas also supports local tennis through crowdfunding campaigns designed to finance projects. Also in 2015, the Group initiated a charity programme called 'Aces of the Heart' to assist young hospital in-patients and their families. The programme seeks to improve the daily lives and reception facilities at children's hospitals and arranges for the children to attend tennis tournaments sponsored by BNP Paribas.
About BNP Paribas
BNP Paribas is a leading bank in Europe with an international reach. It has a presence in 73 countries, with more than 196,000 employees, including around 149,000 in Europe. The Group has key positions in its three main activities: Domestic Markets and International Financial Services (whose retail-banking networks and financial services are covered by Retail Banking & Services) and Corporate & Institutional Banking, which serves two client franchises: corporate clients and institutional investors. The Group helps all its clients (individuals, community associations, entrepreneurs, SMEs, corporates and institutional clients) to realise their projects through solutions spanning financing, investment, savings and protection insurance. In Europe, the Group has four domestic markets (Belgium, France, Italy and Luxembourg) and BNP Paribas Personal Finance is the European leader in consumer lending. BNP Paribas is rolling out its integrated retail-banking model in Mediterranean countries, in Turkey, in Eastern Europe and a large network in the western part of the United States. In its Corporate & Institutional Banking and International Financial Services activities, BNP Paribas also enjoys top positions in Europe, a strong presence in the Americas as well as a solid and fast-growing business in Asia-Pacific.
About the FFT
The French Tennis Federation (FFT), headed by President Bernard Giudicelli since February 2017, is a recognised public service (not-for-profit) organisation governed by the French Act of 1901. It is authorised to:
Promote, organise and develop tennis in France
Federate FFT-affiliated clubs, encourage and support their efforts, and coordinate their activities
Represent France by arranging for French teams to take part in international events
Organise major tournaments such as the French Open and the Rolex Paris Masters
The FFT has 1,018,721 registered players and around 8,000 affiliated clubs (2017 figures).
( Press Release Image: https://photos.webwire.com/prmedia/7/228843/228843-1.png )
Related Links
WebWireID228843

This news content was configured by WebWire editorial staff. Linking is permitted.
News Release Distribution and Press Release Distribution Services Provided by WebWire.