Fetch the Opportunity of Pet Technology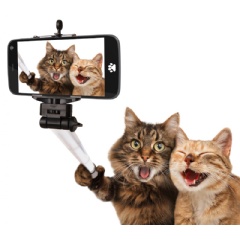 The consumer technology industry has gone to the dogs—and cats! Welcome to the world of pet technology, a rapidly emerging market of electronic and connected solutions helping owners care for, train, feed, monitor and play with their furry friends.
Pets are, in many cases, an integral part of the American family. A 2016 survey by the American Pet Products Association found 68 percent of U.S. households own at least one pet. Among them, 60 million homes own at least one dog and 47 million have at least one cat. Altogether, these households spent nearly $67 billion in 2016 on their pets, the association reported.
And they're integral to the economy, too. Based on new research, CTA believes the U.S. pet technology market is poised for double-digit volume and revenue growth heading into the next decade. Shipment revenues are expected to hit $233 million in 2018 and claw their way higher each year after; reaching $360 million by 2021.
Technology is now an essential part of American households, so the extension of tech to our four-legged family members is fitting. In fact, we've seen pet technology on display at CES, showcasing how these solutions not only enhance the pet-owner relationship, but augment the safety, security and well-being of our canine or feline companions. But what is the state of the market for pet technology and more importantly, are consumers willing to spend?
Follow the Research
CTA's Pet Technology: Ownership, Use and Perceptions study (April 2018) found six in 10 pet owners acknowledge pet tech has useful applications that could bring them peace of mind. However, awareness of pet tech is highest for products that have been around for several years, such as wireless fencing systems (63 percent), automatic feeder/fountain products (56 percent) and electronic training collars (56 percent). Most pet owners learn about pet tech from physical stores (43 percent), friends and family members (37 percent) or searching on the internet (37 percent).
When it comes to ownership among pet owners aware of a given technology, interactive toys (50 percent) top the list, followed by pet health apps (37 percent). The analysis also found spending on pet tech is greatly influenced by previous pet ownership. For example, among owners of pet tech, 60 percent who previously owned a pet spent more than $200 on pet tech in the past year. Meanwhile, a nearly equal percentage (58 percent) of pet tech owners who have not previously owned a pet spent $200 or less on these solutions last year.
Purchase drivers, apart from cost (62 percent), center on ease of use (60 percent), durability (52 percent) and the trustworthiness of the brand (33 percent). Barriers to ownership of pet tech naturally include cost (56 percent) as well, but more importantly a perceived lack of need (53 percent).
Tackling Objections
CTA's research shows safety and security are the biggest problems pet owners want technology to help solve. Pet owners also say they want technology to ensure their pets are not lonely when they are away from home. Digging deeper, the analysis reveals some interesting differences between dog and cat owners.
For instance, 35 percent of dog-only owners report their pet's behavior is the biggest problem pet tech should solve versus 20 percent of cat-only owners. Meanwhile, about one-third (32 percent) of cat-only owners report their pet's food/water intake is the biggest problem pet tech should solve versus about one in five (18 percent) of dog-only owners.
AT CTA, we say consumer technology makes life better. When it comes to pet tech, that statement applies to people and their dogs too.

CTA members may access Pet Technology: Ownership, Use and Perceptions for free. For a preview of the study's findings, please visit the digital edition of It Is Innovation (i3) magazine.
( Press Release Image: https://photos.webwire.com/prmedia/6/227544/227544-1.jpg )
Related Links
WebWireID227544

This news content was configured by WebWire editorial staff. Linking is permitted.
News Release Distribution and Press Release Distribution Services Provided by WebWire.