A new lease of life - understanding the risks of synthetic biology
A new report from Lloyd's in collaboration with Drs John Heap and Karen Polizzi of Imperial College London who provided their independent opinion on the state of synthetic biology.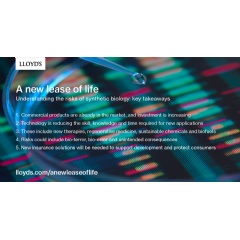 Over the last few years scientists have used biotechnology for a range of applications including disease prevention and treatment, creating new sources of fuel and enhancing crop resilience. Over $1bn of equity funding went into new synthetic biology start-ups in 2016 with some individual companies seeing funding of $100m.
Synthetic biology goes beyond traditional genetic modification and allows bio-engineers to actually design DNA. It is exciting and has the potential to revolutionise many aspects of our daily lives. But it also requires responsible innovation.
The potential rewards in healthcare in particular – in terms of new therapies, genome editing, regenerative medicine and cognitive enhancement – are driving a lot of investment in this area. While many of these developments are at the lab or trial stage, we are also seeing some commercial applications. Further research and investment is important because it could save lives. And this will also help us to develop a full understanding of the wider implications.
If past experience is anything to go by then one important lesson is that new technology is democratised more quickly than we expect. Artificial intelligence, for example, is increasingly in the hands of the many not just the few, with mainstream "open-source" tools such as TensorFlow, Google's machine learning platform. The same could be said for synthetic biology as people increasingly take gene-editing into their own hands. This is both exciting, since more people can take part in innovation, but also raises concerns around the dangers of bio-error (accidental release of harmful substances) and bio-terror (deliberate engineering of dangerous materials).
Another exciting development is the prospect of new and efficient ways of storing energy. Climate change remains humanity's greatest challenge in the 21st century, requiring urgent action and profound changes to the energy mix. We are seeing the development of new biofuels – such as petroleum replica products – to replace fossil fuels. Many challenges remain – as synthetic biology approaches produce products that don't fit within current regulatory frameworks – but these efforts are vitally important, particularly if countries are to adapt to a low carbon economy.
Synthetic biology does herald a new lease of life and it is likely to become an increasingly important innovation to watch carefully over the coming years. Regulations inevitably lag new technology but certainty around what is allowed and what is not allowed is very important to give people the confidence to invest in the future. A better understanding of the risks that go along with synthetic biology will be critical to future success.
Lloyd's urged the insurance sector to take a closer look at synthetic biology as far back as 2009 and we continue to believe that this is an area that warrants further research. With that in mind, our new report "A new lease of life", published today, urges insurers to carefully consider the potential for unknown and possibly systemic risks. We must ensure progress continues in this area with a proper understanding of the risks and opportunities.
( Press Release Image: https://photos.webwire.com/prmedia/7/227058/227058-1.jpg )
Related Links
WebWireID227058

This news content was configured by WebWire editorial staff. Linking is permitted.
News Release Distribution and Press Release Distribution Services Provided by WebWire.