easyJet passengers can now check-in luggage from home
easyJet passengers can now check-in luggage from home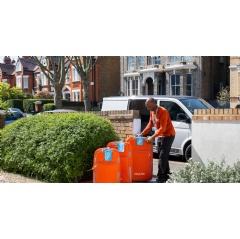 easyJet, Europe's leading airline, has launched a partnership with home bag drop service AirPortr, giving passengers travelling from London Gatwick the option to check their luggage in online and then have it collected from their doorstep by friendly, professional drivers and taken directly to the airport
Research shows that over three quarters of travellers would prefer to be luggage free for the day of their flight, which is why easyJet and AirPortr have partnered to provide this service allowing travellers start their trips at home.
AirPortr will pick up luggage from the passenger's doorstep, and safely deliver it to easyJet's bag drop before it is flown to one of the airline's 110 destinations from Gatwick. Customers can then collect their baggage at their destinations baggage reclaim.
Since 2016, AirPortr have collected over 69,000 bags, skis and bikes which have been checked-in and delivered to more than 320 destination airport baggage reclaims around the world. easyJet is confident this new service will help make travelling even easier for its passengers.
The service is available for flights to any of easyJet's destinations across Europe from London Gatwick, the airline's biggest UK base. The premium product allows passengers to check in a piece of luggage and choose a 1 hour pick-up time slot for as little as £30. Alternatively, a £40 value product offers tremendous value for money, and includes collection of up to 4 pieces of luggage within a 3 hour window. For more information, please visit homebagdrop.easyjet.com
Andrew Middleton, Director of Ancillary Revenue at easyJet, said:
"We are excited to be introducing AirPortr's services to our passengers, starting with Gatwick services. Whether a flight is for business or leisure, we are confident the home bag drop service is a fantastic initiative to improve a traveller's experience.
"easyJet is proud to continue to develop our product offering with innovative companies such as AirPortr"
Randel Darby, CEO of AirPortr, said:
"Particularly when flying short-haul with hold luggage, a disproportionate amount of journey time can be spent on the ground getting to and through the airport. We're delighted to work with easyJet to overcome this, starting their passengers' journey at home, saving valuable time and providing hassle free travel, all at an affordable price.
"With easyJet's reputation for leading digital innovation, we will see the service integrated into the customer journey in new ways, such as being offered alongside great baggage fares when booking a flight.
"We're proud to be working with an airline with a start-up mentality but Europe-wide scale, as we continue to lead the development of at-home bag check-in services."
For further information, please contact the easyJet Press Office on 01582 525252, log onto www.easyjet.com or follow @easyJet_Press
About easyJet
easyJet is Europe's leading airline offering a unique and winning combination of the best route network connecting Europe's primary airports, with great value fares and friendly service.
easyJet flies on more of Europe's most popular routes than any other airline. easyJet carries over 83 million passengers annually, of which more than 13 million are travelling on business. easyJet flies 308 aircraft on more than 1000 routes to 154 airports across 33 countries. More than 300 million Europeans live within one hour's drive of an easyJet airport.
easyJet aims to be a good corporate citizen, employing people on local contracts in eight countries across Europe in full compliance with national laws and recognising their trade unions. The airline supports a number of local charities and also has a corporate partnership with UNICEF which has raised over £10m for the most vulnerable children since it was established in 2012.
The airline takes sustainability seriously. easyJet invests in the latest technology, operates efficiently and fills most of its seats which means that an easyJet passenger's carbon footprint is 22% less than a passenger on a traditional airline, flying the same aircraft on the same route.
Innovation is in easyJet's DNA – from our launch over 20 years ago when we changed the way people fly to the present day where we lead the industry in digital, web, engineering and operational innovations to make travel more easy and affordable for our passengers.
About AirPortr
AirPortr is the digital service leading a movement to change the way people travel to, and through, the airport. It enables thousands of passengers to experience bag-less, stress-free travel every month.
Founded in 2014, the company set-out to address one of the few aspects of our lives that hasn't been improved by technology and innovation and accordingly, in 2016, AirPortr launched the world's first fully integrated home bag check-in service with British Airways.
Customers are greeted by professional and friendly drivers who collect their bags from any location within the London service area. This then allows them to travel bag-free to the airport, skip the queues, and head straight to security, collecting their bags in the normal way at their destination.
AirPortr uses powerful, innovative technology to manage the service and customer experience from end-to-end. This includes fully complying with all airline policies and government regulations, including the validation of boarding passes and IDs in real-time. Unique tamper-aware seals ensure the highest levels of security throughout the process.
Since 2016, AirPortr has transported over 69,000 bags, skis and bikes to more than 320 destination airport baggage reclaims around the world, achieving an average customer rating of 4.7 stars on Feefo.
More recently, American Airlines, easyJet and Finnair have joined the AirPortr digital platform in London, opening up the service to even more passengers.
For more information, please visit homebagdrop.easyjet.com
( Press Release Image: https://photos.webwire.com/prmedia/7/226958/226958-1.jpg )
Related Links
WebWireID226958

This news content was configured by WebWire editorial staff. Linking is permitted.
News Release Distribution and Press Release Distribution Services Provided by WebWire.