easyJet marks the delivery of its first Airbus A321neo at Farnborough International Airshow
easyJet marks milestone delivery of its first Airbus A321neo with flight into Farnborough International Airshow The 235-seat A321neo brings significant environmental, operational and cost benefits First A321neo is the 308th aircraft to join easyJet's fleet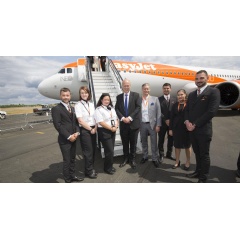 EASYJET-AIRBUS 12
easyJet has celebrated the delivery of its first A321neo aircraft, marking the milestone with a flight into Farnborough International Airshow.
easyJet CEO Johan Lundgren was joined by UK Secretary of State for Transport Chris Grayling, Airbus CEO Tom Enders and President of CFM International Gaël Méheust at Farnborough to celebrate the delivery of the A321neo which - with a 235 seat configuration -  is easyJet's largest capacity aircraft now in its fleet. The aircraft was flown into the airshow by an all-female flight crew.
Just over a year ago easyJet announced an agreement with Airbus to convert 30 existing A320neo orders to the A321neo aircraft with a 235-seat configuration, part of the existing easyJet Airbus agreement dating from 2013. 
The first easyJet A321neo is based at London Gatwick Airport and will fly to popular destinations such as Malaga, Alicante and Palma. The aircraft has around 30% more seats on board compared to an A320 and 50% when replacing an A319.
Johan Lundgren, easyJet's CEO said:
"We are delighted to mark the delivery of our first A321neo aircraft today. This larger aircraft will enable us deliver our strategy of securing and growing our number one positions at Europe's leading and slot-constrained airports.
"It will also provide easyJet with the lowest operating costs in the single aisle aircraft category with unit cost savings which are estimated to be up to 9% better than an A320neo and around 21% better than an A319.
"And crucially it will also bring significant environmental and operational benefits which means we will be able to offer more seats and low fares to even more people travelling on Europe's most popular leisure and business routes, whilst both reducing emissions and noise to mitigate our impact on the communities around the airports we serve."
The A321neos are powered by CFM's LEAP-1A engine which means the aircraft will deliver up to 15 percent savings in fuel burn and CO2 emissions, and a reduced noise footprint of 50 percent on take-off and landing phase, compared with previous generations of the aircraft. The A321neos comply with ICAO Chapter 14 regulations and their NOx emissions will also meet the ICAO CAEP/8 regulations.
Tom Enders, Airbus CEO said:
"The A321neo is our largest single aisle aircraft and now also the largest in easyJet's fleet. With a fleet of more than 300 Airbus aircraft, easyJet is also one of Airbus' largest customers, and certainly one of the most loyal too. Everyone at Airbus is proud to see the orange and white of easyJet adorn our planes, and we congratulate easyJet CEO Johan Lundgren and his management team on the airline's continued success and growth.
Gaël Méheust, CFM CEO commented:
"This is a great day in our long relationship with easyJet. In the past year, they have done a great job of integrating the LEAP engine into their fleet. The A321neo, coupled with the outstanding operating economics of the LEAP-1A engine, will make this airplane a real asset for them."
Transport Secretary Chris Grayling said:
"Aviation is a hugely important sector for the UK economy, but we need to make sure growth is sustainable. Technological advancements like easyJet's new aircraft help make flying quieter, cheaper and more environmentally friendly.
"That's why the Government has just announced funding for development of cleaner and greener hybrid aircraft and our aviation strategy will identify further ways to ensure sustainable aviation growth."
Since the delivery of easyJet's first Airbus A320 family aircraft 15 years ago the airline has  taken over 300 new aircraft deliveries, which means that easyJet has now grown to operate Europe's largest A320 family fleet. With 100 neo aircraft on order the airline is one of Europe's largest customers for this revolutionary new aircraft.
easyJet's total fleet today 18 July 2018 comprises 308 aircraft, split between 156-seat Airbus A319s, 180-seat A320s, 186-seat A320s and now the 235-seat A321.
The airline's A319s are being progressively replaced by A320s, with 40 already replaced. easyJet has also completed the up-gauging of 49 of its existing 180-seat A320s to 186 seats.  In the last six months easyJet has taken delivery of nine A320neo aircraft which provide a per seat cost saving of 7% to 8% compared to the A319 (and an equivalent improvement) through economies of scale, efficiencies in crew, ownership, fuel and maintenance.
Over the coming years easyJet will continue to reduce operating cost per seat and its passengers' carbon footprint by improving its fleet mix and ownership structure.
Since 2000 easyJet has reduced its carbon emissions per passenger, per kilometre by over 32%. Its current target is a 10% reduction from its 2016 financial year performance by 2022, which would be a 38% improvement from 2000. In the 2017 financial year easyJet's carbon emissions per passenger kilometre were 78.62 grams, down from 79.98g per passenger km in the prior financial year.
For further information, please contact the easyJet Press Office on 01582 525252, log onto www.easyjet.com or follow @easyJet_Press
Notes to editors
The A321neo aircraft list price (being the sum of the airframe list price, engine option list price and the price of certain assumed specification change notices) based on the Airbus price catalogue in July 2018 is US$129.5
easyJet has negotiated a very substantial discount from the list price.
easyJet fleet as at 18 July 2018
 Aircraft
Total
Future deliveries
Unexercised purchase rights
A319
132
-
-
A320 180 seat
75
-
-
A320 186 seat
91
2
-
A320 neo
9
91
100
A321 neo
1
29
-
308
122
100
About easyJet
easyJet is Europe's leading airline offering a unique and winning combination of the best route network connecting Europe's primary airports, with great value fares and friendly service.
easyJet flies on more of Europe's most popular routes than any other airline. easyJet carries over 83 million passengers annually, of which more than 13 million are travelling on business. easyJet flies 308 aircraft on more than 1000 routes to 154 airports across 33 countries. More than 300 million Europeans live within one hour's drive of an easyJet airport.
easyJet aims to be a good corporate citizen, employing people on local contracts in eight countries across Europe in full compliance with national laws and recognising their trade unions. The airline supports a number of local charities and also has a corporate partnership with UNICEF which has raised over £10m for the most vulnerable children since it was established in 2012.
The airline takes sustainability seriously. easyJet invests in the latest technology, operates efficiently and fills most of its seats which means that an easyJet passenger's carbon footprint is 22% less than a passenger on a traditional airline, flying the same aircraft on the same route.
Innovation is in easyJet's DNA – from our launch over 20 years ago when we changed the way people fly to the present day where we lead the industry in digital, web, engineering and operational innovations to make travel more easy and affordable for our passengers.
About Airbus
Airbus is a global leader in aeronautics, space and related services. In 2017 it generated revenues of €59 billion restated for IFRS 15 and employed a workforce of around 129,000. Airbus offers the most comprehensive range of passenger airliners from 100 to more than 600 seats. Airbus is also a European leader providing tanker, combat, transport and mission aircraft, as well as one of the world's leading space companies. In helicopters, Airbus provides the most efficient civil and military rotorcraft solutions worldwide.
About CFM International
LEAP engines are a product of CFM International, a 50/50 joint company between GE and Safran Aircraft Engines, the world's largest supplier of commercial aircraft engines.  For more information, visit us at www.cfmaeroengines.com or follow us on Twitter @CFM_engines.
( Press Release Image: https://photos.webwire.com/prmedia/7/226729/226729-1.jpg )
Related Links
WebWireID226729

This news content was configured by WebWire editorial staff. Linking is permitted.
News Release Distribution and Press Release Distribution Services Provided by WebWire.