Sight Diagnostics Launches OLO, a Lab-Grade Blood Diagnostics System to Bring Complete Blood Count Tests To The Point-of-Care in Europe
After proving its core artificial-intelligence (AI) based technology in Malaria detection, Sight concludes clinical trials with OLO and announces commercial availability in Europe and other non-US markets
Tel Aviv, Israel –
WEBWIRE
–
Thursday, July 12, 2018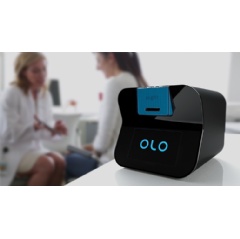 Today Sight Diagnostics launches OLO, an AI-based blood diagnostics device which offers lab-quality Complete Blood Count (CBC) tests from finger prick samples at the point-of-care. The company also announces the completion of a 287-person clinical trial at Israel's Shaare Zedek Medical Center, which led to a CE Mark registration for OLO. This European regulatory certification indicates OLO's conformity with high safety, health, and environmental protection standards and allows for commercial sale in countries that require CE marking.
 
Why lab-quality CBC at the point-of-care (POC) is a breakthrough in blood diagnostics
CBC is the most prevalent medical blood diagnostics test. It is ordered to diagnose a broad range of common medical conditions and included in as much as 91 percent of baseline testing (during routine 'well visits'). Typically, the test is performed at a central lab instead of at the POC (e.g. doctor's office or clinic); central-lab testing offers the highest accuracy, yet is an inconvenience to the patient and physician, who must typically wait at least a day and up to a week for results. This requires patients to schedule follow-up visits, while physicians must often delay medical treatment until the diagnostic information arrives.
 
A new way to 'digitize blood' for testing
OLO offers the accuracy of a central lab for CBC tests with the convenience of POC testing to detect abnormalities in a patient's blood. Each test begins with Sight's patented process for 'digitizing' patient blood into a set of specifically colored microscope images; OLO then applies proprietary machine vision algorithms to these images identify and count different blood-cell types. Sight's technology simplifies blood testing so that even non-professionals users can perform the tests. The company's AI which powers the analysis draws from nearly half a petabyte of blood image data collected through half a decade of clinical work.
 
Sight recently began clinical trials in the US to study OLO's clinical performance and obtain FDA approval, with sites at Boston Children's Hospital and Columbia University Irving Medical Center. Sight plans to pursue initial US clearance for use in qualified laboratories, to be followed by a subsequent waiver application to allow broader use at the POC.
 
"Having to wait a day or more for the results of basic diagnostic tests after an office visit has always been a challenge to physicians, since these results inform treatment, and physicians would prefer to place patients on the most appropriate treatment right away – during the initial visit," said Prof. Carlo Brugnara, MD, Director of the Hematology Lab at Boston Children's Hospital and Professor of Pathology at Harvard Medical School. "Previous blood analyzers aimed at in-office testing have involved clinical compromises and are difficult to operate or maintain. OLO has the potential to deliver on the promise of accurate, comprehensive blood testing at the doctor's office, even with a finger prick sample."
 
Here are some key benefits of OLO:
 
Full spectrum analysis via finger prick. Instead of a venous blood draw, OLO performs its full analysis using just a small amount of blood drawn from a simple finger prick. OLO also supports venous blood if it is already available, so no separate finger prick is needed.
Lab-grade accuracy. The user places the blood sample on a pocket-sized test cartridge and inserts it into the system. OLO rapidly scans the sample using a built-in digital microscope and analyzes each image using AI. The system analyzes 19 CBC parameters to provide a full "5-differential" count as well as a broad range of clinical flags. OLO is designed to serve as a 'no compromise' system that provides the full accuracy breadth of information of high-end central-lab analyzers.
Office-friendly. Unlike prior POC blood analyzers, OLO offers ease use designed to empower even non-professional users, as it requires little to no maintenance: the system comes pre-calibrated, and test cartridges are disposable. OLO is conveniently sized and priced with smaller clinics in mind.
Results while you wait. OLO delivers results in just ten minutes and eliminates the one to five days of lag time doctors typically face when working with labs.
 
"The technology to provide full-spectrum analysis with only a finger prick of blood is seen by many as a holy grail in this space, and it's no secret that others have tried," explained Yossi Pollak, co-founder and CEO of Sight Diagnostics. "After implementing our Malaria detection technology in India and several African countries and exceeding expectations in multiple clinical trials, we were encouraged to explore our technology's ability to enter the $35 billion market of CBC testing. Now, we have clinically proven our lab-quality CBC analyzer, saving doctors and patients time, and helping improve outcomes for patients."
 
Sight is led by a management team and advisors including Harvard-trained biotechnologists, clinicians, physicists, and experts in AI and instrument engineering. Several of the team received their machine-vision expertise at Mobileye, an automotive computer vision company that was sold to Intel in 2017 for $15.3 billion -- the largest tech exit in Israel's history. Others hail from Israel's world-renowned 8200 unit and Talpiot program. Sight has raised $25 million in equity financing from top VC firms, including Eric Schmidt's Innovation Endeavors, to launch two CE Mark diagnostic products.
 
For more information on OLO, please visit www.sightdx.com.
 
About Sight Diagnostics
Founded in 2010, Sight Diagnostics aims to bring affordable, scalable and accurate blood diagnostics to the point-of-care, thereby accelerating better patient outcomes and improving healthcare for all. Sight has developed an artificial intelligence-driven platform for blood analysis and infectious disease diagnostics based on its proprietary machine-vision technology. Sight's technology was first deployed in 2014 to detect Malaria using digital fluorescent microscopy. Over 600,000 tests have been sold to accurately and consistently diagnose Malaria in 25 countries. The company's newest offering, OLO, brings complete blood count testing to the point-of-care and is now commercially available for sale the European Union and other non-US countries.
 
OLO is an investigational device in the United States and is not yet available for sale.
( Press Release Image: https://photos.webwire.com/prmedia/42381/226450/226450-1.png )
WebWireID226450
Contact Information

Emma Baron
Account Executive
VSC for Sight Diagnostics

This news content may be integrated into any legitimate news gathering and publishing effort. Linking is permitted.
News Release Distribution and Press Release Distribution Services Provided by WebWire.