Cutting costs on swiss waters with Scania's diesel hybrid
SGV Group's new vessel, the MS Diamond, has recently begun navigating Lake Lucerne under hybrid power aided by a powertrain that's based on a Scania 13-litre six-cylinder diesel engine.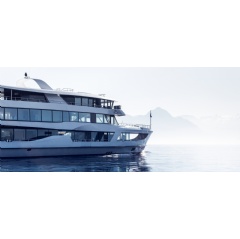 It's a sunny March morning on Lake Lucerne in Switzerland. Michel Scheurer, production director of Schifffahrtsgesellschaft Vierwaldstättersee AG (SGV), carefully steers the latest addition to the company fleet from the shipyard out into the lake. It's just a matter of weeks before the company's new ship, the MS Diamond, is due to be put into service. But anticipation is already visible on Scheurer's face. "We are going to be navigating with hybrid power for the first time on Lake Lucerne," Scheurer says. "We see this technology as the way forward for the future."
With its 19 ships – five old-style paddle steamers and 14 salon ships (a total capacity of 11,000 passengers) – SGV is the largest shipping company in Switzerland. It serves 32 landing docks around the lake. The new ship was designed and built by Shiptec AG, a subsidiary company of SGV based in Lucerne. Shiptec AG operates one of the largest shipyards in Switzerland and is the only Swiss shipbuilding company that builds passenger and cargo ships. "Our service offering is unique," says Martin Einsiedler, director of ship design and engineering and a member of the executive board of Shiptec AG. "From design through engineering and construction and on to ship maintenance, we provide services for a host of customers operating on rivers and lakes throughout Switzerland."
Utilizing the power of the new diesel hybrid
Einsiedler is also in charge of the technical design of MS Diamond. He explains that the powertrain is based on a 405 kW Scania 13-litre inline six-cylinder diesel engine and is supported by an electric motor. "We basically use the diesel engine when navigating," says Einsiedler. "When we need additional power or torque for short periods, for example when landing, braking or for an emergency stop, the electric motor is used as well. However, when the ship is cruising normally, the electric motor acts as a generator, supplying energy to the ship and the backup batteries. These backup batteries in turn supply the electrical boost for the diesel engines and the on-board electricity supply when the ship is not moving."
For Einsiedler, the Scania engine fits perfectly with this design concept. "Thanks to the compact design and the hybrid powertrain, we were able to place the motor in the stern of the ship, which significantly increases travelling comfort," he explains.
Financial savings due to Scanias powertrain design
Einsiedler's enthusiasm for Scania extends beyond technical considerations. "Particularly with engineering, the relationship between the shipbuilder and the engine supplier is very important," he says. "During the entire development phase we were in very close communication with the people who were our direct contacts at Scania, and we always got the information we needed. That's not something you can always count on, and it makes work a lot easier."
"The customer always has the final say," he continues. "The shipping companies are offered different technical variants. They then decide which engine is to be installed. Naturally, we only recommend engines that convince us totally." In this case, the customer SGV is convinced as well. "I don't know any other engines that, at equivalent power, can generate such high torque as the Scania products, and that is precisely what is all important for shipping," Scheurer says. "And thanks to the new powertrain design, we can budget for a reduction in fuel consumption of around 20 percent." The new ship is expected to operate 2,000 to 3,000 hours annually, so these savings will make quite a difference.
SGV Group
SGV Group is the leading shipping company in Switzerland, with a broad portfolio of associated activities including shipbuilding and naval engineering.
( Press Release Image: https://photos.webwire.com/prmedia/7/226434/226434-1.jpg )
Related Links
WebWireID226434

This news content was configured by WebWire editorial staff. Linking is permitted.
News Release Distribution and Press Release Distribution Services Provided by WebWire.