Daimler and Tsinghua University Deepen Joint Research Cooperation on Sustainable Transportation
Berlin / Beijing –
WEBWIRE
–
Monday, July 9, 2018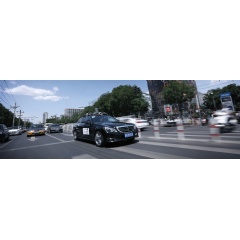 Daimler and Chinese partner Tsinghua University signed an agreement today to further deepen their research cooperation
in the fields of automated driving and intelligent mobility.
Mr. Hubertus Troska: "Inspired by China, innovating for China', our Joint Research Center for Sustainable Transportation serves as a shining example of Sino-German cooperation, consistently working to bring sustainable, innovative mobility solutions that meet China's specific needs."
Prof. Yang Bin: "The Tsinghua Daimler Joint Research Center for Sustainable Transportation combines our exceptional research capabilities with Daimler's long heritage in automotive innovation."
Daimler and its partner Tsinghua University signed an agreement in Berlin to further deepen their cooperative efforts on sustainable transportation research in China. The Sino-German cooperation agreement was signed in the presence of German Chancellor Dr. Angela Merkel and Chinese Prime Minister Li Keqiang in the German Chancellery. Through the Tsinghua Daimler Joint Research Center for Sustainable Transportation, the cooperation has been extended for an additional three years. With an annual multi-million RMB investment, the Center will sharpen its focus and research efforts in the fields of automated driving and intelligent mobility. Established in 2012, the Center has served as an important joint effort combining Daimler's innovation capabilities with Tsinghua University's academic strengths in automotive research.
Mr. Hubertus Troska, Member of the Board of Management of Daimler AG, responsible for Greater China: "China today plays a leading role not only in terms of its automotive industry, but as an overall engine for innovation. 'Inspired by China, innovating for China', our Joint Research Center for Sustainable Transportation serves as a shining example of Sino-German cooperation, consistently working to bring sustainable, innovative mobility solutions that meet China's specific needs"
Prof. Yang Bin, Vice President of Tsinghua University: "The Tsinghua Daimler Joint Research Center for Sustainable Transportation combines our exceptional research capabilities with Daimler's long heritage in automotive innovation. With its scope now expanding to automated driving and intelligent mobility, I look forward to continuing our important research as we jointly move the field of sustainable transportation forward."
Prof. Dr. Hans Georg Engel, Head of Mercedes-Benz Research and Development China: "Our partnership with Tsinghua University has grown over the years since our joint research center was established, resulting in research projects that are allowing us to pursue the future sustainable mobility in China. Today's extension will enable us to deepen our R&D efforts even further, and we remain open to cooperating with more local partners as we work to bring our customers here products tailored to their unique requirements."
Since its establishment in 2012, the Tsinghua Daimler Research Center for Sustainable Transportation has carried out joint research for sustainable transportation according to China's needs. In 2013, the Center collected data from traffic situations at urban roads and highways, ring roads, and intersections. Deepened research on the technical parameters of typical traffic situations began in 2014, followed by the research project on 'vision-based detection of vulnerable road users (VRU)' which started in 2015 aiming to train camera algorithms to recognize VRU. This involved establishing the 'Tsinghua Daimler Cyclist Benchmark' database, which contains 40,000 sample images. The work scope of the Research Center has been further expanded to include IT innovation, including virtual reality technologies, as well as joint education and research internship projects, which target both Chinese and international talent. Together with Daimler's R&D experts in China, experienced scholars from Tsinghua University co-lead these research projects, contributing their strong local R&D capabilities and expertise. Tsinghua students are also involved in these projects to facilitate the training and development of local talent in the various fields.
With local road testing, Daimler further advances automated driving in China
Daimler is constantly deepening its automated driving R&D efforts in China. These initiatives have resulted in significant achievements, including in fields such as active and passive safety systems, accident research, integrated traffic information services, vehicle infrastructure integration, and megacity traffic and regulation research. In early July, Daimler announced it is the first international automaker to receive a road test license for highly automated driving research vehicles (level 4) in Beijing, marking another major milestone in the company's local research and development efforts in China. This new research into automated driving will allow Daimler to further develop localized automated driving technology to address the unique challenges posed by China's urban traffic environment.
( Press Release Image: https://photos.webwire.com/prmedia/7/226260/226260-1.jpg )
Related Links
WebWireID226260

This news content was configured by WebWire editorial staff. Linking is permitted.
News Release Distribution and Press Release Distribution Services Provided by WebWire.