Travis Air Force Base Replaces Independence Day Fireworks with Intel Drone Light Show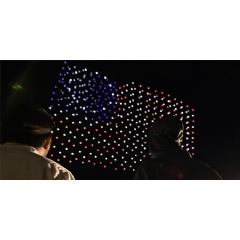 Intel Shooting Star drones create a U.S. flag during 2018 Independence Day celebration rehearsals at Travis Air Force Base in Fairfield, California. (U.S. Air Force photo by Airman 1st Class Christian Conrad)
"We are excited to collaborate with the Travis Air Force Base to celebrate the July Fourth holiday by bringing a new form of nighttime entertainment to honor the military and their families."
The drone show scheduled, at Travis Air Force Base has been canceled and rescheduled. Intel released this statement: We decided to cancel the performance today as a result of high winds that would have interfered with drone flight. Our drones can fly in winds up to 18 miles per hour, but the forecast calls for winds over 30 mph for the time frame we were planning to fly. We emphasize safety in our drone performances, including in our operations, the design of the drones, and the use of systems like geofencing and auto-land contingencies. We felt that canceling the show was the best decision under the circumstances. Our drone light show is rescheduled for 9 p.m. PDT, July 5, pending adequate weather conditions.
What's New: Travis Air Force Base in Fairfield, California, will collaborate with Intel to replace a traditional Independence Day fireworks display with an Intel® Shooting Star™ drone light show. In celebration of July Fourth and Travis Air Force Base's 75th anniversary, 500 Intel Shooting Star drones will dance across the nighttime sky in a choreographed aerial routine that honors active military and veterans.
"We are excited to collaborate with the Travis Air Force Base to celebrate the July Fourth holiday by bringing a new form of nighttime entertainment to honor the military and their families. I am looking forward to seeing the joy and excitement that our drone light show brings to the spectators." –Anil Nanduri, vice president and general manager, Intel drone team
Why It Matters: The origins of fireworks on July Fourth dates to 1777. For the first time, an Intel Shooting Star drone light show will celebrate Independence Day with an elaborate ceremony.
Travis Air Force Base is collaborating with Intel to recognize active military, veterans and participants of the Exceptional Family Member Program (EFMP). Travis Air Force Base has one of the largest Air Force EFMP populations. The program's mission is to identify medical and educational service requirements of family members in support of active-duty sponsor reassignment and civilian employment overseas.
This drone light show will be a more inclusive July Fourth celebration that can be enjoyed by all families, especially those with sensitives to the sounds of firework explosions.
"The story of the Air Force is a story of innovation. With Travis in close proximity to Silicon Valley, the base strives to develop relationships and to play an active role in Northern California's innovation ecosystem," said Col. John Klein, Travis Air Force Base installation commander. "For our 75th anniversary and as a way of saying thank you for the unprecedented community support, we wanted to treat our friends and family to a special Independence Day celebration – Intel's vision to reimagine fireworks with cutting-edge drone technology was a natural fit for our airmen and audience."
In Our Words: "While fireworks amaze audiences of all ages, there are pollution and safety concerns and the loud sound effects are sometimes unsettling to humans and animals alike," Nanduri said. "This partnership showcases how Intel's advanced drone technologies are making strides to positively impact the world and create new entertainment experiences for all audiences."
» Download video: "Fourth of July Intel Shooting Star Drone Light Show Rehearsal (B-Roll)"
About Intel
Intel (NASDAQ: INTC) expands the boundaries of technology to make the most amazing experiences possible. Information about Intel can be found at newsroom.intel.com and intel.com.
Intel and the Intel logo are trademarks of Intel Corporation in the United States and other countries.
*Other names and brands may be claimed as the property of others.
( Press Release Image: https://photos.webwire.com/prmedia/7/226123/226123-1.jpg )
Related Links
WebWireID226123

This news content was configured by WebWire editorial staff. Linking is permitted.
News Release Distribution and Press Release Distribution Services Provided by WebWire.