AR/VR: Separating Innovation from Science Fiction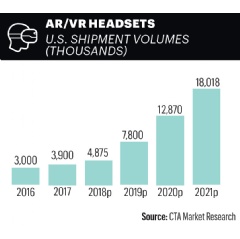 Ernest Cline's novel Ready Player One, set in the year 2045, describes a dystopian future where people prefer to spend their time immersed in an online virtual reality (VR) world called the OASIS. Cline's work simultaneously critiques and celebrates online gaming, while also raising interesting questions about the future possibilities of VR and its cousin, augmented reality (AR). But what does the arrival of these technologies mean for us as an industry and as consumers?
Here in 2018, both technologies are poised for mass adoption although their journeys originated from different markets. AR found its footing in B2B markets such as manufacturing, through technologies like Glass 2.0. But an emerging array of AR apps on smartphones is fostering AR's leap into the consumer realm. AR app development kits like ARKit (iOS) and ARCore (Android) are providing the tools that will ultimately refashion consumers' mobile experiences into a headsup AR orientation.
Meanwhile, VR quickly pivoted beyond gaming and entertainment pursuits to find altogether new use cases in the commercial and industrial sector—think brand-marketing, engineering and education. And recently, the excitement surrounding VR for entertainment is being rekindled thanks to the arrival of new, low-cost standalone headsets like Oculus Go and Lenovo's Mirage Solo that debuted at CES 2018.
Gaining Speed
CTA's industry forecast (January 2018) shows the market for AR/VR headsets will gather momentum this year as these new products and others like Magic Leap One enter the sales channel. In 2018, AR/VR headsets will grow 25 percent on a volume basis to nearly 4.9 million units, generating more than $1.2 billion in wholesale revenue. However, 2019 represents an inflection point with shipment volumes increasing 60 percent year-over-year to 7.8 million units. Data from CTA's consumer research supports this storyline.
CTA's Augmented Reality and Virtual Reality: Consumer Sentiments study, conducted in November 2017, found two-thirds (66 percent) of U.S. online adults had experienced or were familiar with VR; however, only 25 percent said the same of AR. Despite the difference in familiarity, consumers were equally favorable to AR and VR across different use cases.
For example, consumers favored ("very favorable" and "favorable") VR as an education tool for children (58 percent), to view live performances (51 percent), sporting events (48 percent), and to explore vacation destinations (63 percent). Consumer favorability for AR was equally strong to support people with disabilities (63 percent), to support first-responders (61 percent), to support education and training (58 percent) and greater than 50 percent for different shopping scenarios.
Aligning with CTA's forecast, more than one-third of U.S. online adults see themselves adopting AR over the next two years for various uses like navigation, shopping and education. On the VR front, entertainment use cases such as movies (45 percent), video games (40 percent) and marketing/promotions (35 percent) continue to be the top three preferred consumer VR uses in the next two years, closely followed by VR use in education and shopping.
The future appears bright for AR/VR, but it's important to separate the innovation these technologies represent from science f iction. AR and VR, along with biometrics, AI, robotics, digital therapeutics and many other emerging technologies will level-up our digital experiences and open-up new possibilities for our economy, jobs, and improving the human condition. I say game on!
The Mobile AR/VR Experience
Virtual reality quickly pivoted beyond gaming and entertainment pursuits to find new use cases in the commercial and industrial sector. Meanwhile, an emerging array of augmented reality apps on smartphones – fueled by app development kits – are providing the tools that will ultimately refashion consumers' mobile experience into a heads-up AR orientation. CTA market research recently took an in-depth look at augmented, virtual and mixed reality technologies.
( Press Release Image: https://photos.webwire.com/prmedia/6/225963/225963-1.jpg )
Related Links
WebWireID225963

This news content was configured by WebWire editorial staff. Linking is permitted.
News Release Distribution and Press Release Distribution Services Provided by WebWire.