Huawei AI Fabric Ultra-High-Speed Ethernet Solution Passes EANTC's High-Performance Data Center Test
Hannover, Germany –
WEBWIRE
–
Monday, July 2, 2018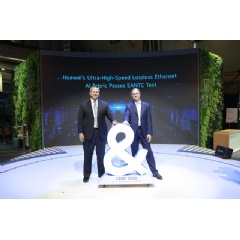 At CEBIT 2018, Huawei and the European Advanced Networking Test Center (EANTC), an internationally recognized independent test center, announced the following: With excellent test results in terms of zero packet loss, low latency, and high throughput, the Huawei AI Fabric Ultra-High-Speed Ethernet solution successfully passed EANTC's rigorous high-performance data center test, pioneering the ultra-high-speed network based on Ethernet.
Huawei AI Fabric Ultra-High-Speed Ethernet, a sub-solution of Huawei CloudFabric cloud data center network solution, is constructed using CloudEngine series data center switches and supports the RDMA over Converged Ethernet (RoCE) v2 network communication protocol. EANTC tested the network performance of the AI Fabric Ultra-High-Speed Ethernet, such as its throughput, packet loss rate, and latency, using a test bed based on 100GigabitEthernet (100GbE) and 25GigabitEthernet (25GbE) networking in high-performance computing (HPC) and Distributed File System (DFS) scenarios. The Message Passing Interface (MPI) model was used for testing in the HPC scenario, while the common performance indicator used to measure latency in the DFS scenario was the number of Input/Output Operations per Second (IOPS). In this way, EANTC verified the significantly optimized and improved performance of Huawei AI Fabric Ultra-High-Speed Ethernet—with its unique congestion management and traffic control functions—in comparison with traditional Ethernet.
During the stringent testing and verification of EANTC, Huawei AI Fabric Ultra-High-Speed Ethernet leveraged three innovative technologies for congestion management and traffic control—precise congestion flow identification, dynamic congestion waterline setting, and fast backpressure mechanism. In all test cases of the HPC and DFS scenarios, it achieved high throughput and zero packet loss, and shortened HPC inter-node communications time by up to 40% by optimizing network latency, greatly improving efficiency of innovative services such as AI training. It signifies that Huawei CloudFabric is able to help enterprises build cloud networks oriented towards AI applications.
Carsten Rossenhoevel, Co-founder and Managing Director of EANTC, said: "Through our comprehensive testing and verification, we are thoroughly impressed by the network performance demonstrated by the Huawei AI Fabric Ultra-High-Speed Ethernet solution in terms of zero packet loss, low latency, and high throughput. We also noted its compatibility with traditional Ethernet and convergence of computing and storage networks. From the comprehensive test report, customers can see the benefits of Huawei AI Fabric Ultra-High-Speed Ethernet. Specifically, they can see that it fully meets the requirements of enterprises for rapid innovation of applications such as Big Data analytics and AI training."
Leon Wang, General Manager of Huawei's Data Center Network Domain, said: "The AI Fabric Ultra-High-Speed Ethernet is an innovative solution developed by Huawei to meet customer requirements in the AI era. I am delighted that EANTC has conducted independent and rigorous testing on the solution. Once again, the Huawei AI Fabric Ultra-High-Speed Ethernet solution has been recognized by an authority in the industry. We will continue to focus on developing and innovating more scenario-specific cloud data center network solutions, promote the development of the networking and communications industry, and help enterprise customers quickly innovate and ultimately achieve business success by capitalizing on technologies such as cloud computing, AI, and Big Data."
As one of the leaders in the cloud data center network domain, the Huawei CloudFabric solution has been successfully put into commercial use in more than 2800 enterprises worldwide, helping finance, Internet, and carrier customers develop innovative services based on digital twins, and ultimately enabling the data center to become a business value center.
For a free download of EANTC's independent test report on Huawei AI Fabric Ultra-High-Speed Ethernet, click: www.eantc.de/fileadmin/eantc/downloads/News/2018/EANTC-Huawei-CloudAIFabric.pdf
For more information about Huawei CloudFabric, click: e.huawei.com/en/solutions/business-needs/enterprise-network/data-center-network
( Press Release Image: https://photos.webwire.com/prmedia/6/225951/225951-1.jpg )
Related Links
WebWireID225951

This news content was configured by WebWire editorial staff. Linking is permitted.
News Release Distribution and Press Release Distribution Services Provided by WebWire.