Programmers at Volkswagen — generalists for tailor-made digital applications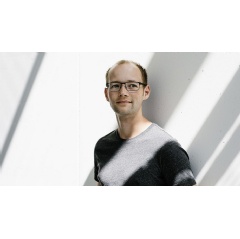 Programmer Lars Gohr
Series: IT jobs at Volkswagen
At Volkswagen's Software Development Centers, experts with top qualifications develop digital applications for customers and users within the company
For Volkswagen customers, there are many ways of configuring their ideal Golf. This plays a key role for programmer Lars Gohr. At Volkswagen's Software Development Center (SDC) in Wolfsburg, he contributes his expert knowledge to the development of software applications. These include the "Car Configurator", which customers can use to configure their new car quickly and conveniently. Volkswagen is adding a growing number of qualified IT specialists to its team so that customers and users within the company itself benefit from more and more digital applications.
Lars Gohr is a programmer at the Software Development Center (SDC) in Wolfsburg. At the SDCs (there is a further center in Berlin), Volkswagen Group IT has assembled teams of programmers, UX designers and product managers to develop software solutions for all the brands and units of the Group. Tailor-made digital applications are becoming increasingly important as digitalization progresses. This is why the Group is developing a further SDC in Lisbon.
"We want to make things as easy as possible for users," says Gohr, outlining the joint target of team work. The Car Configurator is an example. For this application, the team can call upon algorithms already programmed by a team of colleagues. From the massive number of all the possible combinations, amounting to 3.44 times10 to the power of 32, the program filters out all the combinations that are not offered in specific markets. Gohr and his colleagues embed these algorithms in a program code they have developed themselves. It is only at this point that the application becomes suitable for operation by users; dealers, fleet customers and private individuals in their own homes can then configure their ideal Volkswagen quickly and easily.
The teams at the Software Development Center always work in several steps. Gohr describes the procedure: "In cooperation with the user, i.e. our client, we start by finding out how we can provide the best possible support, with a website, an app or something completely different. Then we decide what technologies we need, what programming languages we intend to use and how the process can be divided up into meaningful steps." To ensure that the know-how is evenly distributed between the teams and no one acquires a monopoly of knowledge, the developers switch between projects at monthly intervals. "We are generalists and want to stay that way," says Gohr.
Gohr is one of the experienced team members at the SDC. What has changed in the work of a programmer since he joined Volkswagen IT? "Almost everything," he says. "Once we used to have programming work performed by service providers. Now we are well on the way to writing all the program codes ourselves." This ensures that the programmers have a high level of competence for assessing new projects.
Gohr says that the work itself has also changed: "We no longer work 'to order 'but cooperate closely with colleagues from the various departments so that we can understand their needs pre-cisely. We ask questions when necessary and program in shorter units with short feedback loops. We also use the test-driven development method to test our software on a real-time basis."
More design work, less administration — this is perhaps the best way of summing up the change. "The digitalization that we are seeing on so many levels means that established processes need to be reviewed more and more frequently," says Gohr. "As a result, programmers gain considerable creative leeway. We enjoy the work and that is always good for the project in the final resort."
( Press Release Image: https://photos.webwire.com/prmedia/7/225932/225932-1.jpg )
Related Links
WebWireID225932

This news content was configured by WebWire editorial staff. Linking is permitted.
News Release Distribution and Press Release Distribution Services Provided by WebWire.