Huawei's CloudOptiX Technological Innovation to Usher in a New Era of All-optical Network
Nice, France –
WEBWIRE
–
Monday, June 25, 2018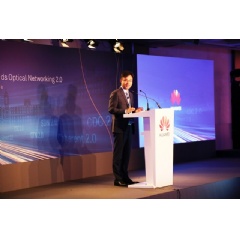 Alex Duan speaking at the Huawei Optical Innovation Forum
At the Huawei Optical Innovation Forum, Huawei proposed the transformation of optical networks towards experience-centric architecture. The four major technological innovations of Huawei's CloudOptiX cloud transport network solution enable operators to build the next-generation ultra-broadband, simplified, and intelligent optical networks to improve service experience and maximize business values.
The past 10 years have witnessed a shift in the communications industry, moving from the voice era to the Internet era. With the development of the Internet, the transport network, which is the core of the network infrastructure, has evolved from a copper line network to an all-optical network 1.0, which solves the root of network capacity problems. The solution uses optical fibers on the access layer for broadband access and uses the chain WDM/OTN transmission mode on the transport layer to provide large-capacity transmission.
To address challenges in bandwidth, service experience, and network O&M in the intelligence era, Huawei has proposed the evolution of transport networks towards next-generation all-optical networks through the technological innovation of CloudOptiX.
Firstly, the bandwidth demands of new services drive the constant upgrade of transport networks. Therefore, Huawei proposes to upgrade CloudOptiX from 100G to 400G. Huawei has more than 10 years of experience in DSP, the engine of high-speed transmission. Using DSP technologies, Huawei has been approaching the Shannon limit of optical fiber links. Huawei's proprietary CMS algorithm supports the evolution to 400G and beyond while maximizing the performance potential of optical components, maintaining a distance 20% further than the industry average. In the meantime, Huawei has launched a unique 200G CFP high-performance compact optical module, which is half the size of the industry average and has a power consumption that is 45% lower than the industry average.
Secondly, CloudOptiX proposes end-to-end, flattened, simplified, and futureproof transport network architecture. This will provide one-hop connections based on hard pipes and achieve the ultimate experience of new services. In terms of network construction, the OTN-to-CO solution on the metro layer has been widely recognized by global operators. The next step is to deploy WDM devices at the network edge to transform "pipes" to "service bearer networks" through end-to-end OTN. On the backbone layer, all-optical network 2.0 uses optical cross-connect backbone nodes to break the ceiling of cross-connect capacity in the electrical domain. In this way, optical and electrical cross-connect can achieve efficient grooming of services in both small and large granularities, and in multiple directions, transforming transport networks from "chain" to "mesh" architecture.
Thirdly, CloudOptiX uses a management, control, and analysis platform, which is the brain of optical networks. The platform digitalizes physical optical-layer data collected by a large number of sensors, and then uses AI and Big Data technologies to predict optical service faults. This technology helps telecom operators to locate potential faults before they occur and perform traffic diversion and troubleshooting in advance to achieve zero faults for end users. Huawei has partnered with operators to verify predictions on live networks. The results show that fault prediction accuracy is up to 85% and this will keep increasing thanks to the self-learning and training of AI technologies. In the future, the "brain of optical networks" will implement a series of intelligent O&M applications to help customers continuously improve O&M experience and efficiency.
Alex Duan, Vice President of Huawei's Transmission Network Product Line, said, "Experience is king in the intelligence era. Optical networks need to evolve towards experience-drive networks. The four major continuous technological innovations of Huawei's CloudOptiX solution enable 400G high-performance ultra-broadband pipes, simplified and highly-reliable all-optical switching network architecture, and new OTN technologies that support lower latency, smaller granularities, and more connections. Coupled with the efficient and intelligent O&M enabled by the brain of optical networks, the solution builds the next-generation ultra-broadband, simplified, and intelligent optical networks for operators to improve service experience and achieve business success."
( Press Release Image: https://photos.webwire.com/prmedia/7/225736/225736-1.jpg )
Related Links
WebWireID225736

This news content was configured by WebWire editorial staff. Linking is permitted.
News Release Distribution and Press Release Distribution Services Provided by WebWire.