GE Global Research Developing DNA Vaccine Technology to Enable Rapid Response to Infectious Diseases
-Awarded two- year, $4.7 MM Federal grant from the Defense Threat Reduction Agency (DTRA) to reduce new vaccine creation from over a year to only a few weeks
-Would improve readiness of Defense agencies and medical community to respond to and thwart potential epidemics or even pandemics
-Faster synthetic process could lead to improvements in a vaccine's effectiveness to fight off viruses such as the flu
NISKAYUNA, NY –
WEBWIRE
–
Thursday, June 21, 2018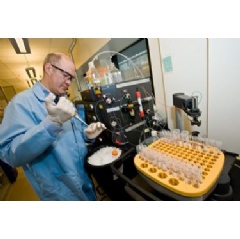 A team of GE scientists at GE's Global Research Center in Upstate New York have been awarded a two-year, $4.7 MM program from DTRA, an agency within the U.S. Department of Defense (DOD), to develop and demonstrate DNA vaccine technology that would enable the agency and medical community to more rapidly respond to new or emerging biothreats. 
"Every hour, day, week and month we can save when developing a vaccine in response to a new or emerging biothreat could mean the difference between saving a life, hundreds of lives, or more," said John Nelson, a Senior Principal Scientist in the Biology and Applied Physics group at GE Global Research and principal investigator on the DTRA program. "The use of our special kind of DNA in making vaccines holds a lot of promise, but still needs to be proven. We have high hopes that we can address the technical gaps required to pave the way for its future use."
Through the efforts of Nelson and others in the field of DNA technology, dramatic improvements have been made over the past decade to speed up DNA genome sequencing to make the technology more viable for use in vaccine development. DNA sequencing technology is improving rapidly. "10 years ago, it cost $50,000 and took several weeks to sequence an entire human genome. Today for a few thousand dollars, it can be done in under two weeks," Nelson said. "Currently, in only a few days we can obtain the complete sequence of any new pathogen for a few hundred dollars". This allows us to design a new DNA vaccine and have the DNA synthesized.
How Vaccines are made today
The processes for creating vaccines for viruses such as the flu are complex and can take from several months to a year.  This long timeframe, in turn, can make it difficult to create an effective vaccine. Nelson said, "Viruses like the flu mutate or change in their characteristics as they are transferred from person-to person. Today, vaccines for the flu are developed almost a year ahead of the next flu season." Nelson said, "Scientists do their best to predict what the flu will look like and then engineer a version of the killed virus to inject in people's arms. The issue is that by the time it is administered, the profile of the flu virus may have changed so much the vaccine won't be as effective in suppressing the virus. That's why you hear about people who received the flu vaccine, but still got the flu."
GE's New DNA Vaccine Technology
DNA vaccine technology has been developed over the last two decades and is currently in human clinical trials. However, the DNA used in the current version is made in bacterial cells and is very complicated and expensive to purify.  GE has taken the cellular process used to make DNA out of the cells and moved it to a cell-free method to create the DNA enzymatically. 
The process starts by simply taking a swab from someone's nose to capture sample that contains the virus. The next step is to send the sample to the lab to sequence the virus and identify the genes for the surface proteins of the virus. Once you have those genes, you then create a piece of DNA that will provide instructions on how to express the genes into proteins. This section of DNA is then mass-produced using the GE method, and formulated into vaccines. This DNA vaccine is then put into a few human cells (just like a normal vaccine in the skin or muscle) and expressed over a few days to produce the foreign proteins that prime the body's immune response against the virus.
Together with its research partners, Albany Medical Center, the University of Washington, Profectus Biosciences and the United States Army Medical Research Institute of Infectious Diseases (USAMRIID), the team will test different vaccine delivery mechanisms to prove the effectiveness of this new form of DNA vaccine. One novel approach is where the vaccine is delivered through the skin using GE's Ultrasound technology.
"The ability to develop vaccines in days, not months, would be a game-changer in the way the medical community responds to newly emerging contagious diseases," Nelson concluded.  "GE's synthetic approach to produce DNA could also open up new opportunities in other areas, including the treatment of cancer and autoimmune diseases." 
About GE
GE drives the world forward by tackling its biggest challenges: Energy, health, transportation—the essentials of modern life. By combining world-class engineering with software and analytics, GE helps the world work more efficiently, reliably, and safely. For more than 125 years, GE has invented the future of industry, and today it leads new paradigms in additive manufacturing, materials science, and data analytics. GE people are global, diverse and dedicated, operating with the highest integrity and passion to fulfill GE's mission and deliver for our customers.
( Press Release Image: https://photos.webwire.com/prmedia/6/225626/225626-1.jpg )
Related Links
WebWireID225626

This news content was configured by WebWire editorial staff. Linking is permitted.
News Release Distribution and Press Release Distribution Services Provided by WebWire.