Schedule of Exhibitions through 2019
UPCOMING EXHIBITIONS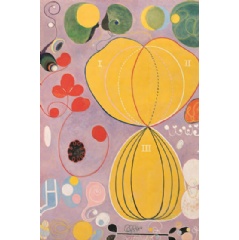 Hilma af Klint The Ten Largest, No. 7., Adulthood, Group IV, 1907 Tempera on paper mounted on canvas, 315 x 235 cm Stiftelsen Hilma af Klints Verk. Photo: Albin Dahlström/Moderna Museet.
In fall 2018 the Guggenheim Museum will present the first major solo exhibition in the United States of the Swedish artist Hilma af Klint (1862–1944). When af Klint began creating radically abstract paintings in 1906, they were like little that had been seen before: bold, colorful, and untethered from recognizable references to the physical world. It was several years before Vasily Kandinsky, Kazimir Malevich, Piet Mondrian, and others would take similar strides to free their own artwork of representational content. Yet af Klint never exhibited her remarkably forward-looking paintings and, convinced the world was not ready for them, stipulated that they not be shown for twenty years following her death. Ultimately, her work was not exhibited until 1986, and it is only over the past three decades that her paintings and works on paper have received serious attention. Hilma af Klint: Paintings for the Future will offer an opportunity to experience af Klint's artistic achievements in the Guggenheim's rotunda more than a century after she began her daring work. The exhibition will feature more than 160 of af Klint's artworks and focus on the artist's breakthrough years, 1906–20. It is during this period that she began to produce nonobjective and stunningly imaginative paintings, creating a singular body of work that invites a reevaluation of modernism and its development. The exhibition is curated by Tracey Bashkoff, Director of Collections and Senior Curator, with the assistance of David Horowitz, Curatorial Assistant, and is organized with the cooperation of the Hilma af Klint Foundation, Stockholm. In conjunction with Hilma af Klint: Paintings for the Future, the museum will present the thirty-fourth chapter of paintings by R. H. Quaytman, whose abiding interest in af Klint extends back to 1989. In these new works, Quaytman will engage af Klint's aesthetic language and spiritually charged subject matter.
Hilma af Klint: Paintings for the Future is supported in part by the Helen Frankenthaler Foundation, The Barbro Osher Pro Suecia Foundation, the Robert Lehman Foundation, and The American-Scandinavian Foundation. The Leadership Committee for this exhibition, chaired by Maire and Carl Gustaf Ehrnrooth, Trustee, is gratefully acknowledged for its support. The catalogue for this exhibition is supported in part by Furthermore: a program of the J. M. Kaplan Fund.
R.H. Quaytman is generously supported by The Solomon R. Guggenheim Museum International Director's Council.
Robert Mapplethorpe (1946–1989), one of the most critically acclaimed, yet controversial American artists of the late twentieth century, is represented in great depth in the Guggenheim's collection. In 1993 the museum received a generous gift of approximately two hundred photographs and unique objects from the Robert Mapplethorpe Foundation, creating one of the most comprehensive public repositories in the world of this important artist's work. In 2019, thirty years after the artist's death, the Guggenheim will celebrate the sustained legacy of his work with a yearlong exhibition conceived in two sequential parts in the Mapplethorpe Gallery on Tower Level 4.
The first phase of the exhibition will feature an installation of highlights from the Guggenheim's rich collection of Mapplethorpe holdings, including selections from the artist's early Polaroids, collages, and mixed-media constructions to his iconic, classicizing photographs of male and female nudes, flowers, and statuary; his portraits of artists, celebrities, and acquaintances; his more explicit depictions of the S&M underground; and some of his best-known self-portraits. The second phase will address the artist's resounding impact on the field of contemporary portraiture and self-representation. It will feature contemporary artists from the Guggenheim's collection who either actively engage with and reference Mapplethorpe's work or whose approach to picturing the body and exploring identity through portraiture finds resonances in Mapplethorpe's oeuvre. This yearlong exhibition program will celebrate the full range of Mapplethorpe's extraordinary artistic contributions as well as the impact of the Foundation's gift on the museum's photography collection and collecting practices.
Artistic License: Six Takes on the Guggenheim Collection


March 1–September 8, 2019
This full-rotunda exhibition celebrates the institution's extensive twentieth-century holdings through the intervention of six contemporary artists, all of whom have contributed to shaping the museum's history with their own pivotal solo shows. Curated by Paul Chan (b. 1973, Hong Kong), Cai Guo-Qiang (b. 1957, Quanzhou, Fujian Province, China), Jenny Holzer (b. 1950, Gallipolis, Ohio), Julie Mehretu (b. 1970, Addis Ababa, Ethiopia), Richard Prince (b. 1949, Canal Zone, Panama), and Carrie Mae Weems (b. 1953, Portland, Oregon), this presentation brings together collection highlights and rarely seen works from the turn of the century to 1980. Creating unique and critical dialogues with the Guggenheim's history and the history of modern and contemporary art, these artists will each interpret the collection through their own individual perspectives. The exhibition will include over one hundred paintings, sculptures, and works on paper that engage with the cultural discourse of their time—from the utopian aspirations of early modernism, to the formal explorations of mid-century abstraction, to the sociopolitical debates of the 1960s and '70s, with each curated section providing a distinctive opportunity for new interpretations of the collection. The selection will be accompanied by archival material relating to the artists' works on view. Organized by Nancy Spector, Artistic Director and Jennifer and David Stockman Chief Curator, with a team of curators, and coinciding with the sixtieth anniversary of the iconic Frank Lloyd Wright–designed building, this will be the first artist-curated exhibition at the Guggenheim Museum.
Hugo Boss Prize 2018
Spring 2019
Founded in 1996, the Hugo Boss Prize is a biennial award administered by the Solomon R. Guggenheim Museum that honors significant achievement in contemporary art. Selected by a jury of international curators and critics chaired by Nancy Spector, Artistic Director and Jennifer and David Stockman Chief Curator, Solomon R. Guggenheim Museum and Foundation, the finalists for the twelfth iteration of the prize are Bouchra Khalili, Simone Leigh, Teresa Margolles, Emeka Ogboh, Frances Stark, and Wu Tsang. The prize-winner will be announced on October 18, 2018, and a solo exhibition of the winning artist's work will be presented at the Guggenheim in the spring of 2019. A publication featuring essays discussing each artist's practice will be released in advance of the announcement. Previous recipients of the prize include Matthew Barney (1996), Douglas Gordon (1998), Marjetica Potrč (2000), Pierre Huyghe (2002), Rirkrit Tiravanija (2004), Tacita Dean (2006), Emily Jacir (2008), Hans-Peter Feldmann (2010), Danh Vo (2012), Paul Chan (2014), and Anicka Yi (2016). The Hugo Boss Prize 2018 is organized by Susan Thompson, Associate Curator, Solomon R. Guggenheim Museum, and is made possible by HUGO BOSS.
Countryside: Future of the World

 (working title)
October 11, 2019-Winter 2020
The Guggenheim Museum will collaborate with architect and urbanist Rem Koolhaas and AMO, the think tank of the Office for Metropolitan Architecture (OMA), on this exhibition. Extending work already underway by AMO / Koolhaas and students at the Harvard Graduate School of Design, Countryside: Future of the World will present speculations about tomorrow through insights into the countryside of today. Following decades of urban triumphalism, in which much of architectural production and thinking has focused on development and audiences in metropolitan areas, the exhibition posits that rural territories are undergoing more radical reorganizations. Exploring this frontier, which has largely remained unexamined by city-focused architects, the exhibition will examine artificial intelligence and automation, the effects of genetic experimentation, political radicalization, mass and micro migration, large-scale territorial management, human-animal ecosystems, subsidies and tax incentives, the impact of the digital on the physical world, and other developments that are altering landscapes across the globe. Countryside: Future of the World is organized by Troy Conrad Therrien, Curator of Architecture and Digital Initiatives, Solomon R. Guggenheim Museum, in collaboration with Rem Koolhaas, Founding Partner, OMA; and Samir Bantal, Director, AMO. Ashley Mendelsohn, Assistant Curator, Architecture and Digital Initiatives, Solomon R. Guggenheim Museum, provides curatorial support.
ON VIEW

Giacometti


Through September 12, 2018
This comprehensive exhibition features nearly 200 sculptures, paintings, and drawings by the Swiss artist Alberto Giacometti (1901–1966) and is the first major museum presentation of the artist's work in the United States in fifteen years. In 1955, more than sixty years ago, the Solomon R. Guggenheim Museum organized the first-ever museum presentation of Giacometti's work in its former temporary quarters on New York's Fifth Avenue and brought key works into its collection. A posthumous retrospective followed in the Frank Lloyd Wright–designed rotunda in 1974. The upcoming exhibition, co-organized by the Solomon R. Guggenheim Foundation and the Fondation Alberto and Annette Giacometti, Paris, examines anew this preeminent modernist who is best known for his distinctive figurative sculptures that emerged after the trauma and anguish of World War II, including a series of elongated standing women, striding men, and expressive busts. Yet Giacometti's rich career—spent largely in France—spans several decades and various mediums, and his early production reveals his engagement with Cubism and Surrealism as well as African, Oceanic, and Cycladic art. Giacometti's paintings and drawings, moreover, reflect his incessant investigations of the human body in sculpture, as he strove to capture the essence of humanity. A number of pocket-size figures and heads begun immediately before the war years, for example, explore spatial concerns such as perspective and distance that became paramount to his work. Giacometti's studio practice is likewise a particular focus of the exhibition, examined through the inclusion of rarely exhibited plaster sculptures, in addition to ephemera and historical photographs documenting his relationship with the Guggenheim and with New York. Giacometti is curated by Megan Fontanella, Curator, Modern Art and Provenance, Solomon R. Guggenheim Museum, and Catherine Grenier, Director, the Fondation Giacometti.
Co-organized by the Solomon R. Guggenheim Foundation and the Fondation Giacometti, Paris. Giacometti is made possible by Lavazza. Additional support is provided by Northern Trust and Art Mentor Foundation Lucerne. The Leadership Committee for this exhibition is gratefully acknowledged for its support, with special thanks to Linda Macklowe, Chair, as well as Acquavella Galleries, Larry Gagosian, Jo Carole and Ronald S. Lauder, FX and Natasha de Mallmann, Hauser & Wirth, Per Skarstedt, Ulla Dreyfus-Best, Grande Albergo Excelsior Vittoria – Sorrento, kamel mennour, Gigi and Andrea Kracht, La Prairie, Lévy Gorvy, Luxembourg & Dayan, Richard Gray Gallery, Thomas Ammann Fine Art AG, and Thomas Gibson Fine Art. Funding is also provided by Christie's and the Swiss Arts Council Pro Helvetia. This exhibition is supported by an indemnity from the Federal Council on the Arts and the Humanities.
One Hand Clapping


Through October 21, 2018
The third exhibition of The Robert H. N. Ho Family Foundation Chinese Art Initiative presents new works by Cao Fei, Duan Jianyu, Lin Yilin, Wong Ping, and Samson Young. The artists in this exhibition explore the ways in which globalization affects our understanding of the future. Their commissioned works represent a range of new and traditional mediums, from virtual reality technology to oil on canvas. The artists are connected by their deep involvement in specific places, namely, Beijing, Guangzhou, Hong Kong, and New York; their critical examination of our systems of exchange, communication, and production; and their imagination of multiple futures as a form of poetic revolution. The exhibition is organized by Xiaoyu Weng, The Robert H. N. Ho Family Foundation Associate Curator of Chinese Art, and Hou Hanru, Consulting Curator, The Robert H. N. Ho Family Foundation Chinese Art Initiative. Kyung An, Assistant Curator, Asian Art, provides curatorial support. Launched in 2013, The Robert H. N. Ho Family Foundation Chinese Art Initiative at the Guggenheim supports a curatorial residency, three exhibitions and publications, and commission-based acquisitions. By commissioning new works by artists born in Greater China, the program offers a platform for artistic experimentation that responds to and reflects urgent issues of our time. Works created through the initiative will form The Robert H. N. Ho Family Foundation Collection at the Guggenheim.
This exhibition is made possible by The Robert H. N. Ho Family Foundation.
Guggenheim Collection: Brancusi


Ongoing
In gallery space devoted to the permanent collection, the Guggenheim is showcasing its rich holdings of the work of Constantin Brancusi (1876–1957). In the early decades of the twentieth century, Brancusi produced an innovative body of work that altered the trajectory of modern sculpture. During this period, Brancusi lived and worked in Paris, then a thriving artistic center where many modernist tenets were being developed and debated. He became an integral part of these conversations both through his relationships with other artists, such as Marcel Duchamp, Fernand Léger, Amedeo Modigliani, and Henri Rousseau, and through his own pioneering work. His aspiration to express the essence of his subjects through simplified forms and his engagement with non–Western European artistic traditions led to new stylistic approaches. In addition, his mode of presentation, which equally emphasized sculpture and base and in which works were shown in direct relation to one another, instead of as independent entities, introduced new ways of thinking about the nature of the art object.
The Solomon R. Guggenheim Museum began collecting Brancusi's work in-depth in the mid-1950s under the leadership of its second director, James Johnson Sweeney. When Sweeney began his tenure at the museum, the collection was focused on nonobjective painting. Sweeney significantly expanded the scope of the institution's holdings, bringing in other styles and mediums, particularly sculpture. The Guggenheim's commitment to Brancusi during these years extended beyond its collecting priorities, and in 1955 the museum held the first major exhibition of the artist's work.
Supported in part by the Romanian Cultural Institute in New York.
The Thannhauser Collection
Ongoing
Bequeathed to the museum by art dealer and collector Justin K. Thannhauser and his widow, Hilde Thannhauser, the Thannhauser Collection includes a selection of late nineteenth- and early twentieth-century paintings, works on paper, and sculpture that represents the earliest works in the Guggenheim collection. Pioneering artists such as Edgar Degas, Paul Gauguin, Édouard Manet, Pablo Picasso, and Camille Pissarro laid the groundwork for the emergence of abstract art—the focus of the collection of this museum's founder, Solomon R. Guggenheim. Featuring selections from the Thannhauser Collection alongside paintings from the museum's broader holdings, this presentation surveys French modernism at the Guggenheim. Among the works currently on view are Picasso's Woman Ironing (La repasseuse, 1904); Around the Circle (1940) by Kandinsky; and several paintings and works on paper by Georges Seurat. Concurrent with the ongoing New York exhibition, the Guggenheim Museum Bilbao will host Van Gogh to Picasso: The Thannhauser Legacy, organized by Megan Fontanella, Curator, Modern Art and Provenance, from September 21, 2018 through March 24, 2019, marking the first major presentation of a significant portion of the celebrated Thannhauser Collection outside of the museum's galleries.
GUGGENHEIM MUSEUM BILBAO
For the full schedule of exhibitions through 2018 at Guggenheim Museum Bilbao, please visit https://www.guggenheim-bilbao.eus/en/exhibitions/.
PEGGY GUGGENHEIM COLLECTION
For the full schedule of exhibitions through 2018 at the Peggy Guggenheim Collection, please visit http://www.guggenheim-venice.it/inglese/exhibitions/mostre.php?tipo=3.
VISITOR INFORMATION
Admission: Adults $25, students/seniors (65+) $18, members and children under 12 free. Available with admission or by download to personal devices, the Guggenheim's free app offers an enhanced visitor experience. The app features content on special exhibitions, access to more than 1,600 works in the Guggenheim's permanent collection, and information about the museum's landmark building. Verbal imaging guides for select exhibitions are also included for visitors who are blind or have low vision. The Guggenheim app is supported by Bloomberg Philanthropies.
Museum Hours: Sun–Wed 10 am–5:45 pm, Fri 10 am–5:45 pm, Sat 10 am–7:45 pm, closed Thurs. On Saturdays, beginning at 5:45 pm, the museum hosts Pay What You Wish. For general information, call 212 423 3500 or visit the museum online at guggenheim.org.
( Press Release Image: https://photos.webwire.com/prmedia/6/225614/225614-1.jpg )
Related Links
WebWireID225614

This news content was configured by WebWire editorial staff. Linking is permitted.
News Release Distribution and Press Release Distribution Services Provided by WebWire.