Rick Van Goethem: Drifting is the coolest motorsport on the planet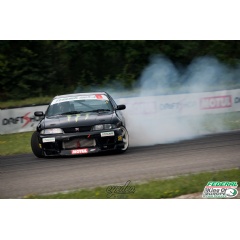 Pictures : @ King of Europe & Eyedea Media
Sideways action, screaming engines and lots and lots of smoke - thatís what drifting is all about. But how does it work as a sport? And why has it become so popular over the last few years? We sat down with Dutch drift-ace Rick Van Goethem to find out more.
Hi Rick, for people who are unfamiliar with it, can you tell us what drifting is exactly, as a sport?
Well, itís the baddest and coolest form of motorsport there is. The goal is simply to drive your car through a series of corners as fast as you can while going sideways. Thereís a jury who judge the drivers on speed, line, angle and the entertainment they give the spectators. Every weekend starts off with a few solo qualifying runs followed by duo runs. In a duo run we each do one run, with one car leading and another car following, and then we switch roles for the next round.
I see all kind of cars at drifting events. Is there even a rulebook?
Yes and no, thatís the beauty of the sport. You can take any car you want - it only has to comply with certain FIA safety standards. So you can enter a car that started out with a four-cylinder engine but swap that for a big fat V8 - it doesnít matter. Neither is there a limit on the horsepower that your engine can produce. Some of the cars in the European competition run with over 1000 bhp. Itís all within the rules. My car ďonlyĒ has 600 bhp because thatís the limit for my gearbox and differential. I could push my car further and it could easily achieve more power but that would strain the engine too much and I would need more than one engine to get through the season. Basically you can run any car you can afford to buy or build.
Speaking of your car, what car do you drift in?
I drive a Nissan R33 Skyline GTS-T. The GTS-T model is the rear-wheel drive cousin of the Nissan Skyline GT-R (with its AWD). But apart from the engine and the chassis, weíve changed everything - the suspension, gearbox, brakes and of course weíve added a massive turbocharger. I love the Skyline because itís so reliable. We run the stock engine with twice as much power as standard, and weíve been using it for two seasons without any problems.
Letís talk about rubber. What kind of tyres do you use? And how many do you get through during a race weekend?
Quite a lot (laughs). On average we use about 20 to 30 tyres per weekend but only on the rear wheels. The front tyres will last the whole season. We use very sticky semi-slick tyres which would normally be used for trackways and circuit driving. But we also need tyres with good grip because we have to be fast even when weíre drifting, so the grip is super important.
Drifting is huge in the US and Asia and itís growing rapidly in Europe as well. Why do you think that is?
Well first of all itís very accessible for spectators, and because there hardly are any rules and the field of cars is really diverse. Itís just one big spectacle, watching two cars going sideways, so close that theyíre almost touching doorhandles. The European level is also really high - when you look at a championship like Formula D in the US, youíll see that many drivers from all over Europe come to take part.
( Press Release Image: https://photos.webwire.com/prmedia/7/225599/225599-1.jpg )
Related Links
WebWireID225599

This news content was configured by WebWire editorial staff. Linking is permitted.
News Release Distribution and Press Release Distribution Services Provided by WebWire.