New Production-Grade Multi Jet Fusion 3D Printing Center Unveiled in China
Guangdong (Dali) 3D Printing Collaborative Innovation Platform and HP Introduce Production-Grade 3D Printing Center in China
Foshan, China –
WEBWIRE
–
Monday, June 18, 2018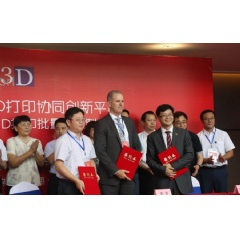 The Platform embraces HP's Multi Jet Fusion technology exclusively for its new digital manufacturing center in China, accelerating the Fourth Industrial Revolution
 HP Inc. together with Guangdong (Dali) 3D Printing Collaborative Innovation Platform unveiled a new production-grade 3D printing center in China, the world's largest manufacturing market.  The Platform is powering its new Lanwan Intelligence – HP Multi Jet Fusion Technology Mass Manufacturing Center with 10 HP Multi Jet Fusion 3D printing systems to meet the growing demand for functional prototypes and production-grade parts. This is HP's largest deployment of production-grade 3D printing in Asia Pacific and Japan.
Technologies such as 3D printing are part of an industry-wide digital transformation that many call the Fourth Industrial Revolution. This is ushering in a new era of productivity, innovation and economic opportunities globally.
Operated by Guangdong Lanwan Intelligence Technology, the new Lanwan Intelligence – HP Multi Jet Fusion Technology Mass Manufacturing Center, which opened Saturday, June 16, is located in the town of Dali, Foshan, a major manufacturing hub in Guangdong Province. The center will exclusively use HP Multi Jet Fusion 3D printing systems, which deliver the speed, quality and economics required for production-grade 3D printing. The new center will provide production-grade applications at scale for major auto, consumer goods and motorcycle customers in Foshan as well as for other industries in the Greater Bay Area of Southern China.  
Senior representatives from the national and local governments, businesses and academia attended the Center's opening ceremony in Foshan. In addition, HP, Guangdong Lanwan Intelligence Technology and the Institute of Foshan, Nanhai Guangdong Technology University signed a memorandum of understanding (MoU) to promote the adoption of 3D printing technology in Southern China.
"Everything starts with applications – and digital manufacturing innovators are leading the transformation of the $12 trillion manufacturing sector by producing industrial-grade parts across industries on HP Multi Jet Fusion," said Stephen Nigro, President of 3D Printing, HP Inc. "We are thrilled that Guangdong (Dali) 3D Printing Collaborative Innovation Platform is deploying HP Multi Jet Fusion technology at factory-scale to drive its business growth and accelerate industry innovation. HP is committed to helping our global digital manufacturing partner community expand and thrive."
"The demand for 3D-printed production-grade parts will grow exponentially over the next few years as we shift from analog to digital manufacturing," said Luo Jun, Executive Director of China 3D Printing Technology Industry Alliance and President of Guangdong Lanwan Intelligence Technology. "By deploying HP's Multi Jet Fusion technology in our new digital manufacturing center in China, we can better – and more quickly – deliver cost-effective and production-grade parts to our customers." 
HP is the global leader in production-grade plastics 3D printing solutions. The speed, economics, quality, and reliability of the HP Jet Fusion 3D Printing Solutions are enhancing business operations with leading global companies including BMW Group, Jabil, Johnson & Johnson, Nike, and many more. HP also has a growing list of digital manufacturing partners in North America, Europe, and Asia-Pacific. 
HP's end-to-end manufacturing ecosystem includes design engineering, software, enterprise, and manufacturing workflow leaders such as SAP, Siemens, Dassault Systémes, and Materialise. Members of its unique open 3D materials platform include Arkema, BASF, Evonik, Henkel, Lehman & Voss, Lubrizol, and Sinopec Yanshan Petrochemical Co.
-------
About HP
HP Inc. creates technology that makes life better for everyone, everywhere. Through our portfolio of printers, PCs, mobile devices, solutions and services, we engineer experiences that amaze. More information about HP Inc. is available at http://www.hp.com/go/printing.
About Lanwan Intelligence
Guangdong Lanwan Intelligence Technology Co., Ltd. is Infinite 3D Technology Industry Group's third open application service platform and 3D printing solution provider following its previous Qingdao and Suzhou location. Its core businesses include 3D printing mass manufacturing, 3D printing education and training, and 3D printing industry Internet + platform. The company is committed to promoting the application of 3D printing in the industrial area, providing clients with comprehensive solutions, such as rapid prototyping, mass production of terminal products, and products related R&D and design support.
Forward-Looking Statements
This news release contains forward-looking statements that involve risks, uncertainties and assumptions. If the risks or uncertainties ever materialize or the assumptions prove incorrect, the results of HP Inc. and its consolidated subsidiaries ("HP") may differ materially from those expressed or implied by such forward-looking statements and assumptions.
All statements other than statements of historical fact are statements that could be deemed forward-looking statements, including but not limited to any projections of net revenue, margins, expenses, effective tax rates, net earnings, net earnings per share, cash flows, benefit plan funding, deferred tax assets, share repurchases, currency exchange rates or other financial items; any projections of the amount, timing or impact of cost savings or restructuring and other charges; any statements of the plans, strategies and objectives of management for future operations, including the execution of restructuring plans and any resulting cost savings, revenue or profitability improvements; any statements concerning the expected development, performance, market share or competitive performance relating to products or services; any statements regarding current or future macroeconomic trends or events and the impact of those trends and events on HP and its financial performance; any statements regarding pending investigations, claims or disputes; any statements of expectation or belief; and any statements of assumptions underlying any of the foregoing.
Risks, uncertainties and assumptions include the need to address the many challenges facing HP's businesses; the competitive pressures faced by HP's businesses; risks associated with executing HP's strategy; the impact of macroeconomic and geopolitical trends and events; the need to manage third-party suppliers and the distribution of HP's products and the delivery of HP's services effectively; the protection of HP's intellectual property assets, including intellectual property licensed from third parties; risks associated with HP's international operations; the development and transition of new products and services and the enhancement of existing products and services to meet customer needs and respond to emerging technological trends; the execution and performance of contracts by HP and its suppliers, customers, clients and partners; the hiring and retention of key employees; integration and other risks associated with business combination and investment transactions; the results of the restructuring plans, including estimates and assumptions related to the cost (including any possible disruption of HP's business) and the anticipated benefits of the restructuring plans; the resolution of pending investigations, claims and disputes; and other risks that are described in HP's Annual Report on Form 10-K for the fiscal year 2017, and HP's other filings with the Securities and Exchange Commission. HP assumes no obligation and does not intend to update these forward-looking statements. HP's Investor Relations website at http://www.hp.com/investor/home contains a significant amount of information about HP, including financial and other information for investors. HP encourages investors to visit its website from time to time, as information is updated, and new information is posted.
( Press Release Image: https://photos.webwire.com/prmedia/6/225427/225427-1.jpg )
Related Links
WebWireID225427

This news content was configured by WebWire editorial staff. Linking is permitted.
News Release Distribution and Press Release Distribution Services Provided by WebWire.