Garnier obtains Cradle To Cradle Certification for five SkinActive products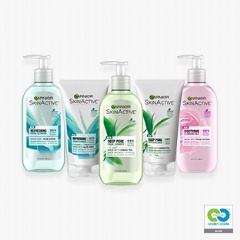 Garnier and L'Oréal USA: Pioneering sustainability 
Garnier is the first mass-market skin care brand to receive this certification for its products and is one of the few skin care brands to have multiple products certified in a portfolio. Garnier, a skin care, hair care and hair color brand, joins Biolage and Kiehl's as the third L'Oréal USA brand to achieve Cradle to Cradle certification for a selection of its products.
The announcement was made during this year's Sustainable Brands conference in Vancouver, B.C. in conjunction with the Cradle to Cradle Products Innovation Institute and MBDC, the creators of the Cradle to Cradle® Design Framework and assessors of L'Oréal products. The certifications are the result of L'Oréal USA's global commitment to innovate, produce and develop sustainably through its global sustainability program, Sharing Beauty With All.  
"The Cradle to Cradle certification is a multi-attribute certification that mirrors L'Oréal USA's holistic approach to sustainable product development," said Danielle Azoulay, Head of CSR & Sustainability for L'Oréal USA. "We know our consumers value sustainability and to us that means demonstrating sustainability leadership across the value chain, from formulation to manufacturing to renewable resources to social fairness. We are thrilled that Garnier is the third brand in our portfolio to achieve this major milestone and look forward to continuing to integrate this best-in-class certification across L'Oréal USA's products."
Spotlight on the Cradle to Cradle Certification
Cradle to Cradle Certified products are awarded at five levels (BASIC, BRONZE, SILVER, GOLD, and PLATINUM), with each level imposing a more rigorous set of requirements. The lowest score in any quality category establishes the product's overall score. All five Garnier SkinActive products achieved Cradle to Cradle Certified™ SILVER, with four products reaching PLATINUM for the Material Health attribute and all products achieving GOLD for Material Reutilization. Certified products are required to show continuous improvement every two years.
The newly certified products include:
- Garnier SkinActive Deep Pore Facial Cleanser with Green Tea;
- Garnier SkinActive Refreshing Facial Cleanser with Aloe Juice;
- Garnier SkinActive Soothing Cleansing Milk with Rose Water;
- Garnier SkinActive Deep Pore Exfoliating Face Scrub with Green Tea; and
- Garnier SkinActive Refreshing Cream Cleanser with Aloe Juice.
All of the newly certified Garnier products were produced in L'Oréal USA's Franklin, New Jersey facility which is powered with 100 percent renewable electricity and features optimized vessel cleaning systems that have led to a reduction in water consumption. Sustainable packaging was a priority for all of the newly certified products, the packaging for Garnier's SkinActive Deep Pore Exfoliating Face Scrub with Green Tea is made from 50 percent PCR (post-consumer recycled) plastic while the packaging of all three of Garnier's certified cleansers are made from 30 percent PCR plastic.  
A recognition that goes towards L'Oréal's Commitments
"L'Oréal continues to set an incredible example for how the beauty industry can make our world a better place," said William McDonough, co-founder of MBDC, the originators of the Cradle to Cradle Certified program and assessors of the certified Garnier products. "Their commitment to design, develop and take to market Cradle to Cradle Certified products not only empowers customers to choose products that are good for the world, but also encourages other businesses to follow suit. L'Oréal is, in effect, inviting their industry to join them in collaborative advantage as they seek the highest standard."
"As the largest beauty company in the world, L'Oréal has taken the responsibility of sustainability seriously, with multiple products from brands across its portfolio achieving Cradle to Cradle certifications," said Lewis Perkins, President of the Cradle to Cradle Products Innovation Institute, which administers the Cradle to Cradle Certified Products Program. "By using the Cradle to Cradle Certified product standard as a framework for the continuous improvement of the material health and impact of its products, L'Oréal is leading the beauty industry towards greater transparency and trust with its consumers."
Through Sharing Beauty With All, L'Oréal USA is committed to reducing environmental impacts throughout the product lifecycle. To further these efforts, the company has developed its Sustainable Product Optimization Tool (SPOT) to improve the environmental and social profile of its products. SPOT focuses on five elements of product sustainability: packaging, formula, ingredient sourcing, manufacturing and social benefit. In 2017, L'Oréal integrated SPOT into the design and launch process of its entire brand portfolio.
( Press Release Image: https://photos.webwire.com/prmedia/6/225255/225255-1.jpg )
Related Links
WebWireID225255

This news content was configured by WebWire editorial staff. Linking is permitted.
News Release Distribution and Press Release Distribution Services Provided by WebWire.