BT and partners take quantum leap towards 'ultra-secure' future networks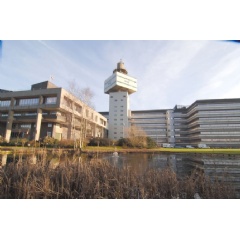 Adastral Park, Ipswich
BT announced that it has built the UK's first practical quantum-secured high-speed fibre network between Cambridge and the BT Labs in Adastral Park, Ipswich, in a collaborative project led by the Quantum Communications Hub, part of the UK National Quantum Technologies Programme.
Constructed by researchers from BT, the University of York and the University of Cambridge over the past two years, the "ultra-secure" connection, secured by the laws of physics, was built as part of a project co-funded by the Engineering and Physical Sciences Research Council (EPSRC), and will connect to the Cambridge Metropolitan QKD Network being launched tomorrow in Cambridge.
The quantum-secured link runs across a standard fibre connection through multiple BT exchanges over a distance of 120km, making it the first high-speed 'real-world' deployment of quantum-based network security in the UK. The network link, which is capable of transferring 500Gbps of data, will explore and validate use cases for Quantum Key Distribution (QKD) technologies. This will include how the technology can be deployed to secure critical national infrastructure, as well as to protect the transfer of critical data, such as sensitive medical and financial information.
The quantum link itself is said to be virtually "un-hackable" because it relies on the use of single particles of light (photons), to transmit data encryption 'keys' across the fibre. Should this communication be intercepted, the sender will be able to tell that the link has been tampered with and the stolen photons cannot then be used as part of the key, rendering the data stream incomprehensible to the hacker.
The partners are using equipment from ID Quantique to transmit the data encryption key using a stream of single photons across the fibre network. In parallel, the encrypted data flows through the same fibre, powered by equipment from ADVA optical networks. The fibre runs from Cambridge University Engineering Department's Centre for Photonic Systems via quantum 'repeater stations' at Bury St Edmunds and Newmarket before making its way to the BT Labs in less than a thousandth of a second.
The link is a joint initiative of BT and the Quantum Communications Hub, led by the University of York - one of four Hubs in the UK National Quantum Technologies Programme.The Hub is a collaboration between eight UK universities, private companies, and public sector stakeholders that have common interests in the exploitation quantum physics for the development of secure communications technologies and services.
Professor Tim Spiller, Director of the EPSRC Quantum Communications Hub said: "We know that QKD technology works. The importance of this network is the demonstration of its operation to potential end users and customers in a practical network environment, in order to stimulate market pull."
Professor Ian White, Head of Photonics Research at the University of Cambridge said: "This quantum-secured network is an excellent example of the large scale collaborative research that is feasible because of the creation of the UK's Quantum Communications Hub. The network will allow detailed analysis of the potential for this new technology to enhance security in advanced communication networks."
Professor Tim Whitley, BT's Managing Director of Research & Innovation said: "With the huge growth in cyber-attacks across the UK, it's more important than ever before that we continue to develop ways to protect the most critical data.
"BT has a long history of pioneering innovation so I'm delighted that we're able to announce this major breakthrough in the field of quantum communications. This is a brilliant example of how academia and business can work together to develop ultra-secure networks to give us the confidence we need in our future digital economy."
About BT
BT's purpose is to use the power of communications to make a better world. It is one of the world's leading providers of communications services and solutions, serving customers in 180 countries. Its principal activities include the provision of networked IT services globally; local, national and international telecommunications services to its customers for use at home, at work and on the move; broadband, TV and internet products and services; and converged fixed-mobile products and services. BT consists of four customer-facing units: Consumer, Enterprise, Global Services and Openreach.
For the year ended 31 March 2018, BT Group's reported revenue was £23,723m with reported profit before taxation of £2,616m.
British Telecommunications plc (BT) is a wholly-owned subsidiary of BT Group plc and encompasses virtually all businesses and assets of the BT Group. BT Group plc is listed on stock exchanges in London and New York.
For more information, visit www.btplc.com
( Press Release Image: https://photos.webwire.com/prmedia/7/225212/225212-1.jpg )
Related Links
WebWireID225212

This news content was configured by WebWire editorial staff. Linking is permitted.
News Release Distribution and Press Release Distribution Services Provided by WebWire.