Worldwide Pride: W Hotels Debuts Series of LGBTQ+ Destination Guides in Unexpected Locales, With Video Diaries Featuring Carmen Carrera, Phillip Picardi and Other Bold Personalities
Longtime Champion of the Community Also Announces Global Expansion of QUEER ME OUT Speaker Series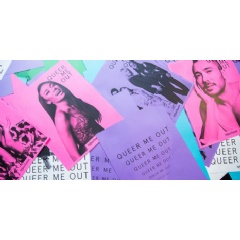 Whoever you are, wherever you are, you're welcome at W. In support of individuality everywhere, W is rolling out a series of curated travel guides with the goal of becoming the trusted travel resource for LGBTQ+ travelers around the world. In collaboration with next-generation community platform, them., the guides celebrate the unique qualities of each location and empower guests to explore the world in destinations that aren't always the first that come to mind for queer travelers. But the time for worldwide pride is now. Inspired by W Hotels' 20 years of support of the LGBTQ+ community and the brand's increasingly international footprint, W will also take their popular QUEER ME OUT speaker series to six global destinations in 2018, bringing real-time, real talk to new cities and audiences around the world.
"Since day one, W Hotels has been dedicated to inclusivity and equality and it continues to be core to our brand experience," said Anthony Ingham, Global Brand Leader, W Hotels Worldwide. "This platform is designed to connect and inspire the LGBTQ+ community in every W destination, including some not always associated with LGBTQ+ travel. With the expansion of QUEER ME OUT and new, immersive content working with our incredible creative collaborator, them., we are reimagining what a world of acceptance and support could and should be through inspiring communities and a new generation of travelers around the world."
REDISCOVERING THE (W)ORLD
W knows that LGBTQ+ travelers – like all travelers – are looking for different things (i.e. – not always a Pride festival!), not just typical things suggested by traditional guidebooks. Many are seeking out authentic historical and social opportunities on the ground to gain deeper insight into the struggles and triumphs that have shaped the LGBTQ+ community in each place. In collaboration with Condé Nast's them. and its acclaimed editor, Phillip Picardi, W is highlighting the LGBTQ+ experience with new online destination guides focusing on select cities through a curated, queer lens. The first of the guides will be available around the world on The Angle as of June 6, 2018 with additional guides being released regularly throughout the year.
The dynamic guides and first-hand video diaries from W and a creative cast of progressive personalities begin at W Mexico City, followed by W Istanbul, W Atlanta and the just-opened W Brisbane. Travelers can watch as Carmen Carrera discovers Mexico City, the first region in the country to legalize same-sex marriage back in 2010 and an exciting destination of vibrant culture, or tune in as Philip Picardi explores Istanbul, which is home to a resilient and welcoming LGBTQ+ community. W will then bring guests down under to Brisbane and down south to Atlanta with other bold personalities who don't just tour a city but become a part of it. Each guide includes inspirational, educational and immersive video and editorial content, revealing a wealth of experiences alongside talented hosts who are disrupting the status quo.
"At them, we aim to embrace and champion life experiences for the queer community at large. With W Hotels, we have created destination guides that go beyond on-paper descriptions and bring viewers into real life and the adventures that we have lived and loved through a unique, queer lens. Through these guides, we are broadening horizons for queer travelers, breaking down boundaries to show off the incredible tastes, sights and sounds of places that aren't the most well-known to hopefully inspire others to get up and go," said Phillip Picardi, Chief Content Officer of them.
LISTEN UP (AND OUT!)
W Hotels is also bringing its thought leadership platform, QUEER ME OUT, to the global stage after a successful stateside debut in 2017. The series traveled across the country last year and featured speakers such as: Editors of GAYLETTER Magazine, Abiezer Benitez and Thomas Jackson; photographer Levi Jackman Foster; and Mickey Boardman, Editorial Director for PAPER Magazine, among others. This year's QUEER ME OUT series will launch in New York City on June 18 before traveling to four global locations. The series will host events at W Barcelona (June 27), W London – Leicester Square (July 6), W Amsterdam (August 2) and W Mexico City. Each location will offer passionate panel discussions that dive into hot button issues as well as the work and play of experts and icons.
In addition to the series, W will also take their passion to the streets with floats during the London and Amsterdam Pride Parades. Marriott Rewards and SPG members will be able to join in the celebration at W Amsterdam and W London by booking exclusive packages which include overnight accommodations, access to the Pride Parade floats, a meet and greet with an on-site costume designer to get dressed in the best for the festivities, a guided Pride walking tour led by the hotel's W Insider and more. W Hotels guests can also book packages for Pride Parade celebrations in Amsterdam and London by visiting www.wamsterdam.com/pride and www.wlondon.co.uk/.
ABOUT W + PRIDE
Inclusiveness is in W Hotels DNA, and this dynamic call to action is just the latest example of the brand's award-winning commitment to the LGBTQ+ community. From the brand's groundbreaking "TURN IT UP FOR CHANGE" campaign for marriage equality launched in 2015 to the W Hotels in New York City being the first to offer same-sex wedding packages when New York State passed marriage equality, W Hotels has a long-standing history of Pride-centered activations.
The brand's 2018 lineup is supported by Marriott International's #LoveTravels initiative. Since 2014, #LoveTravels represents Marriott's long standing commitment to diversity and inclusion and celebrates travelers around the world who also are dedicated to inclusion, equality, peace, and human rights. In 2018, our #LoveTravels Pride celebrations will support Casa Ruby and The Matthew Shepard Foundation.
To view the first guide, featuring Carmen Carrera at W Mexico City or to learn more about QUEER ME OUT check out theangle.whotels.com.
# # #
About W Hotels Worldwide
Born from the bold attitude and 24/7 culture of New York City, W Hotels, part of Marriott International, Inc., has disrupted and redefined the hospitality scene for nearly two decades. Trailblazing its way around the globe, with more than 50 hotels, W Hotels defies expectations and breaks the norms of traditional luxury wherever the iconic W sign lands. With a mission to fuel guests' lust for life, W ignites an obsessive desire to soak it in, live it up and hit repeat. The brand's provocative design, iconic Whatever/Whenever service and buzzing Living Rooms create an experience that is often copied but never matched. Innovative, inspiring and infectious, the brand's super-charged energy celebrates guests' endless appetite to discover what's new/next in each destination, to see more, feel more, go longer, stay later. W Hotels Worldwide is proud to participate in the industry's award-winning loyalty program, Starwood Preferred Guest®. Members can now link accounts with Marriott Rewards®, which includes The Ritz-Carlton Rewards® at members.marriott.com for instant elite status matching and unlimited points transfer.  For more information on W Hotels, visit whotels.com/theangle 
About them:
them, a next-generation community platform, chronicles and celebrates the stories, people and voices that are emerging and inspiring all of us, ranging in topics from pop culture and style to politics and news, all through the lens of today's LGBTQ+ community.
( Press Release Image: https://photos.webwire.com/prmedia/6/224918/224918-1.jpg )
Related Links
WebWireID224918

This news content was configured by WebWire editorial staff. Linking is permitted.
News Release Distribution and Press Release Distribution Services Provided by WebWire.