Feinstein Institute, GE Can Read What Nerves Are Saying About Inflammation
MANHASSET, NY and NISKAYUNA, NY –
WEBWIRE
–
Monday, June 4, 2018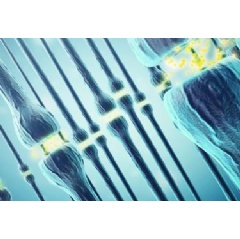 Research team from

 

Northwell Health's 

Feinstein Institute for Medical Research

 

and GE Global Research first to observe signals from the vagus nerve, which carries information used to monitor and help regulate the condition and operation of critical organs and systems in the body

Findings

 published in the National Academy of Sciences (NAS) prestigious scientific journal, Proceedings of the National Academy of Sciences of the United States of America (PNAS)

Studies focused on increasing understanding of inflammation in the body through the Nervous System, which could lead to new insights into the triggers and treatments for inflammatory diseases such as Rheumatoid Arthritis, Psoriasis, Multiple Sclerosis, Lupus, Irritable Bowel Syndrome (IBS) and Celiac Disease
 In a medical first that could lead to better understanding and treatments for common inflammatory diseases such as Rheumatoid Arthritis, Psoriasis, Multiple Sclerosis, Lupus, IBS and Celiac Disease, a team of researchers from GE's Global Research Center (GRC) in Upstate New York and Northwell Health's The Feinstein Institute for Medical Research headquartered in Manhasset, NY have – for the first time – demonstrated the ability to read and interpret nerve signals in the body's central nervous system through the vagus nerve in preclinical studies.
The vagus nerve in a human has over 100,000 separate fibers that carry information used to sense the condition and operation of critical organs and systems and for the brain to help regulate those systems. The findings by the GRC and Feinstein Institute were published in the Proceedings of the National Academy of Sciences of the United States of America (PNAS). This research team was brought together and is funded by GE Ventures through their New Market Development program, which accelerates science and technology breakthroughs and activates the ecosystems required to bring them to life.  
"GE is proud of our collaboration and research with Northwell Health's Feinstein Institute for Medical Research.  It is a great example of how private, public and philanthropic collaboration and funding can propel a new field of discovery," said Sue Siegel, GE Chief Innovation Officer and CEO of Business Innovations.  "We are excited to continue working together to develop groundbreaking discoveries to bring patients new diagnostic and therapeutic solutions."
 "In our study, we detected signaling that the nervous system uses to communicate immune status and inflammation to the brain – the nervous system does this through the vagus nerve," said Theodoros Zanos, PhD, assistant professor at the Feinstein Institute and lead author of the PNAS paper. "We will use our neural decoding methods from this study to expand the research and identify neural signaling for a variety of medical conditions. This research is a key step to engineering cutting-edge diagnostics and therapeutics."  
Peter Lorraine, a scientist at GE Global Research said, "The goal is to be able to use these nerve signals to infer what is going on in the body and how the brain is attempting to regulate critical systems. If we can do this, the outcomes for treating chronic diseases would be profound. First, we could monitor therapies directly by looking at how they impact signals from specific organs and how the brain is attempting to respond to those signals. And second, we could potentially fix problems with the signals themselves due to diseases. We're now able to start looking at these problems."
Specifically, the research team has been able to read and decode different types of inflammation that occur in the body and can lead to different types of illness and diseases. 
Jeffrey Ashe, a Principal Engineer at the GRC, said being able to read and interpret nerve signals opens a whole new window to understanding the triggers, causes and treatments for illnesses and diseases caused by inflammation, stating, "The central nervous system is communicating 24/7 to help manage and run the various systems that allow us to function," Ashe said. "When inflammation occurs, that communication system gets disrupted and can lead to common inflammatory diseases and complications in the body. By tapping into the body's nerve activity and decoding what's being communicated, we hope to discover new data and answers for what causes inflammation in the first place."
How it Works
To read nerve signals, an electrical recorder is used to read signals being transmitted from other parts of the body to the brain. The joint team from the Feinstein Institute and GRC brings together world-class expertise in signal processing and machine learning and have applied these techniques to interpret different inflammatory responses initiated in preclinical studies and tests.  
The ability to get an early warning about inflammation through the central nervous system could be critical in ultimately preventing inflammatory diseases from occurring in the first place. Lorraine said, "We're just beginning to understand this new language being communicated inside the body. But as we become more fluent, we have the opportunity to see and understand the root causes and earliest stages of inflammation that could enable us to stop it in its tracks before it leads to something more serious."
About GE: 
GE drives the world forward by tackling its biggest challenges: Energy, health, transportation—the essentials of modern life. By combining world-class engineering with software and analytics, GE helps the world work more efficiently, reliably, and safely. For more than 125 years, GE has invented the future of industry, and today it leads new paradigms in additive manufacturing, materials science, and data analytics. GE people are global, diverse and dedicated, operating with the highest integrity and passion to fulfill GE's mission and deliver for our customers.
( Press Release Image: https://photos.webwire.com/prmedia/6/224861/224861-1.jpg )
Related Links
WebWireID224861

This news content was configured by WebWire editorial staff. Linking is permitted.
News Release Distribution and Press Release Distribution Services Provided by WebWire.