All Aboard - Train News from Japan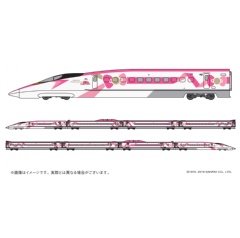 From a new Hello Kitty bullet train this summer and 'Supreme' bullet train in 2020 to sightseeing trains in Kyoto and the San'yo region, catch up on all the latest train news from Japan!
Launch of Hello Kitty Bullet Train Announced
A Hello Kitty-themed bullet train is set to debut in Japan this summer. Operated by West Japan Railway Co. (JR West), the new train will run on the main Sanyo Shinkansen Line between Osaka and Fukuoka in western and southern Japan.

The Kodama-type train will consist of eight 500-series carriages with a design inspired by Hello Kitty's trademark ribbon, which is intended to symbolize JR West's desire to use its bullet train services to enhance ties between regions in western Japan.

One of the train's unique features will be the absence of any passenger seating in the first carriage, which will instead function as a 'shop on wheels' dedicated to sale of local specialities from western Japan, starting with Shimane and Tottori prefectures. The 'Hello Plaza' carriage will feature displays, a video, photo spot, rest area, and of course, plenty of opportunity for shopping! Meanwhile, the second carriage will have full Hello Kitty decorations, including a giant Hello Kitty model to take your selfies with. 

The train will commence its services between Shin-Osaka Station in Osaka and Hakata Station in Fukuoka from 30 June. In the meantime, a Hello Kitty cafe with original decor and menu items has already opened inside Hakata Station from 1 June.
JR Central Unveils New Bullet Train - Shinkansen 'Supreme'
Central Japan Railway Co. (JR Central) has unveiled the designs for its new Shinkansen Supreme bullet train ahead of its 2020 debut in time for the Tokyo Olympic and Paralympic Games. The quieter, lighter and greener bullet train will operate between Tokyo and Shin-Osaka Stations on the Tokaido Shinkansen Line.

It incorporates a number of technological advancements that puts it ahead of its older counterparts, such as a sharper nose design, catchily titled 'dual Supreme wind', that is designed to lessen air resistance and reduce the sonic boom effect when entering tunnels. 

It is also an impressive 11 tons lighter than the older generation, partly thanks to new silicon carbide semiconductors and a natural air cooling system. As a result, the new, lighter train will consumer approximately 7% less energy than its forerunners. New technology will also shorten the braking system's reaction time, however with a maximum speed of 300km/h, the new train will not actually be any faster than its predecessors.
The complete overhaul also extends to the train's interior: all passenger seats will be equipped with power sockets, the reclining motion on seats will be smoother, there will be illuminated luggage racks, and passengers travelling in the Green Car (first class) will enjoy 15% more legroom. The new Shinkansen N700S, or Shinkansen Supreme, will make its official debut in 2020, however test cars have begun operating from March 2018. 

On the unveiling of the new bullet train's designs, Masayuki Ueno, deputy director-general of JR Tokai's Shinkansen OPerations Division, said, "The (N700S series) has been completely redesigned through renovating main facilities and equipment. We have produced a train that can symbolize a new era for the Tokaido Shinkansen Line." (Photo credit: JR Central)
JR West Unveils New Long-Distance Passenger Train
A new long-distance train designed to provide optimal comfort and convenience to longhaul train travellers is set to make its debut in spring 2020, in time to welcome visitors to Japan for the Tokyo Olympic and Paralympic Games.

Designed by West Japan Railway Company (JR West), the new train will be a six-carriage remodelled 117 series with all-reserved seating for up to 90 passengers. Each carriage will have a different design and setup to meet different passengers' needs, from families with small children and solo female travellers to luxury passengers and those travelling long-distance overnight. 
The first and sixth carriages of the train will be designated "Green Cars" with luxurious first-class seating. The first carriage will be equipped with booth-style seats that can be turned into a bed, so that passengers can enjoy a snooze whenever they want, whatever the time of day or night. The sixth carriage will up the stakes, offering even more luxury, with private rooms that can be set up in a number of different ways according to passengers' needs.

The second carriage will be a 'ladies only' carriage for exclusive use by female passengers, and will feature a bright interior and comfortable chairs with plenty of legroom. The third carriage will consist of private compartments, where travelling families with small children can travel comfortably in the privacy of their own space. Furnished with a mat that can be used as either a seat or a mattress, these private enclosures are sure to be a godsend for parents taking small children on long journeys.
The fourth carriage will consist of a 'free space area', with tables, booths and an open-plan design for free use by passengers. Meanwhile, the fifth carriage will house dormitory-style rooms kitted out with fixed flat beds. Interior design across all six carriages will be based around three themes: Diversity, Casual, and Comfort.
The new long-distance train is set to operate between the Keihanshin metropolitan area of Kyoto-Osaka-Kobe and the San'in and San'yo districts in Japan's southwest, usually considered to encompass the prefectures of Okayama, Hiroshima, Tottori, Shimane, and Yamaguchi, and should help open up new areas of Japan to both international and domestic travel.
Sightseeing Train 'Hiei' Launches in Kyoto
A new sightseeing train transporting passengers from northern Kyoto to the foothills of Mt. Hiei, a sacred mountain on the city's northern outskirts, entered operation in March this year. Operated by Eizan Railway, a small train company with two train lines in Kyoto, the train sets off from Demachiyanagi Station in northern Kyoto and travels along the Eizan Main Line before terminating at the foot of Mt. Hiei. The train line is known for the natural scenery along the route, while the mountain is home to an important Buddhist temple.

Outside, the train's most striking feature is the extremely unusual elliptical design of the nose and windows. Inspired by the train company's route map, the oval is intended to represent "the mysterious dignity of a mountain temple and the beauty and power of nature." Inside, the train is fitted with LED lighting, and "bucket seats" contoured for maximum comfort. There is also wheelchair and pushchair space, while exterior and interior displays give the train's destination information in four languages: Japanese, English, Chinese, and Korean. According to Eizan Railway, the redesign was intended to inject a new lease of life into its existing #700 series of train cars - and the eye-catching design has certainly done just that. Netizens have offered varying responses to the train's bold and futuristic design, comparing it to a variety of objects from a torch and a telescope to a security camera and even a submarine. 

The train is in operation every day of the week except Tuesdays, and makes 19 return journeys on weekdays and 12 return journeys on weekends and bank holidays. The fare for the full journey between Demachiyanagi Station in northern Kyoto and Yase-Hieizanguchi Station in the foothills of Mt. Hiei is 260 yen (£1.78) for adults and 130 yen (£0.89) for children under 12 years of age. 
What Can You Do at Mt. Hiei?
Staying in Yase, you can explore the small cafes, galleries and monuments dotted along the banks of the Takano River. Alternatively, you can use a combination of cable cars, ropeways and foot to take an adventure across the top of Mt. Hiei, taking in UNESCO-listed Enryakuji Temple along the way.
From Yase-Hieizanguchi Station, it's a five minute walk to the lower station of the Mt. Hiei Cablecar, which will whisk you 560m up the mountainside, a journey of 1.3km, in just 9 minutes. From there, it's a quick change to the Eizan Cable Ropeway, which transports you a further 486m to the top of Mt. Hiei in just 3 minutes. 

At the top, you can enjoy the delights of Garden Museum Hiei, with its rose garden and Parisian-style cafe. From the garden, it's a 20-30 minute hike along winding mountain paths to reach Enryakuji Temple, the founding temple of the Tendai sect of Buddhism. Don't forget to allow some extra time to explore the myriad other temples dotted around Enryakuji! 

From here, you can either retrace your steps and head back down to Demachiyanagi Station. Alternatively, it's a further 15 minutes walk to Cable Enryakuji, the upper station of the Hieizan-Sakamoto Cable, which whizzes you 11 minutes down the mountain to Cable Sakamoto (hardier souls may prefer a 90 minutes / 4 km hike down the mountain on foot). 

From Cable Sakamoto, it's a 20-minute walk to Hieizan-Sakamoto Station, from where you can catch a train for the 15-minute journey back to Kyoto Station. Et voila, a readymade day out in Kyoto that allows you to see the best of the city, from its exciting array of transportation to its venerable temples and fabulous mountain scenery.
To stay up to date with all the latest happenings in Japan follow us on Facebook or Twitter.
( Press Release Image: https://photos.webwire.com/prmedia/7/224825/224825-1.png )
Related Links
WebWireID224825

This news content was configured by WebWire editorial staff. Linking is permitted.
News Release Distribution and Press Release Distribution Services Provided by WebWire.