Insurance fraud is a victimless crime... Unless you're the victim (and we're all victims)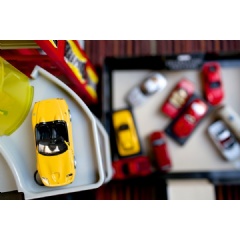 Insurance fraud is not showing any sign of abating. As insurers have improved their fraud detection capabilities, fraudsters are driven to more extreme measures such as induced accidents like crash for cash, which continue to pose a real threat to the safety of innocent motorists. These accidents also divert emergency services from genuine need, and place an extra burden on our court system which is already stressed. -Tom Gardiner, Head of Fraud at Aviva
Imagine you're driving along a dual carriageway, at speed, with just one car ahead of you – the rest of the road is clear. Suddenly the car ahead brakes hard, for no apparent reason, leaving you unable to avoid slamming into the back of them. The car behind is equally caught off-guard and can't avoid crashing into the back of your car.
Imagine the shock, the helplessness you feel, as you look at the other people travelling with you in your car (your mum, your children, your partner), hoping they are OK.
The driver of the car in front – and his passengers – get out of their car, rubbing their necks and telling you that you're at fault. They want your insurance details and, as luck would have it, they have their insurance details already written down on a piece of paper to hand to you.
This is insurance fraud. This is crash for cash.
In addition to putting the safety of innocent motorists and their passengers at risk, the Insurance Fraud Bureau estimates that these scams cost around £340 million a year, which we all pay for in our motor insurance.
At Aviva, we are dedicated to protecting our customers from the effects of fraud. One of the ways we do this is through a team which detects fraudulent claims so that our customers don't pay for the fraudulent claims of others.
Are we winning the war?
Last year, our team detected around £59m of motor insurance fraud, which represented an increase of £9m over 2016. Highlighting the scale of the problem, the team has around 17,000 fraudulent personal injury claims it is currently investigating and rejects around one out of eight whiplash-style personal injury claims it receives on grounds of fraud. 
Tom Gardiner, Head of Fraud at Aviva, is concerned that fraud levels remain high. 
Crash for Cash: a case study
A ruling in a crash for a cash accident earlier this year is typical of many such claims. We received an injury claim against our customer after he crashed into the back of another vehicle on a dual carriageway. The other driver was a Mr A, who blamed our customer for the accident. 
The claim against our customer was for £7,500 for personal injuries suffered when Mr A was hit from behind as he allegedly slowed down for traffic. When our fraud investigator talked to our customer, however, our customer told us he was not at fault. He said Mr A had slammed his brakes on for no reason. Our customer was incensed at the injustice of it and wanted to work with us to clear his name.
We placed the case with our counter-fraud solicitors. Although it's not cheap going to court and preparing for a case, we invest in defending our customers because we don't think it is fair for them to be tarnished by the fraudulent actions of others. Mr A was adamant he wasn't at fault for the incident, so we prepared to go to court.
However, at a pre-trial hearing, we showed the judge CCTV footage of the accident. The video clearly showed Mr A's car stopping suddenly for no reason: there was no traffic in front of him as he'd claimed.
The judge found Mr A to be "fundamentally dishonest" and kicked the claim out, opening the door to a criminal conviction. Mr A was ordered to pay more than £10,000 in costs to us. When he didn't pay up, we took steps to get our money back. Mr A went bankrupt as a result – hardly  the outcome he imagined when he slammed on his brakes in front of our customer.
We didn't stop there, and pursued a criminal conviction for fraud. Mr A, was found guilty and given a nine-month jail sentence.
This case sends out a very strong message to anyone thinking of committing crash for cash or other insurance fraud. Aviva and the insurance industry are excellent at detecting fraud and will do everything to defend our customers – even pursuing fraudsters through the courts.
Why?
Why would someone put their own safety – and that of others – at such risk of physical harm? The answer is simple. There's too much money on offer and it's too easy to access.
This is an example where the law is working against the average motorist, not for them. Not only does it offer financial incentives for fraudsters to cash in by endangering the safety of others. But by encouraging fraud, it makes our roads more dangerous and our motor insurance more expensive. This is clearly not what the law had intended.
The good news is that there is a bill going through Parliament right now.  The Civil Liability Bill will reduce the compensation paid for minor short-term injuries such as whiplash which we believe will  remove the financial incentive to commit this crime. It will also remove temptation for others to lie or exaggerate their injuries.
No-one should be able to put others in harm's way simply so they can line their own pockets. I'm proud of the work we do at Aviva to detect and deter fraud from happening. But an ounce of prevention is better than a pound of cure. I'm hoping the proposed legislation will pass as intended to make our roads safer and our insurance cheaper.
( Press Release Image: https://photos.webwire.com/prmedia/6/224812/224812-1.jpg )
Related Links
WebWireID224812

This news content was configured by WebWire editorial staff. Linking is permitted.
News Release Distribution and Press Release Distribution Services Provided by WebWire.