As cyclones loom, Bangladesh leads push to protect Rohingya refugees
Bangladesh is working with UNHCR and partners to stave off consequences of possible extreme weather for hundreds of thousands.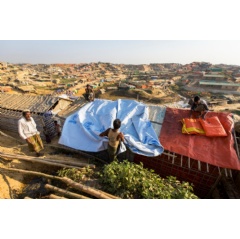 A refugee reinforces a shelter with a tarpaulin supplied by UNHCR at the Kutupalong refugee settlement, Bangladesh. © UNHCR/Roger Arnold
The information in this training is very important to us.
KUTUPALONG REFUGEE SETTLEMENT, Bangladesh – As a Bangladeshi instructor raises a red flag with a black centre, another instructor starts sounding a storm siren, then waves a second flag.
"When all the flags are raised and the signal is the loudest... it is the most intense of warnings," explained a trainer with the Bangladesh government's Cyclone Prevention Programme to a class of Rohingya refugee volunteers.
In a push to mitigate disaster risk, Bangladesh launched this programme decades ago. Now, for the first time, it is being extended to the vast settlements in southeast Bangladesh, currently home to around 600,000 Rohingya refugees.
Families live in fragile bamboo and plastic covered shacks in the hilly settlements around Kutupalong and Nayapara, which are already at risk of landslides and flooding during the monsoon season, which peaks in the months from June to September.
Additionally, there is the risk of cyclones – powerful storms bringing rain in torrents, high winds and storm surges – which make landfall in Bangladesh almost every year, between March and December.
Abdul Mostafa, a Bangladesh government official in the southernmost tip of Bangladesh, which includes the Kutupalong and Nayapara sites, explains that the government and partners are working together to avoid a disaster when the monsoon hits.
"That's why the Cyclone Prevention Programme was extended to the refugee areas, led by the Bangladesh government and supported by our partners," Mostafa said.
The Bangladesh government has developed strong expertise in dealing with cyclones – 154 of which have rampaged over the coast since 1877, among them cyclone Gorky in 1991, which was also the deadliest, killing an estimated 139,000 people in southeast Bangladesh.
As this year's wet season approaches, the Bangladesh government programme is being supported by UNHCR, the UN Refugee Agency, and other UN agencies and humanitarian partners.
"The information in this training is very important to us to know what we can actually do if a storm is coming," said Jamalida, a 35-year-old female volunteer, who was taking part in the training. "If there is a way we can help ourselves and one another, such as how to respond when we hear the cyclone signal, we need to learn them!"
Leading the roll-out in the region, Mostafa recently visited the settlement and watched the trainers at work. He explained the Bangladesh government is keen to help build skills to create an environment conducive to safety, one that will help prevent serious injuries and casualties.
Key to implementing the programme are the training sessions underway inside the bamboo-framed government offices across the sprawling Kutupalong mega site. Each training session is carried out with 20 volunteers participating, with equal numbers of men and women.
"Around 480 volunteers have been trained to date."
The instruction aims at building awareness of the devastating risks of the tropical storms, and how to respond, as individuals and as groups, when a cyclone hits and casualties occur.
"The idea is to give each of the 20 volunteers a proper understanding of prevention and skills, and then they can propagate the knowledge throughout each block in the settlements," says Mostafa. "Around 480 volunteers have been trained to date and more will be," he added.
There are three ways to help those in need according to the programme trainers – through preventive measures such as relocation, through first aid and health referrals, and through distribution of vital relief materials.
"There are thousands of families who set up their shelters without realizing the monsoon risks on the lower grounds. They are being encouraged to move to more elevated areas – to avoid being hit by the highest impact of the rain and winds," said Mostafa.
The Cyclone Prevention Programme trainers are teaching the required skills and knowledge to the volunteer first responders through simulations, plays and songs.
"We are encouraging participants to be willing to use improvisation skills so that even if they can't for any reason access the equipment they need when crisis hits, they still make-do if they know what the steps are," Mostafa explained.
"For instance, if they don't have a megaphone handy to announce the coming of a calamity, they can improvise – for example, using a mosque close by for emergency announcements."
The volunteers are being provided with equipment including gloves, rubber boots, helmets, whistles and flashlights. The instruction, which comes as the first rains caused flooding and churned up the ground into mud, was welcomed by participants.
Since the programme was introduced across Bangladesh, cyclone deaths have dramatically decreased. The hope is that, by introducing the training into the refugee settlements, the risks of large scale casualties can also be reduced.
Being able to improvise quickly and understand how to reduce and prevent the risks can help the vulnerable population to mitigate the likelihood of casualties.
( Press Release Image: https://photos.webwire.com/prmedia/6/224650/224650-1.jpg )
Related Links
WebWireID224650

This news content was configured by WebWire editorial staff. Linking is permitted.
News Release Distribution and Press Release Distribution Services Provided by WebWire.