New programme launches to understand biodiversity in Latin America
A new collaboration between researchers in the United Kingdom and Argentina, Brazil, Chile and Peru has been announced, during a visit by UK Foreign Secretary Boris Johnson to Peru this week. Peru's biodiversity and the natural benefits derived from its environment are under threat from illicit human activity and illegal trade, particularly in the Amazon rainforest.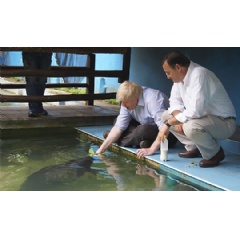 Boris Johnson learns more about biodiversity in Latin America during his visit
"The environment and the economy are closely entwined in every nation."
With a £9 million funding call for research projects, the Latin American Biodiversity Programme will expand our knowledge of the local species of plants and animals, monitor and model how changes in land use change biodiversity, help us to understand the impact of habitat changes such as deforestation and global climate change, and examine how to maintain and restore biodiversity where it is under threat or has been lost.

South America is one of the most diverse areas in the world for life and vegetation but faces challenges concerning unsustainable use of its biological resources for production of food, cosmetics and pharmaceuticals. The environment also supports a wide range of human activities - such as agriculture, fishing, forestry, and tourism - that produce goods and services. For the region to have a more sustainable development it needs to transition to a more resilient natural resource economy.

The research programme is supported by the UK with £4·5 million through the Newton Fund and will be co-funded by Brazil, Argentina, Peru and Chile. During the visit, a Memorandum of Understanding that sets out Peru's participation in the Newton Fund Latin American Biodiversity Programme was signed by Ambassador Kate Harrisson on behalf of NERC and Dr Fabiola Leon-Velarde, President of CONCYTEC, enabling researchers from these countries to collaborate on this programme. The signing was witnessed by Foreign Secretary Boris Johnson.

Similar agreements will be signed with Argentina's National Scientific & Technical Research Council (CONICET) and Chile's National Commission for Scientific &Technological Research (CONICYT). A similar agreement is already in place with Brazil's São Paulo Research Foundation (FAPESP).

Professor Duncan Wingham Executive Chair of NERC said:

"The environment and the economy are closely entwined in every nation. To understand the incredibly diverse habitats in South America and how to manage them in a sustainable way, the Latin American Biodiversity Programme will bring together world-class scientists and the latest techniques, from satellite imaging and genetic surveys of DNA fragments in the environment to improved computer modelling."

Dr Leon-Velarde, President of CONCYTEC, highlighted the effort, which is oriented to build capacities and networks among researchers from the UK and different countries in the region, especially from Peru. She said:

"For one of the most megadiverse countries in the world as Peru is, it is very valuable to share experiences and generate knowledge on topics such as the understanding of habitats and species, biodiversity and sustainable livelihoods, bioeconomy, climate change, biodiversity and ecosystems, maintenance and restoration of natural capital, among others of enormous relevance."

The Latin American Biodiversity Programme is a collaboration between NERC, the Peru National Council for Science, Technology & Technological Innovation (CONCYTEC), Argentina's National Scientific & Technical Research Council (CONICET), Brazil's São Paulo Research Foundation (FAPESP) and the Chilean National Commission for Scientific & Technological Research (CONICYT).

The Latin American Biodiversity Programme will complement and add value to the Colombia Bio programme. Successful projects from this programme will be expected to collaborate with the successful Colombian projects to deliver an improved understanding of biodiversity across the region.

Notes

1. South America alone accounts for half of the global terrestrial biodiversity. Natural resources are an important contributor to the GDP of the Latin American partner countries in this research programme (11·5% averaged, compared to 1·5% for the UK and comparable to 12·1% for Colombia) (Source: [1] World Development Indicators: Contributors of natural resources to gross Domestic Product 2011).

2. The Newton Fund is a major bilateral and multilateral initiative for facilitating research and innovation collaborations. The Newton Fund brings together the world class excellence of the UK and partner countries, including Peru and 17 further partner countries, to address global challenges through the application of science and technology. Research is a highly effective way to achieve international development goals, tackle global challenges and improve peoples' quality of life. As a global leader in science, research and technical expertise, the UK is well placed to lead future advances that benefit developing countries as well as the UK.

Today's announcement is in addition to the Newton-Paulet Fund, which is the largest contribution from the UK to the development of science and innovation in Peru. It is a joint fund of up to US$26 million for the next four years. UK funding ($13 million) is matched by investment from partner CONCYTEC.

3. NERC is the driving force of investment in environmental science in the UK. NERC advances the frontier of environmental science by commissioning new research, infrastructure and training that delivers valuable scientific breakthroughs. We do this because understanding our changing planet is vital for our wellbeing and economic prosperity. NERC is part of UK Research & Innovation, a new organisation that brings together the UK's seven research councils, Innovate UK and Research England to maximise the contribution of each council and create the best environment for research and innovation to flourish. The vision is to ensure the UK maintains its world-leading position in research and innovation.
( Press Release Image: https://photos.webwire.com/prmedia/7/224435/224435-1.jpg )
Related Links
WebWireID224435

This news content was configured by WebWire editorial staff. Linking is permitted.
News Release Distribution and Press Release Distribution Services Provided by WebWire.