One-Two Victory at Spa for TOYOTA GAZOO Racing
TOYOTA GAZOO Racing started the 2018-19 FIA World Endurance Championship (WEC) season with a one-two victory in the Total 6 Hours of Spa-Francorchamps.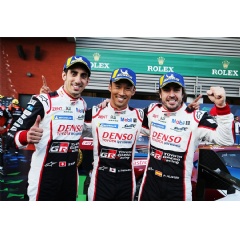 Sébastien Buemi and Kazuki Nakajima won the race for the second successive year in the #8 TS050 HYBRID they share with newcomer Fernando Alonso, who enjoyed victory at Spa for the first time since an International Formula 3000 triumph 18 years ago.
The #7 TS050 HYBRID of Mike Conway, Kamui Kobayashi and José María López completed a remarkable comeback by finishing second, just 1.444secs behind, despite starting one lap behind from the pit lane due to a qualifying penalty.
That result was TOYOTA's 17th win from 49 WEC races, its fourth consecutive victory and its third at Spa. TOYOTA therefore leads both the teams' and drivers' World Championships going into the Le Mans 24 Hours on 16-17 June.
The race began under blue skies and Sébastien made a clean getaway from pole position in the #8, gradually extending his advantage over the chasing Rebellions while Mike took the #7 car to sixth by the time of the first pit stops. By then Sébastien had extended his lead to over 30 seconds but that evaporated shortly after the hour mark due to a safety car.
During the 30-minute delay, Kamui replaced Mike in the #7 while Fernando took over the #8 for his first WEC race laps. His first task when the race resumed was to defend the lead from Rebellion #1, which he did via a spectacular passing move on several GT cars on the Kemmel Straight.
Fernando's stint was interrupted by a full course yellow but when the track was green he took advantage and built a substantial lead before handing over to Kazuki just before half distance. The #8 made an immediate return to pit lane to adjust Kazuki's seat belts and lost more time soon after with a harmless spin at turn one.
Meanwhile, the #7 was continuing its impressive progress through the field and started the second half of the race in second position, around a minute behind the leading #8 when José María took over from Kamui at the next pit stop.
The two TS050 HYBRIDs tightened their grip on the race as the last hour approached, with Fernando preparing to take the #8 to the chequered flag with a lead of around one minute over the #7, with Mike at the wheel. But another safety car closed the gap to just six seconds with 50 minutes remaining.
Fernando and Mike stayed at the wheel through a final fuel stop with 25 minutes to go, after which the team chose to hold positions and avoid any unnecessary risks after over 1,100km of flat-out racing.
Hisatake Murata, Team President
"I am very pleased with our performance this week; to get a one-two after the problem yesterday required a big team effort. I am proud of everyone for their good work. The atmosphere here has been fantastic all weekend so I would like to thank the many fans who visited Spa, including a lot of colleagues from our home in Cologne. I hope they enjoyed the first race of the season. It's a great result to start the season but this is only a small step towards our big target; the Le Mans 24 Hours. We have identified areas to improve, and I'm sure our rivals have too, so we will be working flat-out in the next weeks to be ready for a close fight at Le Mans."
TS050 HYBRID #7
Race: 2nd, 163 laps, 8 pit stops. Started from pit lane. Fastest lap: 1min 57.442secs
Mike Conway (TS050 HYBRID #7)
"It was weird starting from the pit lane but we knew what we had to do. We had some help from the safety car periods and the full course yellows, which went our way and helped us to get into the fight with the other LMP1 ones. Kamui and José did a great job again today. It's disappointing not to win but a one-two is the perfect result for the team."
Kamui Kobayashi (TS050 HYBRID #7)
"Our car worked really hard to get back into the fight; I think we all drove really well to recover from the problem in qualifying. The car was quick today which is a good sign for Le Mans. Obviously I was hoping to win this race so second place isn't the result I wanted but for the team it's a positive start and we will all work hard now to be ready for Le Mans."
José María López (TS050 HYBRID #7)
"I am very happy with this result for the team. Starting from the back was very hard and didn't give us the best opportunity bit in the end we fought back and we showed the potential of car #7. I enjoyed the fight today. Finally to be back racing, particularly at this amazing circuit, was something special."
TS050 HYBRID #8
Race: 1st, 163 laps, 9 pit stops. Grid: 1st. Fastest lap: 1min 57.805secs
Sébastien Buemi (TS050 HYBRID #8)
"We are all happy to begin the season like that. It is the first time for Kazuki and I to race together with Fernando so it was important to start it well. I don't remember the last time we had so many safety cars in a six-hour race and that meant we lost our advantage a few times. But it all went well in the end so a big thanks to all the team for their hard work. This was just a warm up for Le Mans so we still keep in mind that the next race is the important one."
Kazuki Nakajima (TS050 HYBRID #8)
"I am very happy to win the first race of the season. It's particularly nice because my stint started badly; a lot happened and it cost us some time. There was a mistake from my side as well but from then I got back into the rhythm. The triple stint was tricky but I am happy with the job we did. It's a great start and we will be working hard to make sure we continue like this."
Fernando Alonso (TS050 HYBRID #8)
"I am delighted to get this result. The whole weekend has been amazing in terms of team performance. There have been a lot of preparations with the winter testing and all the work back at the factory but we have to come to the race and deliver the result. We executed the race in the best way we could and I am extremely happy to win my first endurance race. Sélbastien and Kazuki made my life a little bit easier so thanks to them."
6 Hours of Spa-Francorchamps results
1st         #8 TOYOTA GAZOO Racing     163 laps
2nd        #7 TOYOTA GAZOO Racing     +1.444secs
3rd         #3 Rebellion (Beche / Laurent / Menezes)       +2 laps
4th         #6 ByKolles (Webb / Kraihamer / Dillmann)     +5 laps
5th         #11 SMP (Aleshin / Petrov)                               +5 laps
( Press Release Image: https://photos.webwire.com/prmedia/6/223806/223806-1.jpg )
Related Links
WebWireID223806

This news content was configured by WebWire editorial staff. Linking is permitted.
News Release Distribution and Press Release Distribution Services Provided by WebWire.