Intel and the Smithsonian American Art Museum Power Education through Immersive Virtual Reality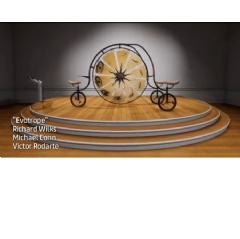 Richard Wilks, "Evotrope, 2009." Digitally captured and processed into an immersive virtual reality experience powered by Intel technologies. (Credit: Photo by Libby Weiler)
"Virtual reality will bring about cutting-edge computing experiences and accelerate new possibilities for how people will explore and interact with the world around them."
Intel and the Smithsonian American Art Museum Power Education through Immersive Virtual Reality: https://www.youtube.com/watch?v=2NHKngmjN9w
What's New: Intel and the Smithsonian American Art Museum* (SAAM) will allow audiences to take an immersive dive into some of the country's most treasured art and history through virtual reality (VR). Together, they will transform the future of education and the museum experience by digitizing and providing broader 3D access to collections from SAAM and its branch museum, the Renwick Gallery*, starting with the exhibition, "No Spectators: The Art of Burning Man."
"Virtual reality will bring about cutting-edge computing experiences and accelerate new possibilities for how people will explore and interact with the world around them. As the technology evolves, immersive museum experiences will become the norm. Bridging physical and digital worlds to study American art in classrooms around the globe is just a first step in exploring what is possible when we combine the Smithsonian American Art Museum's passion for education with Intel's innovation."
– John Bonini, vice president and general manager, VR, Gaming & Esports at Intel Corporation
Why It's Important: Although more than 30 million people come through the doors of the Smithsonian's museums every year, hundreds of millions will never be able to visit in person. Virtual reality creates new opportunities for those people to access Smithsonian collections, research and educational resources regardless of their ability to physically visit a museum or research center. With recent advances in digital technology, the Smithsonian American Art Museum can share its exhibitions with art lovers across the globe in a fully immersive way.
This partnership is transformative for the future of education, granting educators access to iconic collections in Washington, D.C., that can be incorporated into lesson plans as immersive learning experiences.
Intel and the Smithsonian Institution share a commitment to education and increasing knowledge through innovation. Advanced technologies powered by 8th Generation Intel® Core™ processors provide the means of digitally preserving the history within a museum's walls faster and more efficiently, without damaging or moving exhibits.
The Details: This partnership, introduced at VRLA in Los Angeles, will begin with the Renwick Gallery's current exhibition, "No Spectators: The Art of Burning Man," to showcase how Intel technology and virtual reality will transform the future of the museum experience. The ultimate vision is to share this technology across the Smithsonian Institution and further digitize more of its 157 million objects.
Intel's advanced technologies will accelerate SAAM's existing process of 3D digital capture and increase access to its collections with the help of powerful 8th Generation Intel Core processors, cloud-based platforms and more. The shared goal is to increase and encourage 24/7 access to the museum, affording educators, other museums and public audiences the opportunity to become immersed in some of America's most treasured collections as if they were standing in the galleries themselves.
More from VRLA: Intel invites VRLA attendees to experience a visionary "classroom of the future" set-up through hands-on, educational demonstrations in virtual reality on the show floor at South Hall A, at the Los Angeles Convention Center. During VRLA, Intel will also showcase various technologies and hands-on demonstrations.
Attend a talk with Nora Atkinson, SAAM's Lloyd Herman Curator of Craft, as well as other SAAM staff and docents, to learn about some of the amazing artworks from the "No Spectators" exhibition, live via Sansar* from Washington, D.C. Explore the magic of the cosmos during Eliza McNitt's groundbreaking series, "Spheres."
In 2018, Intel will release "Beyond the Walls: A Smithsonian American Art Museum Experience." This original interactive SAAM experience premiered at CES 2017 as a pilot program to this partnership. It features VR-enhanced artworks by notable American sculptors Augustus Saint-Gaudens and Hiram Powers, painter Frederic Edwin Church and contemporary media artist Alex Prager.
Intel's Hades Canyon NUC, the smallest VR-ready desktop, is shipping. It is available at Simply NUC.
MixCast* now supports the Intel© RealSense™ depth-sensing camera, eliminating the need for clunky green screens. MixCast blends real people with virtual worlds to create compelling 2D content from VR applications in real time. Audience members can now overcome the isolation of VR by viewing a person immersed in VR on a television, monitor, projection screen or mobile phone. Visit the VR photobooth at Intel's set-up in the South Hall at VRLA to take a picture with HP Envy* printers.
Two Bit Circus, an Intel Capital company, is opening a new micro-amusement park in Los Angeles this summer, featuring immersive entertainment, including the latest in multiperson virtual reality and mixed reality, social play experiences, group games, molecular gastronomy, mixology and more.
More Context: Emboldening VR's Next Frontier (Intel.com) | Smithsonian American Art Museum | VRLA (Official Site) | Virtual Reality at Intel (Press Kit)
( Press Release Image: https://photos.webwire.com/prmedia/7/223685/223685-1.jpg )
Related Links
WebWireID223685

This news content was configured by WebWire editorial staff. Linking is permitted.
News Release Distribution and Press Release Distribution Services Provided by WebWire.