Inbound PR: The PR Agency's Manual to Transforming Your Business with Inbound
-Is Traditional PR Over? New Book Inbound PR Reveals a Better
(and Measurable!) Alternative to Old-School Outbound Approaches

-The digital age's new consumer demands a new approach to PR. If your agency doesn't adapt, it may quickly become obsolete. HubSpot's new book Inbound PR helps you transform your business model and start getting measurable results.
Hoboken, NJ –
WEBWIRE
–
Friday, May 4, 2018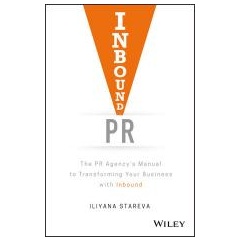 Most PR firms have a problem: They're outbound organizations trying to survive in an inbound world. Companies in other fields have figured out that the way people buy has changed. Instead of pushing their interruptive messages on people (the outbound approach), they draw them in with multichannel techniques aimed at gaining their attention and trust through relevant content (the inbound approach). But PR firms continue to spam the media with emails and cold calls, asking them to cover stories they don't care about.   
A new book by Iliyana Stareva, Global Partner Program Manager at pioneering marketing and sales software company HubSpot, says it's time for the industry to abandon its outdated "push" approach and switch to PR that pulls. Inbound PR: The PR Agency's Manual to Transforming Your Business with Inbound (Wiley, 2018, ISBN: 978-1-119-46221-7, $25.00) makes a compelling case that those firms that don't adapt will (very soon) be left behind.
The book gives today's PR agencies a new way to build brands, evaluate performance, and for the first time ever, track ROI. It offers an innovative methodology that both grows your PR business and your network of engaged media contacts. This step-by-step road map to amplifying your PR influence to standout levels gives you practical guidance on using the attention-grabbing content you already produce to raise awareness, generate leads, and delight influencers into becoming followers.
The secret to this game-changing approach is measuring results. Forget about advertising value equivalents that measure only cost, and start calculating the meaningful bottom-line returns your work generates in the four major types of media with a turnkey framework.
The Inbound PR Methodology—which combines the best of two worlds, public relations and inbound marketing—turns media influencers from strangers to visitors by taking them through four stages: Attract, Convert, Close, and Delight. In the process, it alleviates PR's biggest weakness—measurement—and inbound's biggest challenge—content.
Filled with tactics and stories that bring the author's message to life, this go-to resource makes transforming your business into an inbound PR agency simple and profitable. It provides:
Tips for building brand awareness without "marketing to" the audience
Advice on closing the deal and nurturing the customer or media relationship
A proven, seven-step process for writing the best positioning strategy for your agency and practical advice on defining and packaging inbound PR services into a twelve-month retainer
Detailed systems for taking an inbound approach to media relations, including creating a robust online newsroom specifically for journalists, bloggers, producers, etc.
Actionable guidance for working every step of the inbound process, from attracting leads into your sales funnel, nurturing them, and finally retaining a new client
Tips for generating more, higher-quality customer or media leads
Methods to help you track the ROI of each stage in the process
Whether you work for a PR agency or an organization looking for a PR partner that understands the new inbound methodologies, this book can help. It provides the critical guidance you need for PR growth in the digital era.
# # #
About the Author:
Iliyana Stareva is the author of Inbound PR: The PR Agency's Manual to Transforming Your Business with Inbound. She is Global Partner Program Manager at HubSpot, focusing on aligning HubSpot's expanding global teams to better service the agency partners and smoothly roll out changes to the program. She spends her free time dancing salsa or writing about inbound PR, inbound marketing, and agency business, expertise gathered from years of agency experience and agency business consulting across Germany, the UK, and Ireland. For more information, please visit www.iliyanastareva.com.
About the Book:
Inbound PR: The PR Agency's Manual to Transforming Your Business with Inbound (Wiley, 2018, ISBN: 978-1-119-46221-7, $25.00) is available at bookstores nationwide, from major online booksellers, and direct from the publisher by calling 800-225-5945. In Canada, call 800-567-4797. For more information, please visit the book's page on www.wiley.com.
About Wiley:
Wiley, a global research and learning company, helps people and organizations develop the skills and knowledge they need to succeed. Our online scientific, technical, medical, and scholarly journals, combined with our digital learning, assessment and certification solutions help universities, learned societies, businesses, governments and individuals increase the academic and professional impact of their work. For more than 210 years, we have delivered consistent performance to our stakeholders. The company's website can be accessed at www.wiley.com.
( Press Release Image: https://photos.webwire.com/prmedia/6/223657/223657-1.jpg )
Related Links
WebWireID223657

This news content was configured by WebWire editorial staff. Linking is permitted.
News Release Distribution and Press Release Distribution Services Provided by WebWire.