Australia's Future Submarine to Benefit from Research Collaboration
Sydney, Australia –
WEBWIRE
–
Wednesday, May 2, 2018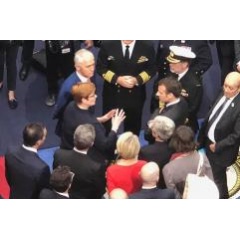 Deeper collaboration between Australia and France in advanced sonar and naval robotics technology will flow from a research agreement announced in Sydney during the visit of French President Emmanuel Macron.
The Memorandum of Understanding (MoU) between Flinders University in South Australia, ENSTA Bretagne – a leading Graduate and Post-Graduate Engineering School and Research Institute in Brest, France, and Thales will deepen and extend well established research linkages between Australia and France in order to contribute to the future submarine program in Australia.
Thales Australia CEO Chris Jenkins said the President's official visit was an opportunity to highlight the strength of the strategic relationship between Thales and France, a relationship underpinned by linkages like the research MoU announced today.
"This is all about attracting the best and brightest in both Australia and France to work on the challenges of the future submarine program, ensuring Australia gets the best capability. The MOU provides a long term framework for collaboration in naval robotics applicable to both submarine and surface ship sonars, including opportunities to share testing facilities, operate exchange programs and facilitate joint research projects. It builds on an already strong relationship between Thales and Flinders University in Australia as well as between ENSTA Bretagne and Thales in Brest, France."
Alexis Morel, Vice-President Underwater Systems at Thales, said discussions with Flinders University and ENSTA Bretagne had already identified two topics for research collaboration – one to design a demonstrator for the automatic connection of electro-optical links in a maritime environment and secondly for the development of USV test vehicles suitable to test autonomy algorithms on robotic swarms at sea.
"This collaboration will build Australian capability, provide internships for both undergraduate and post-graduate Flinders University students in France and contribute to design solutions for the future submarine program."
Flinders University Vice-Chancellor Professor Colin Stirling said the University was delighted to be partnering with Thales teams based in Australia and in France.
"This MoU will open up great opportunities for closer collaboration with Thales research laboratories and follows the recent announcement that Flinders University will be one of Thales Australia's academic partners in the new Defence Co-operative Research Centre (CRC) for Trusted Autonomous Systems."
ENSTA Bretagne Director Pascal Pinot stressed the fact that the MoU was a necessary base to start new Research projects between Flinders University, Thales and ENSTA Bretagne which would in turn reinforce the cooperation between the Defence ministries of the two countries.
"The MoU was built in order to lead to tangible Research work between us in the short term particularly in the field of underwater Robotics. It builds on the strength of all three participants in the framework of the increasing bilateral defence cooperation."
About Thales
The people we all rely on to make the world go round – they rely on Thales. Our customers come to us with big ambitions: to make life better, to keep us safer. Combining a unique diversity of expertise, talents and cultures, our architects design and deliver extraordinary high technology solutions. Solutions that make tomorrow possible, today. From the bottom of the oceans to the depth of space and cyberspace, we help our customers think smarter and act faster - mastering ever greater complexity and every decisive moment along the way. With 65,000 employees in 56 countries, Thales reported sales of €15.8 billion in 2017.
www.thalesgroup.com
About Flinders University
With a well-earned reputation for innovative research and excellence in teaching and learning, Flinders University is a member of the Innovative Research Universities network. Globally focussed and locally engaged, Flinders has some 2,700 staff and 25,000 students, including some 4,000 international students from more than 100 countries. 90% of Flinders University's research has been ranked at or above world standard by Excellence in Research for Australia. Research strengths include defence, engineering, molecular science and technology, and water and environment. Our high-tech innovation campus is home to the industry 4.0 Future Factory TMI Hub, and the Flinders New Venture Institute, a leader in entrepreneurship programs.
www.flinders.edu.au 
 
About ENSTA Bretagne
ENSTA Bretagne is a French Multidisciplinary Graduate and Post-Graduate Engineering School and Research Institute, under tutelage of the Ministry of the Armed Forces. The ENSTA Bretagne campus in Brest has nearly 1000 Students, including 110 PhD Students and 850 MSc Students. ENSTA Bretagne aims to produce Engineers capable of mastering the design of complex, industrial systems in an international environment, required by civil industries and the French Defence Procurement Agency (DGA). 20% of the students are military Engineers with officer status. The excellence of ENSTA Bretagne is appreciable through its privileged links with the most innovative sectors: Maritime, Defense and technological industries with high added value (i.e. Space and Aeronautics, IT, Energy, Automotive). ENSTA Bretagne is renowned for its specialized courses in Maritime Engineering, IT, Mechanics and Project Management, such as: Naval architecture, Robotics, Autonomous Underwater Vehicles, Hydrography (cat. A), Software & Cyber-security, Embedded Systems & AI, Signal Processing, Pyrotechnics, Modeling and related areas.
www.ensta-bretagne.eu/fr
( Press Release Image: https://photos.webwire.com/prmedia/7/223471/223471-1.jpg )
Related Links
WebWireID223471

This news content was configured by WebWire editorial staff. Linking is permitted.
News Release Distribution and Press Release Distribution Services Provided by WebWire.