"Bitcoin Could Be Flashing a Rare Buy Signal," Crypto Guru Says
Crypto Guru Shares Something Secret In The Charts That Shocks His Vip Members
brisbane, Qld, Australia –
WEBWIRE
–
Friday, April 20, 2018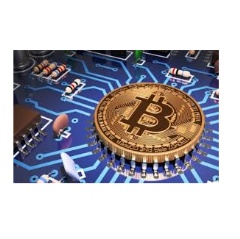 "Bitcoin Could Be Flashing a Rare Buy Signal," Crypto Guru Says
Chip Smith, a leading Financial Market Analyst from sentiment-trader.blogspot.com was almost laughed off the stage a few years ago, when he said Bitcoin could go to $10,000, at the time, he was talking to his congregation alerting them $500 Bitcoin was cheap. Now-a-days he is helping clients make huge money in digital currencies.
Since December Last year [2017] Bitcoin suffered a dramatic 70% sell off, and it shocked investors to the core. Lately the price of bitcoin has flattened out and the bloodletting seems to have stopped for now, with Bitcoin suging above $8,000, and chip hinting that The worst could be over for bitcoin, due to one of his secret chart indicators and set ups. 
In his latest blog post, Chip was quoted as saying: "Bitcoin has been growing at 165 percent per year in the five years the firm has been in business. Something that's growing that fast hardly ever gets below an indicator that is called 200-day moving average, an average some of the top funds and institutes have been watching for many years now." Chip went on to say: "Whenever it does this, it's a very good classic sign a bottom could be near or geting close to a good buying opportunity."
Smith, whose firm is followed by the trading guns on Wall Street have been amazed with some of Chip's calls back in 2017.  Chip has produced software that is also known to predict bull runs in stocks, and in the crypto market before they happen. His clients have been flabbergasted by some of the recent calls.  
Smith was also quoted in a video, like an old Wall St guru talking on a pulput: "Bitcoin is currently 65 percent below its high, you don't get that opportunity liket that very often."
Bitcoin had a dramatic rise last year in 2017 with the cryptocurrency gaining more than 1,300 percent to almost $20,000 around Christmas time, before falling 70% early in 2018.  Some of his clients have still run off with huge profits, in the mean time, and he is regarded to be the go to guy for secret coins that could perform even better than bitcoin into the end of 2018. 
In last month's newsletter, Smith, who founded the firm after a career at Sydney stock exchange, said his investors could still make money even if bitcoin became a flop story, just like in the dot-com era days.
Smith also announced the launch of its his blockchain-focused venture fund 2 month where he and his highly qualitfied team will be will focusing how to make money and invest on peer-to-peer transactions, blockchain infastructure, fintech, artificial intelligence and machine learning. Several big areas right now that are hot in the investment world. 
Chip has done well over the years and uses a contrarian approach to trading the crypto market and reached out to his investors today to explain what is going on. He accurately predicted the 2008 stock market crash 3 months before it happened. Last week he gave some of his knowledge and longer term projections and predictions at his blog, where he gave his 3 Blockchain & Cryptocurrency secrets and how to navigate the environment. Some of chips warnings are listened to by some of the biggest names on Wall St, where they can find the the hottest investment topics, and trends in the next 12-24 months. 
Chip said in an interview today: "The trends coming will make it easier, faster and  more reliable to invest and make money quicker for the avearge person without much knowledge at all."
For a limited time chip is allowing the general public to access some of his cryptocurrency predictions, and market timing calls using his special software. For his private members it has paid dividends again and again.
Chip has a fantastic track record and normally charges $7,000 USD fees for his training, however he has opened his private VIP trading network for the next 30 days, Free Of Charge  at http://sentiment-trader.blogspot.com.au/p/vip-elite-group-trial.html where Chip shows investors what the big guys on Wall Street are looking at and why they are always profitable.
About Chip Smith:
Chip Smith is a full time trader, well renowned for his accuracy in calling stock market movements before they happen. He trains amateur investors and fortune 500 companies in see where the big opportunities lie with individual stocks, S&P 500, commodities, crude and other vehicles on the market. For more, please visit sentiment-trader.blogspot.com
( Press Release Image: https://photos.webwire.com/prmedia/30439/222893/222893-1.png )
WebWireID222893
Contact Information

Jimmy Safer
Media Release Agent
Sentiment Trader

This news content may be integrated into any legitimate news gathering and publishing effort. Linking is permitted.
News Release Distribution and Press Release Distribution Services Provided by WebWire.