H&M group launches its Sustainability Report 2017
H&M group makes strong progress towards its vision to lead the change towards a circular and renewable fashion industry, while being a fair and equal company. This is outlined in its Sustainability Report 2017. Take a look at some of the highlights below.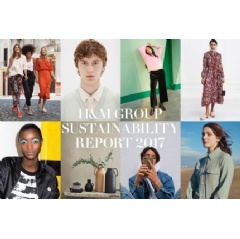 The fashion industry needs to rethink the future of fashion. Clothes are and will continue to be an everyday necessity, but the fashion industry is today too dependent on virgin and non-renewable resources. H&M group is therefore pushing the development towards a shift to a circular model; where materials are maximised and waste is minimised. The company is also working towards its ambition to ensure that everyone in its supply chain has access to a fair job. This includes everything from supporting a well-functioning relationship between workers and management to the safety and wellbeing of factory workers, as well as fair living wages. Another important part of H&M group's sustainability strategy is to identify, invest in and promote sustainable innovations necessary for transforming the fashion industry.
Change is happening through innovations
"Innovation is key to solve many of the challenges the fashion industry is facing. Especially when it comes to accelerating the shift from a linear to a circular model. But it will not be one technology, one innovation, that will do the trick; instead it will be several ideas, scientists and companies putting the puzzle together, pushing the development forward. That is why we invest in and partner with innovation companies such as re:newcell and Treetotextile", says Cecilia Brännsten, Acting Environmental Sustainability Manager at H&M group.
Towards only recycled or other sustainably sourced materials
"Every year we take new steps towards our bold goal to only use recycled or other sustainably sourced materials by 2030. This significantly reduces the use of natural resources and the negative impact our business has on the climate. It's important to use already existing sustainable materials but also test completely new fabrics. When it comes to recycled materials, they are truly a win-win since they stop waste material going to landfill and at the same time reduce the use of virgin raw material", says Mattias Bodin, Sustainability Business Expert – Materials & Innovation at H&M group.
Tackling challenges together
"Collaboration is the best way to tackle the challenges connected to working conditions and wages within the textile industry. That is why we value the ground-breaking collaboration with 16 other global brands and trade unions within the ACT platform. Our joint goal is to establish mechanisms to support freedom of association and industry-wide collective bargaining", says Cecilia Tiblad Berntsson, Social Sustainability Manager at H&M group.
Highlights Sustainability Report 2017:
Recycled or other sustainably sourced materials made up 35% (26%) of H&M group's total material use. The goal is to only use this kind of material in 2030.
H&M group partnered with the innovation company re:newcell whose unique technology recycles used cotton, viscose and other cellulosic fibres into new textile fibres.
H&M group became one of the two core investors in the innovation company Treetotextile developing a new sustainable textile fibre based on forest raw materials.
59% (43%) of the cotton H&M group used came from sustainable sources. The goal is to only use this kind of cotton in 2020.
H&M group used recycled polyester equivalent to 100 million PET bottles.
Weekday debuted its first-ever sustainable swimwear collection made from recycled polyamide and recycled polyester.
H&M launched its first garments made from recycled shore-line waste; Bionic® within the annual H&M Conscious Exclusive Collection.
H&M group collected almost 18,000 tonnes of textiles through its garment collecting initiative. That is the equivalent of 89 million T-shirts. 61,000 tonnes of textiles have been collected since 2013.
96% of H&M group's electricity came from renewable sources. The goal is to become climate-positive across the entire value chain by 2040.
ARKET launched a new way for customers to filter products based on country of production and material type – increasing the level of customer transparency.
458 supplier factories and more than 620,000 workers were reached by H&M group's workplace dialogue programmes. This means one of the goals for 2018* was reached already in 2017.
As part of the 2018 goal, 100% of the garment manufacturer units in Bangladesh conducted democratic election of worker representatives. In total, 2,882 persons were elected and 40% of those were women.
227 supplier factories**, covering over 375,000 workers, implemented improved wage management systems. They help to create a dialogue between management and workers on wage-related issues and ensure that wages take skills, experience and responsibility into consideration.
To support the development of industry-wide collective bargaining agreements and purchasing practices supporting a fair living wage, H&M group, IndustriALL and other brands within the ACT platform signed an MoU.
In spring 2018, H&M will pilot the innovative concept Take Care, aimed at inspiring customers to prolong the lifespan of their garments through refreshing, remaking and repairing.
For more information see an interview with Anna Gedda, Head of Sustainability, about H&M group's sustainability work. Read the executive summary of the Sustainability Report or the full report.
*The H&M group's goal for 2018 is to set up democratically elected worker representatives committees and improved wage management systems at suppliers representing 50% of H&M group's product volume.
**Representing 40% of the total product volume.
( Press Release Image: https://photos.webwire.com/prmedia/7/222674/222674-1.jpg )
Related Links
WebWireID222674

This news content was configured by WebWire editorial staff. Linking is permitted.
News Release Distribution and Press Release Distribution Services Provided by WebWire.