Comedian Rhod Gilbert Trains to Be British Airways Cabin Crew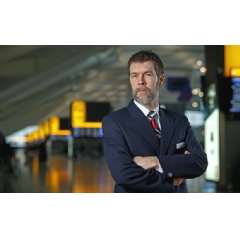 Stand up comedian Rhod Gilbert learnt how to put out fires, deliver a baby and evacuate an aircraft after an emergency landing as he trained to become British Airways cabin crew for his BBC2 show, Rhod Gilbert's Work Experience. The show is broadcast for the first time on Thursday, April 5.
The TV presenter was put through his paces at the airline's Global Learning Academy on the edge of Heathrow Airport, where each year more than two thousand cabin crew train before taking to the skies for the first time.
Before he could start, British Airways trainer Bobby Nazareth was tasked with getting the famously scruffy comedian looking the part in the airline's trademark Julian Macdonald uniform, and even trimmed his beard to bring him up to standard, complete with a badge reading 'Rhod Gilbert, cabin crew in the making'.
In his five days at the Global Learning Academy, Rhod got to grips with the job he describes as being 'a human Swiss Army knife': having to become a safety expert, paramedic, chef, waiter, fireman, police officer and agony aunt all at the same time.
British Airways mentor, Katharine Nimmo said: "While Rhod was a natural at the safety drills, he couldn't get his head around what he called the 'first class fiddle faff' needed for premium service. But after he'd had the session on learning fine wine and cheese pairings, he seemed to get more into the spirit of it, and even nailed how to make the perfect First class bed."
He eventually received his 'wings' at a graduation ceremony and was assigned a real flight, with real customers: the BA184 to Newark.
With more than 250 customers to look after on the 787-9 Dreamliner flight, he demonstrated the safety routine, served food and drinks, and across the seven-hour flight became what he called a 'whim slayer' for the World Traveller Plus cabin as he manned the trolley up and down the aisle.   He wore a distinctive silver gilet to make sure customers knew he hadn't had the full 6 weeks' training.
British Airways Cabin crew Simon Scaparo, flew with Rhod to New York. Simon said: "I had to crack the whip to keep him hard at work, but he was really getting into it, and he charmed the socks off the customers and kept the crew laughing! If stand-up ever dries up, Rhod, come and join us. I'd fly with you any time."
On landing, he complimented the British Airways cabin crew saying:: "Hats off to you… fair play, it's exhausting. It is really hard work and there is a lot more to it than anyone would every realise. Once you see it in this environment, you realise the training has got to be perfect, and I haven't been this tired in a really long time."
Notes to editors:
Rhod Gilbert's Work Experience is now in its eighth series on BBC2 and BBC Wales. It will be first available to viewers on Thursday, April 5 on BBC Wales and the BBC iPlayer. It will be broadcast on BBC2 later in the year. It regularly gets between 1 and 1.5million viewers.
For a preview of the show, please call the British Airways press office on 0208 738 5100, or register on the BBC Previews page here.
25,000 people applied to become British Airways cabin crew last year, 2,000 were accepted for training.
( Press Release Image: https://photos.webwire.com/prmedia/7/222274/222274-1.jpg )
Related Links
WebWireID222274

This news content was configured by WebWire editorial staff. Linking is permitted.
News Release Distribution and Press Release Distribution Services Provided by WebWire.