Grappling with the Modern
April 11—July 23, 2018
From Delacroix to the Present Day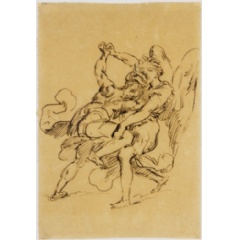 1-Jacob Wrestling with the Angel, Eugène Delacroix- RMN-Grand Palais musee du Louvre Gerard Blot-jpg
The Musée National Eugène-Delacroix is holding an unprecedented exhibition on the mural paintings that Delacroix completed in 1861 for the Chapelle des Saints-Anges in the church of Saint-Sulpice : Jacob Wrestling with the Angel, Heliodorus Driven from the Temple and St. Michael Defeating the Devil. Thanks to exceptional loans from French and foreign museums, the exhibition—boosted by recent research undertaken on the murals during conservation work by the City of Paris—will bring together works by artists who inspired Delacroix, such as Raphael, Titian, Rubens, Le Lorrain and Solimena, and the principal studies and sketches the artist produced while elaborating his three chapel paintings. There will also be works by 19th- and 20th-century artists including Gustave Moreau, Odilon Redon, William Strang, Jacques Lipschitz, René Iché, Charles Camoin, Jean Bazaine and Marc Chagall, who drew inspiration from Delacroix's art in their own struggles for modernity.
The scenes Delacroix chose to paint for this monumental decorative project are episodes featuring armed, avenging angels—battles that were also a metaphor for the artist's personal struggle for painting. Delacroix's Chapelle des Saints-Anges was a total work of art ahead of its time, an illustration of his struggle for modernity and an enduring artistic ideal.
When Eugène Delacroix was commissioned for the chapel paintings in 1849, he was busy with other projects—the ceiling of the Louvre's Galerie d'Apollon, the decoration of the Salon de la Paix in the Hôtel de Ville (destroyed in 1871), and his solo exhibition at the Universal Exhibition of 1855—but his preparatory work for these projects fueled his ideas for the huge chapel project, to which he devoted himself fully from 1856 onward. In order to be as near as possible to the church of Saint-Sulpice, he moved to Rue de Fürstenberg, to an apartment with a garden and studio that would later become a museum devoted to the artist.
This exceptional exhibition, encompassing Delacroix's studio and the church of Saint-Sulpice, is an invitation to follow in the artist's tracks. Leading visitors from the conception phase to the finished works, it will provide keys to a new understanding of Delacroix.
"To tell the truth, painting harasses and torments me in a thousand ways, like the most demanding mistress; for four months, I have scurried away at first light, rushing to continue this enchanting work, as if at the feet of the most beloved mistress; things that
 eemed, at a distance, to be the easiest to overcome in fact present appalling, interminable difficulties. How is it, then, that instead of casting me down, this eternal combat uplifts me, not discouraging but consoling me and occupying my time even when I have left
it ?" (Eugène Delacroix, Journal, January 1, 1861)
Exhibition curators: Dominique de Font-Réaulx, Director of the Musée National Eugène- Delacroix, and Marie Monfort, DRAC Île-de-France.
In partnership with the City of Paris.
AROUND THE EXHIBITION (in French only)
PRESENTATION at the Louvre Auditorium
By Dominique de Font-Réaulx , Director of the Musée National Eugène-Delacroix, and Marie Monfort, DRAC Île-de-France.
A p r i l 13, 2018 at 12:30 p.m.
LECTURES at the Musée Delacroix
"Conservation Secrets"
The conservation of Delacroix's mural paintings in the church of Saint-Sulpice.
By Marie Montfort, DRAC Île-de-France. May 14, 2018 at 6:30 p.m.
The Conservation of the Pietà in the Paris church of Saint-Denys du Saint-Sacrement
By Jessica Degain, City of Paris. May 28, 2018 at 6:30 p.m.
The Conservation of Christ in the Garden of Olives.
By Emmanuelle Federspiel, City of Paris. June 4, 2018 at 6:30 p.m.
"Sur les pas de Delacroix à Paris" ("In Delacroix's footsteps in Paris")
By Dominique de Font-Réaulx, Director of the Musée National Eugène-Delacroix.
June 11, 2018 at 6:30 p.m.
WALKING TOUR
Let Delacroix be your guide.
April 8, June 24 and July 8, 2018 at 11 a.m.
FILM
Delacroix, le dernier combat ("Delacroix, the Final Battle")
by Laurence Thiriat. 2016, 52 min.
Louvre Auditorium, Apr i l 18, 2018 at 12:30 p.m.
EXHIBITION CATALOGUE
Under the direction of Dominique de Font-Réaulx and Marie Monfort.
Texts by Emmanuelle Federspiel, Stéphane Guégan, Thierry Laugée,
Alina Moskalik-Detalle, Paul Perrin and Valérie Sueur.
Co-published by Musée du Louvre éditions / Éditions du Passage.
Publication date: March 25.
FRESCO WORKSHOP
Create a collective fresco! A family workshop for ages 10 and over.
Free (subject to prior booking).
May 26 and 27, 2018
GUIDED TOURS
With guides from the national museum network (RMN).
Every Saturday at 2:30 p.m. for the duration of the exhibition "Let
Delacroix be your Guide."
April 8, June 24 and July 8, 2018 at 11 a.m.
STORY-TELLING FOR FAMILIES
Raconte-moi Delacroix ("Tell me about Delacroix")
April 15, June 24 and July 8, 2018 at 3 p.m.
EVENING EVENTS
"Before Delacroix"
An invitation to young artists, on the first Thursday of every month.
May 3, June 7, July 5, 2018 until 9 p.m.
---------
PRACTICAL INFORMATION
Location: Musée National Eugène-Delacroix, 6 rue de Fürstenberg, 75006 Paris
Opening hours: every day (except Tuesdays) from 9:30 a.m. to 5:30 p.m.
Night opening until 9 p.m. on the first
Thursday of the month
Admission : €7 (free under presentation of
the Louvre ticket, for a visit on the same
or following day)
Further information : 
www.musee-delacroix.fr/en or +33 (0)1 44
41 86 50.
#DelacroixUneLutteModerne
AT THE MUSÉE DU LOUVRE
Delacroix (1798–1863)
March 29–July 23, 2018
Eugène Delacroix was one of the giants of French painting, but his last full retrospective exhibition in Paris dates back to 1963, the centenary year of his death. In collaboration with the Metropolitan Museum of Art in New York, the Louvre is holding a historic exhibition featuring some 180 works—mostly paintings—as a tribute to his entire career.
From the young artist's big hits at the Salons of the 1820s to his final, lesser-known, and mysterious religious paintings and landscapes, the exhibition will showcase the tension that characterizes the art of Delacroix, who strove for individuality while aspiring to follow in the footsteps of the Flemish and Venetian masters of the 16th and 17th centuries. It will aim to answer the questions raised by Delacroix's long, prolific, and multifaceted career while introducing visitors to an engaging character : a virtuoso writer, painter, and illustrator who was curious, critical, and cultivated, infatuated with fame and devoted to his work.
The exhibition will bring together masterpieces by Delacroix from museums in France (Lille,Bordeaux, Nancy, Montpellier, etc.) and exceptional international loans, particularly from the United States, Great Britain, Germany, Canada, Belgium, and Hungary.
Tours and workshops
www.louvre.fr
 
( Press Release Image: https://photos.webwire.com/prmedia/6/222127/222127-1.jpg )
Related Links
WebWireID222127

This news content was configured by WebWire editorial staff. Linking is permitted.
News Release Distribution and Press Release Distribution Services Provided by WebWire.