Pemex Awarded with 7 blocks at Round 3.1 at the CNH Bidding Process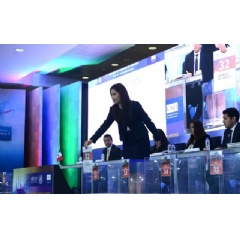 As part of the strategy for diversifying and strengthening its exploration portfolio, Pemex has successfully participated in the first open bidding from Round 3 at the CNH Comisión Nacional de Hidrocarburos Biddings in the shallow waters area. This action led to being awarded seven contracts: six in partnership and one announced as an independent.
Through its subsidiary, Pemex Exploration and Production (E&P) Company, Pemex was awarded four blocks at the southeast Basins: two of which are in a partnership with Total, a French company, one with Shell, a British-Dutch company, and one as an independent company.
Three other blocks were awarded in the area of Tampico-Misantla-Veracruz: two in partnership with CEPSA, a Spanish company of Petroleum, and one to the Deutsche Erdoel AG (DEA), a German company, and one in partnership with CEPSA.
Pemex CEO, Carlos Treviño Medina, confirmed that these awarded contracts will contribute to meeting the reserve goals established in the Business Plan 2017-2021 by utilizing several mechanisms and flexibility that the Energy Reform has provided.
These results, according to Treviño, will consolidate a strong strategic position for Pemex in the shallow waters zone, where it has a leading world position. The technology capacity is integrated, and the financial and geology risks are being shared with other oil companies expanding the country´s resources.
The awarded areas that Pemex obtained are close to the ones that it already has in the Gulf of México. This event led to creating synergies in the area of exploration and its development, where the infrastructure was already in place.
The geological conditions and these types of fields within these blocks, are similar to the ones Pemex has already explored and developed within its area.
In the marine zone of Tampico-Misantla-Veracruz, Pemex was awarded a partnership with companies DEA and CEPSA, in Areas 16 and 17; Area 18 was awarded a partnership with CEPSA.
Pemex earned block 2 at the Tampico Misantla Basin of shallow waters, in partnership with German DEA, and also in partnership to develop the Ogarrio Field in Tabasco, a farmout awarded in an open bidding process by the CNH.
In the southeast Basin, Petróleos Mexicanos earned Area 29 as an independent company, as well as Areas 32 and 33 in partnership with Total (French company), and Area 35 with Shell, British Dutch company, with whom it will develop Area 2 in the Cinturón Perdido Zone in deep waters awarded through Round 2.4 with CNH.
Treviño Medina confirmed that Petróleos Mexicanos is highly satisfied with the success at this round, where they earned seven out of the 16 assigned areas by the CNH.
According to Treviño, these results will strengthen its relationship with these companies. Such examples include Shell and the DEA. By consolidating two new partnerships, Total and CEPSA (the Spanish company), will demonstrate that Pemex is a reliable and outstanding partner amongst the international oil consortium companies.
( Press Release Image: https://photos.webwire.com/prmedia/6/222015/222015-1.jpg )
Related Links
WebWireID222015

This news content was configured by WebWire editorial staff. Linking is permitted.
News Release Distribution and Press Release Distribution Services Provided by WebWire.