BNY Mellon Supports a Global Push for Financial Gender Equality
United Nations hosts a discussion on the gender gap in women's access to financial products and services
WEBWIRE
–
Wednesday, March 21, 2018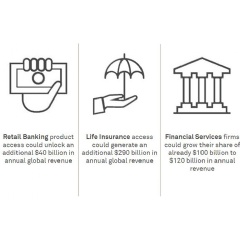 Each year, the United Nations' Commission on the Status of Women brings world leaders together to review progress toward gender equality and the empowerment of women. As part of this year's event, BNY Mellon partnered with the United Nations Foundation and the Group of Champions for Women's Empowerment to discuss the findings of a new study: Powering Potential: Increasing women's access to financial products and services.  A webcast of the event is publicly available via UN Web TV.
Powering Potential examines the gender gap in women's access to financial products and services around the globe, and the potential impact narrowing this gap could make in improving women's lives, unlocking global capital and increasing market opportunities for financial services companies. For example, in the retail banking sector alone, the report found that closing the gender gap could unlock US$40 billion in global revenue.
Closing the Gap
While they may vary from country to country, barriers to financial inclusion – like fewer products that meet women's needs, the lack of effective marketing to women and societal and structural impediments – are both a developed and a developing world problem.
"In the 1970s, women in the UK could not get a mortgage unless a man also signed for it," noted Susan Williams, Baroness of Trafford.* "Even now it is harder for a woman to secure a housing loan and on average we pay higher interest rates."
To empower women and close this gender gap, many countries are investing in new mobile banking technologies.
"Less than 30 percent of low-income people in Argentina have access to a financial product of some kind," said Dr. Helena Estrada from Argentina's Ministry of Production.* "At the same time, 80 percent have access to a cell phone."
An Argentinian national bank recently launched a mobile banking solution called Pim to expand access across the country. They hope to have more than one million active users by the end of 2018.
Mobile banking solutions are a first step to engaging more women in financial services; they also provide small business-owners with a measure of security.
"Over 80 percent of the small business conducted in the Pacific by women, in little marketplaces and so on," said Dr. Sharman Stone, Australia's Ambassador for Women.* "When they only had cash it was extremely dangerous for them to get that cash home, and to retain that cash once they got home. With mobile banking they can be physically more safe, more secure, and through that mobile banking they can also move into things like insurance, loans and a whole range of products which were not accessible or even dreamed about."
Gender Equality Benefits Families and Communities
While Powering Potential highlights the market opportunities for companies that provide financial products and services, it also reinforces the fact that empowering women to be full participants in the financial system starts a chain reaction that benefits the broader community.
"We know that when women control financial assets, they are often more likely than men to invest in the health, education and wellbeing of their families, which has knock-on effects for the community," said Heidi DuBois, Global Head of Philanthropy and Corporate Social Responsibility at BNY Mellon.* "When there are gender equality gains in financial services, the multiplier effect of women can help address other critical issues like poverty, hunger, education and health."
( Press Release Image: https://photos.webwire.com/prmedia/6/221685/221685-1.jpg )
Related Links
WebWireID221685

This news content was configured by WebWire editorial staff. Linking is permitted.
News Release Distribution and Press Release Distribution Services Provided by WebWire.