Football equals family at Soccer Without Borders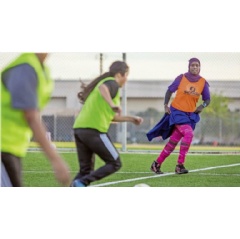 Fatuma Hussein spent her childhood in a refugee camp before moving to USA
The organisation Soccer Without Borders has given her a sense of belonging
Fatuma: "I don't just have one but two families now"
Fatuma moves with confidence and determination through the grounds of Soccer Without Borders in Oakland, hinting at the fact that the young woman knows every nook and cranny of the organisation that wishes to dissolve societal borders through football. She cheerfully greets the boys and girls she meets and gives them a sunny smile. People here do not just know each other, they value each other. "We belong together," she says proudly. 
Fatuma is from Somalia and is 20 years old. She grew up with her mother and five brothers and sisters in a refugee camp in Kenya that has little in common with the city in the sunny state of California, which she has called home for six years now. "Life was hard but I didn't notice it at the time, as I didn't have to worry about anything," she says about that time. Her family spent 23 years in the camp; Fatuma spent the first 14 years of her life there. Football only played a small role in her life at that stage. "I played every now and then with my brothers. But that was about it."
Things look very different now, as Fatuma walks across the training grounds of Soccer Without Borders. Football has become a big part of her life. "I am convinced that football has the power to unite people from around the world. You don't have to speak the same language to communicate with or understand one another in football."
Pass it on: Football is for all
*Playing and enjoying *
Fatuma learnt to love football. When she moved to the USA in 2012, it became her main hobby and since then she has followed it passionately. She supports Real Madrid and does not miss a single match, fervently following every game from start to finish. One day, while she was sitting on the sofa her eyes glued to the screen, watching her favourite team, she asked her mother if she might play football herself. Her mother replied, "Why not? Play and enjoy it."
But then Fatuma was too shy; she had left all her friends behind in the camp in Kenya. And she did not speak the language yet. It made her nervous, both at school and on the pitch. Still, her reticence did not last long. Through football she developed her personality and she learned not just for herself but for the team.
Her trainer at the time was Ben Gucciardi, the founder of Soccer Without Borders. "Do you want to be the first Somali who works here?" he asked her. "What could I do but nod?" says Fatuma with a wink. But she was not sure about her football skills. "I told Ben that I wasn't very good. But he replied that that wasn't the point. The point was to have fun playing football in the community," says Fatuma. "That's when I knew: football is for me!"
Fatuma met girls her own age at Soccer Without Borders. They came from different countries and had their own stories. They all spoke different languages and had different cultural backgrounds and religions. What they had in common was that they were immigrants and they wanted to play football.
Growing as an athlete and a person
The girls grew up together and came up with their own mantra. "Regardless of how often we lost or failed, we never gave up or got annoyed because we knew that we would learn from our mistakes and come back stronger."
The shy little girl has turned into a confident young woman who successfully followed the Soccer Without Borders programme. The focus was of course on football, which was intended to make integration easier. But the organisation also helped her to learn the new language and culture and provided after-school help. The alumni, almost half of whom are female, were expected to grow not just as athletes but also as people.
The results are promising: 95 oer cent of participants graduate from high school (Fatuma is one of that group). She is now attending college. Her dream is to become a nurse and help people. She also plans to continue contributing to Soccer Without Borders. "The organisation creates something extraordinary. I am so grateful for what it has given me and I want to give something back."
Fatuma now helps coach the U-12 and U-14 girls; she also offers to go and pick them up from home and drive them to the training ground. She says: "The football team is much more than just a team to me. I think of it as my family. I don't just have one but two families now." She collects the balls, hugs the girls who have just finished training and heads towards the changing rooms. And there it is again, that unique smile that shows that Fatuma has found a loyal companion that drives, motivates and makes her happy: football. Thanks to football, she can say she has found her feet in Oakland, USA.
FIFA Diversity Award 2017 - Soccer Without Borders: https://www.youtube.com/watch?v=jhugXrPBLPU
Soccer Without Borders explained
Soccer Without Borders harnesses football's power to nurture young people with the help of trainers and mentors and integrate them in a safe, supportive team community
The American non-profit organisation uses football as a way to bring about positive change and provides tools for disadvantaged young people to help them overcome the obstacles they face as they grow up, including integration and personal development. The focus is on fostering values such as dialogue, understanding and friendship. The aim is to meet the most pressing needs of young people around the world while taking into account their individuality.
Since it was founded in 2006, Soccer Without Borders has set up 12 programmes that are operating in five cities in the USA, as well as in Nicaragua and Uganda. Last year Soccer Without Borders won the FIFA Diversity Award, which recognises the efforts of an extraordinary organisation, group initiative or person to fight marginalisation and discrimination and promote diversity and anti-discrimination in football.
( Press Release Image: https://photos.webwire.com/prmedia/7/221581/221581-1.jpg )
Related Links
WebWireID221581

This news content was configured by WebWire editorial staff. Linking is permitted.
News Release Distribution and Press Release Distribution Services Provided by WebWire.