Mayor of London calls for closer ties with San Francisco on promoting inclusivity for tech sector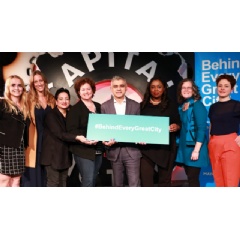 The Mayor of London Sadiq Khan has called for closer collaboration between the cities of London and San Francisco, highlighting the importance of stronger relationships based on shared values of openness and inclusivity, and the need for cities to work together to promote greater gender diversity.

Speaking at the SXSW tech conference earlier this week, the Mayor talked about the growing role for US cities, such as San Francisco and London to work together in shining a spotlight on diversity, particularly in the tech sector.

The Mayor has launched a major initiative in London marking the UK centenary of women winning the right to vote, by celebrating the achievements of women, encouraging greater levels of inclusivity and promoting the values of an open and diverse city economy. Now Sadiq is reaching out to likeminded, global cities and calling on US tech leaders to join him in supporting his #BehindEveryGreatCity campaign. 

Mayor of London Sadiq Khan said: "My message to tech leaders in San Francisco and cities across America - is that, collectively, we must do more to champion greater inclusivity within in the tech community.

"London and San Francisco's tech hubs have thrived on the values of openness and fairness. By working closer together, I am confident that our two great cities can lead the way in promoting greater diversity for the global tech community.

"Not only is it the right thing to do but it makes business sense."

Julie Hanna - Executive Chairwoman for Kiva added: "I came to realise a long time ago that technology and business are perhaps our most powerful tools for bringing about a good society. And what really fuels me is thinking about how we can bring more humanity to the way that we do business, and how we can bring the advantages of technology to all of humanity.

"In a globalised world there's a real opportunity for major cities like London and San Francisco to cross pollinate their knowledge, their perspective, their populations their expertise to enable mass collaboration that expands both cultures and mindsets."

According to a recent survey of senior tech professionals from the Bay Area, three quarters of West Coast tech executives agreed that London and San Francisco tech companies share the same values in relation to tackling the issue of diversity and inclusion, with respondents most likely to think that London was more aligned with Silicon Valley on this issue than other global cities such as Berlin, Paris and Shanghai.1 

The study also highlights the importance of the availability of a skilled and diverse workforce for Bay Area tech firms looking to expand overseas, with the majority of tech executives saying that diversity and inclusion is an important consideration when looking to choose a location to internationalise.

American tech companies represented the largest source of foreign investment into London from the United States, with Bay Area technology firms accounting for over 18% of all investment into London over the last ten years.2

In a further bid to strengthen trade and investment links between London and San Francisco, London & Partners, the Mayor of London's official promotional agency, announced it will expand its San Francisco office. The increased presence in the Bay area will provide further help for West Coast businesses looking to setup or expand their operations in London.

A number of major West Coast US tech businesses have recently announced further jobs and investment into the UK capital including the likes of Google, Snap Inc and Apple.

Laura Citron, CEO of London & Partners said: "London and San Francisco are two of the world's leading tech hubs and we see lots of opportunities for collaboration. With our shared values of innovation, inclusivity and creative energy, London is an ideal place for West Coast businesses looking to internationalise as it offers a home away from home. The expansion of our presence in the Bay Area will only strengthen our special working relationship and help to improve the flow of talent and businesses between our two great cities."

Further analysis of the research findings revealed that London was the number one place to do business and the top choice for West Coast tech businesses looking to grow their operation overseas, ranking higher than the likes of Paris, Berlin, Tel Aviv and Shanghai. The tech executives surveyed were most likely to associate London as the top city for liveability, government support and opportunities to grow and scale a tech business over other tech hubs.

The announcements have been made to coincide with the visit to San Francisco of the Mayor's first Chief Digital Officer, Theo Blackwell and London & Partners CEO, Laura Citron. As part of the visit, the London delegation will meet with business leaders at the likes of Apple and Airbnb and policy makers from San Francisco's local government.

Speaking at a business event in San Francisco on Thursday, London's first Chief Digital Officer, Theo Blackwell will be joined in conversation by Carrie Bishop, San Francisco's Chief Digital Services Officer. The two Chief Technology officers will discuss how global tech hubs such as London and San Francisco can collaborate and share best practices on a range of issues such as smart cities and improving inclusivity in the tech workplace. As part of this event, Theo will share the Mayor's vision for how he plans to make London the world's leading smart city.

Theo Blackwell, London's Chief Digital Service Officer said: "Working alongside the Mayor, my ambition is to harness how use data to continue to transform London into the world's leading smart city. We won't do this in isolation, increasingly great tech cities like San Francisco and London will be collaborating together. It will be cities, not governments, which will be the laboratories for cutting-edge technology to tackle a host of urban challenges. Scaling the best ideas will come from shard approaches, a respect for inclusive design principles and common standards.

"From air pollution and climate change to housing and transport, new technologies and data science will be at the heart of the long-term solutions and a source of new jobs for our cities."

London & Partners new #BehindEveryGreatCity film will be shown at the event to shine a spotlight on positive stories of inclusivity and diversity in the tech world. The film features women tech leaders spanning both London and the west coast of the US speaking about inclusivity in tech https://youtu.be/v4CQ7sxDC6U

Notes to Editors

YouGov survey of 100 C-suite technology executives based in Bay Area. March 2018.
fDi Markets, Data for all US Projects to London between Jan 2011 – Sept 2017
About London & Partners
London & Partners is the Mayor of London's official promotional agency. Our purpose is to support the Mayor's priorities by promoting London internationally, as the best city in the world in which to invest, work, study and visit. We do this by devising creative ways to promote London and to amplify the Mayor's messages, priorities and campaigns to international audiences. Our mission is to tell London's story brilliantly to an international audience.  
London & Partners is a not-for-profit public private partnership, funded by the Mayor of London and our network of commercial partners. For more information, visit www.londonandpartners.com
For high res, rights-free images of London, please register at http://photos.london/press/
( Press Release Image: https://photos.webwire.com/prmedia/7/221532/221532-1.jpg )
Related Links
WebWireID221532

This news content was configured by WebWire editorial staff. Linking is permitted.
News Release Distribution and Press Release Distribution Services Provided by WebWire.