NASA to Highlight Science Launching on Next Resupply Mission to Space Station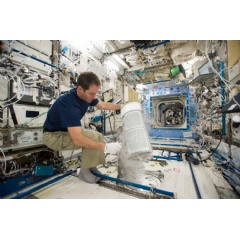 Expedition 50/51 Flight Engineer Thomas Pesquet of ESA (European Space Agency) inserts blood tubes into the Minus Eighty-Degree Laboratory Freezer aboard the International Space Station on Nov. 21, 2016. Credits: NASA
NASA will host a media teleconference at 11 a.m. EDT Monday, March 19, to discuss a number of science investigations and instruments launching in April to the International Space Station on the next SpaceX commercial resupply mission. Audio of the teleconference will stream live on NASA's website.
To participate in the teleconference, media must contact Stephanie Schierholz at 202-358-1100 or stephanie.schierholz@nasa.gov by 5 p.m. Friday, March 16, for dial-in information.
Pete Hasbrook, associate program scientist for the International Space Station Program at NASA's Johnson Space Center, and Michael Roberts, deputy chief scientist at the Center for Advancement of Science in Space (CASIS), will kick off the call with an overview of the research and technology aboard SpaceX's Dragon spacecraft.
Also participating in the briefing will be:
Torsten Neubert, National Space Institute at the Technical University of Denmark – Neubert, principal investigator for the Atmosphere-Space Interactions Monitor (ASIM), will discuss how this Earth observatory will study severe thunderstorms and their role in the Earth's atmosphere and climate. In addition to space applications, ASIM will help improve current atmospheric models that guide long- and short-term climate predictions.
Stephanie Murphy and Mark Gittleman, Alpha Space Test and Research Alliance – Murphy, founder of Alpha Space, and Gittleman, the company's president and chief executive officer, will discuss Alpha Space's Materials International Space Station Experiment flight facility (MISSE-FF). MISSE will be permanently installed on the exterior of the orbiting laboratory and provide the ability to test materials, coatings, and components in the harsh environment of space, with flight opportunities for experimenters approximately every six months. Testing on MISSE may benefit a variety of industries, including advanced manufacturing of products ranging from protective clothing for astronauts to solar cells.
Kim de Groh, NASA's Glenn Research Center – De Groh, a senior materials research engineer, will talk about how exposing 138 polymer and composite samples to the space environment, via MISSE-FF, will provide critical data to improve predictions of materials durability for spacecraft and component lifetimes in low-Earth orbit.
Elaine Horn-Ranney, Tympanogen, Inc. – Principal investigator for research about wound healing, Horn-Ranney will discuss this investigation into improving the process of antibiotic release from gels that can cover large wounds, a medical advancement that could be used to treat military combat wounds and reduce the occurrence and severity of systemic infection and inflammation.
Randall German, San Diego State University – German will discuss the Gravitational Effects on Distortion in Sintering (of Metal Powders) experiment delivered in the NASA Sample Cartridge Assembly that seeks to better understand how the lack of gravity affects a process used to produce high-performance products from metal powders. This research could lead to improved manufacturing techniques and has potential as a way to perform in-space fabrication and repair.
Dr. Guy Trudel, University of Ottawa and The Ottawa Hospital in Ontario – Trudel, a physician and principal investigator for the MARROW study, will discuss an investigation that looks at the effect of microgravity on bone marrow, blood cells produced in marrow, recovery after space missions, and the application of this data to future space explorers as well as healthcare providers on Earth.
SpaceX is targeting no earlier than 4:30 p.m. April 2 for the launch of its Dragon spacecraft on a Falcon 9 rocket from Space Launch Complex 40 at Cape Canaveral Air Force Station in Florida.
Find out more about NASA's commercial resupply services at:
https://go.nasa.gov/2FPdagj
Learn more about research aboard the International Space Station at:
https://www.nasa.gov/station/research
( Press Release Image: https://photos.webwire.com/prmedia/7/221484/221484-1.jpg )
Related Links
WebWireID221484

This news content was configured by WebWire editorial staff. Linking is permitted.
News Release Distribution and Press Release Distribution Services Provided by WebWire.