Azar Output to Hit 65000 b/d
Early production from Azar oil field started last March. The output of this jointly owned field currently stands at 30,000 b/d.
TEHRAN (NIOC) –
WEBWIRE
–
Wednesday, March 14, 2018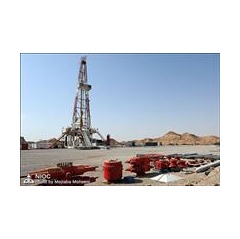 Kayvan Yar-Ahmadi, manager of Azar development project, says completion of newly drilled wells in this field will bring production to 60,000 b/d this March. He says the output is expected to reach 65,000 b/d later this year, as the second train of processing installations become operational. Meantime, second phase development of this field is under study to be awarded within the framework of the newly developed IPC contract to foreign bidders.
Azar is shared with neighboring Iraq, where it is known as Badra. It is located 20 kilometers from the city of Mehran in Ilam Province in Anaran exploration block which also englobes Changouleh and Timab fields. The exploration of Anaran block was assigned by the Exploration Directorate of National Iranian Oil Company (NIOC) in late 1990s to North Hydro of Norway. According to a report drafted in 2006, the Azar field was declared commercial. Negotiations lasted for one year with the Norwegian company, but they failed due to Iran's international conditions. Then, NIOC started preparing necessary infrastructure for the development of this field in 2008.
In the meantime, talks with Russia's Gazprom Neft and Malaysia's Petronas failed too, due to sanctions imposed on the Islamic Republic. In 2010, negotiations got under way with the Oil Industries Engineering and Construction (OIEC) and Oil Industry Pension Fund Investment Company (OPIC) for the development of Azar. Finally, a buyback agreement was signed for the Azar development. Early production started from this field in March 2017 at the rate of 15,000 b/d. The field output reached 30,000 b/d last May.
Accumulated Output at 10mn Barrels
Yar-Ahmadi said Azar has so far produced 9 million barrels of oil while accumulated production would exceed 10 million barrels by the end of the current calendar year on March 20. He recalled some complications and features of development of Azar oil field, citing clearing of mines left from the 1980-1988 imposed war on Iran.
"After demining, 2,600 ha of land was prepared. Meantime, necessary environmental permits were acquired in Ilam and Khuzestan provinces, access routes were built and other installations were set up based on the Norwegian company's MDP," he said. Yar-Ahmadi said that for the development of Azar field, the drilling of 17 development wells and a waste disposal well had been projected. "For early production we needed eight wells.
Fortunately, 13 wells have so far been drilled, but only eight of them are operational due to processing restrictions," he added. Yar-Ahmadi said that four drilling rigs were operating in Azar, adding that the field's output would reach 65,000 b/d after 17 wells have been completed. "After operating the first train of processing installations in this field, production would reach 60,000 b/d by March, and would keep rising to 65,000 b/d after the startup of the second train of processing installations next calendar year," he added. Regarding associated gas production from Azar, he said: "In this field, with an [oil] production of 65,000 b/d, we will be producing more than 70 mcf of associated petroleum gas, 50 mcf of which would be for the Dehloran NGL facilit y."
Drilling Complexities
Yar-Ahmadi said drilling started in Azar field in 2015, adding that the field is geologically tight and challenging. "Due to condensed reservoir rock, it could be described as the tightest oil field in Iran. On average, drilling each well lasts 500 days, which would be halved thanks to the application of state-of-the-art technologies like acid stimulation of wells, and horizontal and directional drilling," he said. "Therefore, one of our requirements for domestic and foreign companies willing to develop Phase 2 of Azar field, would be to reduce drilling time by using cutting edge technologies.
Yar-Ahmadi highlighted the positive role of Iran's nuclear agreement with six world powers – known as the Joint Comprehensive Plan of Action (JCPOA) – in the development of Azar field, saying more than 10 wells were completed to allow early production after the implementation of the JCPOA in January 2016. He said that few wells had been drilled before the administration of President Hassan Rouhani took office in 2013.
Azar's oil is light crude with an API gravity of 33, but is rich in CO2 and H2S. Therefore, the equipment used in this project is required to be made from special alloys. Yar-Ahmadi said that receiving alloys from abroad had been made with delays.
All contractors in this project are Iranian, he said, adding that domestic manufacturers had accounted for more than 65% of equipment used there. "As long as there is ground for competition, we have used domestically made equipment. For example, water and sweet oil pipes have been purchased from domestic manufacturers," said Yar-Ahmadi. "Furthermore, due to the post-JCPOA political overtures, conditions for foreign purchases have been sweetened."
In-Place Oil Reserves Double
Yar-Ahmadi said that new studies on Azar had sharply revised up the in-place oil reserves of this field to 4 billion barrels, twice the previously known figure. Due to this volume of oil, development of Azar has been defined in two phases, to which the new model of oil contracts may apply. Memorandums of understanding, as well as non-disclosure agreements have been signed between Iran and several companies, one of which has submitted its proposal. 
( Press Release Image: https://photos.webwire.com/prmedia/6/221436/221436-1.jpg )
Related Links
WebWireID221436

This news content was configured by WebWire editorial staff. Linking is permitted.
News Release Distribution and Press Release Distribution Services Provided by WebWire.