CP continues to deliver for North American economy, network improving daily after extreme winter conditions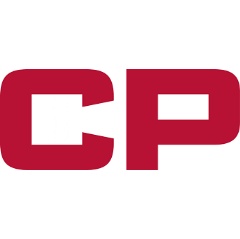 Canadian Pacific Railway Limited (TSX: CP) (NYSE: CP) continues to deliver overall for the grain supply chain with our year-to-date shipments, through Week 31, up 3 percent, or approximately 400,000 metric tonnes.
While extreme weather took its toll on the entire supply chain through much of February, CP's network is now starting to recover. Week 31 saw grain shipments increase by 16 percent week-over-week and each day CP's network is getting more fluid. CP also spotted nearly 50 percent more empties to the country in Week 31 compared to the week prior, a further sign of the incremental gains being made. CP's velocity is also improving, with train speeds up approximately 10 percent this past week versus mid-February.
"We are optimistic that with the weather turning in our favour, our singular focus on delivering safely for the supply chain, and the re-opening of the Port of Thunder Bay, that we are on the road to recovery," said Keith Creel, CP President and CEO. "While our challenges have been significant, they are different than that of our competitor's and the success of the supply chain depends on both railroads running at optimum levels."
The supply chain works best when all of the players are functioning at a high level. When one railroad struggles, or a shipper is dealing with a labour outage, or a vessel captain refuses to load in Vancouver due to rain – the entire supply chain suffers, just as it does when temperatures drop below -25 Celsius for long periods of time. Extreme weather and line outages impact all commodity movements, not just grain.

Each year, CP plans extensively for winter. Recently we have experienced unprecedented cold (60 percent colder, 78 percent more days below -25 Celsius) and snow along with some significant outages. Additionally, CP is experiencing unprecedented and unexpected demand being driven from dual rail-served territories in the northern catchment areas of our network. In spite of significant weather challenges our shipments are up 30 percent crop-year to date in this area. 

CP strategically plans each year for the upcoming crop, which this year was originally forecast around 65 million metric tonnes, but will end up being closer to 71 million metric tonnes, close to a 10 percent difference, with much of that increased production occurring in the northern catchment area of the prairies due to dry conditions in the south. 

"These short-term challenges are episodic, not systemic and we expect our network to improve with improving weather conditions," Creel said. "We are still moving more grain than we did last year and we are well positioned to have a great year overall across most commodities and lines of business."
CP's innovative Dedicated Train Program (DTP) has 15 percent more subscribers this year, DTP cycle times were on target and generally, things along CP's network were moving well, prior to February. CP's year-over-year compares would be even better if not for a very slow start to the crop-year for grain sales. A portion of CP's dedicated train capacity also sat idle for most of August and September, and some shippers struggled to fill their committed freight until November.
CP continues to add both crews and locomotives to support volumes across all commodities and urges the senate and government to move forward on Bill C-49 to bring some further certainty to the grain supply chain moving forward, specifically relating to new hopper car investment.
"We have 550 new people, across all crafts, in various stages of the hiring process, 100 additional locomotives, which will start being integrated into the fleet this month and into the spring and summer, and we have earmarked between $1.35 billion and $1.5 billion in capital improvements this year that will further improve the flow of goods across North America," Creel said.
Forward Looking Statements
This news release contains certain forward-looking information within the meaning of applicable securities laws relating, but not limited, to crop production estimates, transportation volume expectations, legislative changes and capital investments. This forward-looking information includes, but is not limited to, statements concerning expectations, beliefs, plans, goals, objectives, assumptions and statements about possible future events, conditions, and results of operations or performance. Forward-looking information may contain statements with words or headings such as "financial expectations", "key assumptions", "anticipate", "believe", "expect", "plan", "will", "outlook", "should" or similar words suggesting future outcomes.
Undue reliance should not be placed on forward-looking information as actual results may differ materially from the forward-looking information. Forward-looking information is not a guarantee of future performance. By its nature, CP's forward-looking information involves numerous assumptions, inherent risks and uncertainties that could cause actual results to differ materially from the forward-looking information, including but not limited to the following factors: changes in business strategies; general North American and global economic, credit and business conditions; risks in agricultural production such as weather conditions and insect populations; the availability and price of energy commodities; the effects of competition and pricing pressures; industry capacity; shifts in market demand; changes in commodity prices; uncertainty surrounding timing and volumes of commodities being shipped via CP; inflation; changes in laws and regulations, including regulation of rates; changes in taxes and tax rates; potential increases in maintenance and operating costs; uncertainties of investigations, proceedings or other types of claims and litigation; labour disputes; risks and liabilities arising from derailments;  transportation of dangerous goods; timing of completion of capital and maintenance projects; currency and interest rate fluctuations; effects of changes in market conditions and discount rates on the financial position of pension plans and investments; and various events that could disrupt operations, including severe weather, droughts, floods, avalanches and earthquakes as well as security threats and governmental response to them, and technological changes. The foregoing list of factors is not exhaustive.
These and other factors are detailed from time to time in reports filed by CP with securities regulators in Canada and the United States. Reference should be made to "Risk Factors" and "Management's Discussion and Analysis of Financial Condition and Results of Operations – Forward-Looking Information" in CP's annual and interim reports on Form 10-K and 10-Q. Readers are cautioned not to place undue reliance on forward-looking information. Forward looking information is based on current expectations, estimates and projections and it is possible that predictions, forecasts, projections, and other forms of forward-looking information will not be achieved by CP. Except as required by law, CP undertakes no obligation to update publicly or otherwise revise any forward-looking information, whether as a result of new information, future events or otherwise.
About Canadian Pacific
Canadian Pacific is a transcontinental railway in Canada and the United States with direct links to major ports on the west and east coasts, providing North American customers a competitive rail service with access to key markets in every corner of the globe. CP is growing with its customers, offering a suite of freight transportation services, logistics solutions and supply chain expertise. Visit cpr.ca to see the rail advantages of CP. CP-IR
( Press Release Image: https://photos.webwire.com/prmedia/6/221174/221174-1.png )
Related Links
WebWireID221174

This news content was configured by WebWire editorial staff. Linking is permitted.
News Release Distribution and Press Release Distribution Services Provided by WebWire.