Pamela Joyner to become Chair of the Tate Americas Foundation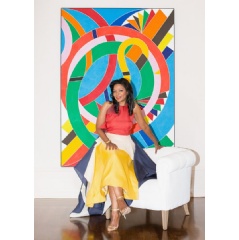 Pamela J. Joyner seated in front of Eastern Star 1971 by William T. Williams. © Nathanael Turner
Tate announces today that Pamela Joyner will succeed Jeanne Donovan Fisher as Chair of the Tate Americas Foundation for a five year term starting on 1 April 2018.
Pamela Joyner, who has been a Trustee of the Tate Americas Foundation since November 2015, is one of the United States' pre-eminent collectors of abstract work by postwar and contemporary African American artists. Her first involvement with Tate was when she joined the Tate American Foundation's North American Acquisitions Committee in 2011. She was Co-Chair of the Artists Dinner in 2013 and 2016 which together raised over $3.6 million.
Maria Balshaw, Director Tate, said: 'We are delighted that Pamela Joyner has agreed to take on a leadership role as Chair of the Tate Americas Foundation. Pamela has been a close friend and supporter of Tate, contributing significantly to our recent Soul of a Nation exhibition and championing the work of African-American artists who are very important to Tate. We also wish to take this opportunity to extend our deepest appreciation to Jeanne Donovan Fisher for leading the organisation so successfully for the past seven years.'
Pamela Joyner said: 'I am honored to take on the role of Chair for the Tate Americas Foundation and look forward to working with Maria Balshaw and the organisation in helping it to meet its inclusive and globally collaborative vision. As one of the world's leading art institutions, Tate plays a critical groundbreaking role in casting a spotlight on the contribution of both established and under-represented artists to the evolution of visual art in the 20th and 21st centuries. This frame of reference is also consistent with my personal view of the best and highest purpose of arts institutions. I am excited to continue working with the talented team at Tate that continues to have great impact on how we all view art and culture.'
In addition to Mrs Fisher and Ms. Joyner, the Board of Trustees of Tate Americas Foundation comprises: Paul Britton (New York), Estrellita Brodsky (New York), James Chanos (New York), Glenn Fuhrman (New York), John Studzinski (New York), Marjorie Susman (Chicago), Juan Carlos Verme (Lima, Peru) together with Ex Officio Members Tiqui Atencio Demirdjian (Monaco and Venezuela), Greg Miller (New York), Erica Roberts (Buenos Aires) and Christen Wilson (Dallas).
------
Tate Americas Foundation
Tate Americas Foundation, which has raised over $300 million since its foundation in 1999, acquires works of art from the Americas for presentation to Tate and raises money to grant to Tate for the support of capital programmes, scholarship, exhibitions and education. It is custodian of a $25 million acquisitions endowment which was gifted by Sir Edwin and Lady Manton in 1988. The foundation launched the North American Acquisitions Committee in 2001 and the Latin American Acquisitions Committee in 2002, together they provide Tate with $1 million annually for acquisitions of contemporary art in the Americas. Notably these were Tate's first acquisitions committees, a model that has since been expanded by Tate to other geographical regions. Tate Americas Foundation offices are in New York at 520 West 27 Street #404, New York, NY 10001. Please contact Richard Hamilton, founding Director, at the Tate Americas Foundation, for more information or visit www.tateamericas.org
Pamela Joyner
Pamela J. Joyner has nearly 30 years of experience in the investment industry. She is the Founder of Avid Partners, LLC where her expertise has been the alternative investment arena. Currently, Ms. Joyner is focused on her philanthropic interests in the arts and education.
Ms. Joyner is a Trustee of The Art Institute of Chicago, the J. Paul Getty Trust and the Tate Americas Foundation, and a member of the Tate International Council and the Tate North America Acquisitions Committee. She is also a Member of the Director's Circle of the San Francisco Museum of Modern Art and a Member of the Modern and Contemporary Art Visiting Committee of the Metropolitan Museum of Art. In the education arena, Ms. Joyner serves on the board of the Art & Practice Foundation.
Previously, Ms. Joyner's philanthropic involvements have included serving as: a member on President Obama's Committee on the Arts and Humanities; a Trustee of Dartmouth College and Chair of the Investment Committee; a Trustee of the New York City Ballet; a Board Member of the School of American Ballet; a Trustee and Co-Chair of the San Francisco Ballet Association; a Board Member of the MacDowell Colony; and a Trustee of the Asian Art Museum as well as other arts and educational organisations.
( Press Release Image: https://photos.webwire.com/prmedia/6/221039/221039-1.jpg )
Related Links
WebWireID221039

This news content was configured by WebWire editorial staff. Linking is permitted.
News Release Distribution and Press Release Distribution Services Provided by WebWire.