Mitsui to Supply Timber from Company-Owned Forests for Use in the Construction of the New National Stadium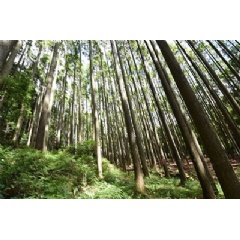 Japanese cedar in Mitsui's forest
Mitsui & Co., Ltd. ("Mitsui", Head Office: Tokyo, President and CEO: Tatsuo Yasunaga) has supplied cedar timber from its company-owned forests, "Mitsui's forests", for use in the construction of the New National Stadium. The timber will be used to build a giant roof to cover spectators in the stands. It will also be used in the eaves around the exterior of the stadium.
Mitsui owns 74 forests in Japan with a total area of approximately 44,000 hectares and aims to contribute to both the forestry industry and to environmental conservation. Forests produce timber, which is a reusable natural resource, and also fulfill a range of socially beneficial functions, such as absorbing and controlling carbon dioxide, acting as a water reservoir, preventing natural disasters by their water retention capacity, and preserving biodiversity. Sustainable forest management is essential to the maintenance of these forest functions. Mitsui works to ensure that Mitsui's forests provide all of these socially beneficial functions through appropriately managing various types of forests, including Forests for Regeneration and Harvest, and Natural Forests (Naturally Regenerated Forests (*1)). As part of this process, it harvests a wide variety of timber for sale as logs to meet the demand for timber for different purposes. No timber is wasted, since any material that is unsuitable for use as sawn lumber or pulp is utilized, for example, by processing it into woodchip fuel for use in biomass power generation (*2). Through these activities, Mitsui is contributing to the stable supply of Japanese-produced timber, while also helping to revitalize regional economies.
Mitsui has obtained certifications for all of Mitsui's forests throughout Japan under two international standards: the FSC® certification (license number: C057355) and the SGEC certification (certification number: SGEC/31-21-1101) (*3). These certifications are done by third party institutions that ascertain whether the forest management method of a forest operator meets economic, environmental and social criteria. The spread of such certification prevents unregulated deforestation, preserves healthy forests, and helps protect the global environment. Currently Mitsui's forests are the only privately owned forests in Japan with an area of over 10,000 hectares that are certified under these two certifications. This enables Mitsui to meet the demand for a variety of certified timber. For the New National Stadium project, Mitsui supplied SGEC-certified cedar from some of Mitsui's forests throughout Japan through Mitsui Bussan Forest Co., Ltd. (*4) The procurement standards for this project call for timber to be both legal and sustainable. Certified timber from Mitsui's forests meets these requirements.
Mitsui will continue contributing to the development of a sustainable, recycling-based society through the diversified use of Mitsui's forests.
------
*1 Naturally Regenerated Forests: These are forests that have formed without planting. After logging or other human activities, these natural forests regenerate mainly through natural action. Mitsui tends these forests to enhance the social value that they provide.
*2 Wood biomass power generation: Mitsui has invested in a wood biomass power generation project in Tomakomai City, Hokkaido. Commercial operations at the facility commenced in April 2017. Mitsui supplies some of the wood used as fuel from Mitsui's forests.
Reference Topics: Commercial operations begin at wood biomass power station in Tomakomai City, Hokkaido (May 12, 2017)
*3 FSC and SGEC certifications: Both organizations provide forest management (FM) certification and chain of custody (CoC, control of processing and distribution) certification. FM certification is obtained by Mitsui, and CoC certification by Mitsui Bussan Forest Co., Ltd.
*4 Mitsui Bussan Forest Co., Ltd. is a wholly owned subsidiary of Mitsui. It conducts forestry management for Mitsui's forests, and produces and sells timber raw materials.
Notice:
This announcement contains forward-looking statements. These forward-looking statements are based on Mitsui's current assumptions, expectations and beliefs in light of the information currently possessed by it and involve known and unknown risks, uncertainties and other factors. Such risks, uncertainties and other factors may cause Mitsui's actual results, financial position or cash flows to be materially different from any future results, financial position or cash flows expressed or implied by these forward-looking statements. These risks, uncertainties and other factors referred to above include, but are not limited to, those contained in Mitsui's latest Annual Securities Report and Quarterly Securities Report, and Mitsui undertakes no obligation to publicly update or revise any forward-looking statements.
This announcement is published in order to publicly announce specific facts stated above, and does not constitute a solicitation of investments or any similar act inside or outside of Japan, regarding the shares, bonds or other securities issued by us.
( Press Release Image: https://photos.webwire.com/prmedia/6/221035/221035-1.jpg )
Related Links
WebWireID221035

This news content was configured by WebWire editorial staff. Linking is permitted.
News Release Distribution and Press Release Distribution Services Provided by WebWire.