The 2nd Annual Women4Climate Conference Turns the Spotlight on Future Climate Leaders
Montreal, Vancouver, Durban and Quito join Paris and Mexico City in launching Women4Climate Mentorship Programmes to support and empower women climate leadership in their cities.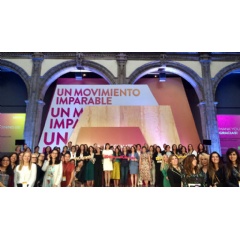 A shared global agenda
At 2nd annual Women4Climate conference, mayors, business leaders, citizens, and changemakers from around the world gathered to advance a shared global agenda.
An agenda that spans education, innovation, and economic equality and highlights the critical role of women in acting on climate change. They also honored the 10 young women climate leaders selected to be part of Mexico City's Women4Climate Mentorship Programme.
After successful pilot programs in Paris and now in Mexico City, Montreal Mayor Valérie Plante and Vancouver Mayor Gregor Robertson announced today at the Women4Climate conference that their cities will launch their own Women4Climate Mentorship Programmes to celebrate and support local female leadership on climate in their cities. Mentorship programmes will also be launched in the cities of Durban and Quito.
"Women leaders are at the forefront of global climate action, but too often the world fails to adequately recognize their ambitious and important work to create a more sustainable world," said C40* Chair and Paris Mayor Anne Hidalgo. "As women mayors and leaders across all sectors of society, it's our responsibility to support and celebrate the talented, intelligent young women leaders of tomorrow. We must nurture their passion, bolster their resiliency and equip them on their journey to shape the future. We need them, and more importantly, our planet needs them.
The 10 extraordinary winners of Mexico City's Women4Climate Mentorship Programme were selected from a pool of applicants after submission of a project proposal adhering to the framework of Mexico City's award-winning Climate Action Programme.  These women will receive technical support to bring their proposals to life and will connect with inspirational mentors who will share their breadth of knowledge and experience to help them become powerful future leaders in their respective fields.
A movement gaining momentum
As the movement for universal women's rights, empowerment, and representation continues to sweep the globe, C40 cities have been exemplary of the incredible progress being made:  since 2014, the number of C40 member cities with women mayors has increased 300% from 4 to 16. Women around the world are making their voices heard, from the #MeToo movement to the unprecedented numbers of women who are running for – and winning – public office. While those numbers are certainly indicative of an important societal evolution, there is much more work to be done.
"We are living in an unprecedented era of female achievement – from boardrooms to city hall and everywhere in between – but we will not be satisfied until we have mitigated and adapted the most pressing challenge of our time: climate change," said Alexandra Palt, Chief Corporate Responsibility Officer of L'Oréal and Executive Vice President of the L'Oréal Foundation. 
And more initiatives to come
To respond to the need for more female leadership, especially on climate and environment, C40 has designated the Women4Climate initiative as a top priority and aims to mentor 500 women from around the world by 2020.
In addition to the Mentorship Programme, the Women4Climate Initiative also includes a Tech Challenge, a global competition designed to drive innovative climate solutions from women working in the tech sector and a research stream. The competition will be officially launched at the Global Climate Action Summit, September 12-14, 2018 in San Francisco, and finalists will have the opportunity to pitch their ideas from the main stage to all C40 mayors at the 2019 C40 Mayors Summit in Paris. Winners will receive a fellowship and see their ideas implemented in C40 cities.
To inform the decision making process and support cities in considering gender-specific impacts and solutions in urban and climate action planning, C40 is working on a research report to be published by end of 2018 that will provide cities the tools to implement inclusive climate action strategies that take gender equality into account.
*About C40 Cities
C40 Cities connects more than 90 of the world's greatest cities, representing 650+ million people and one quarter of the global economy. Created and led by cities, C40 is focused on tackling climate change and driving urban action that reduces greenhouse gas emissions and climate risks, while increasing the health, wellbeing and economic opportunities of urban citizens. The current chair of the C40 is Mayor of Paris Anne Hidalgo; and three-term Mayor of New York City Michael R. Bloomberg serves as President of the Board. C40's work is made possible by our three strategic funders: Bloomberg Philanthropies, Children's Investment Fund Foundation (CIFF), and Realdania.
( Press Release Image: https://photos.webwire.com/prmedia/6/220924/220924-1.jpg )
Related Links
WebWireID220924

This news content was configured by WebWire editorial staff. Linking is permitted.
News Release Distribution and Press Release Distribution Services Provided by WebWire.