Applications Are Open! Southwest Airlines Teams Up With The Hispanic Association of Colleges and Universities To Make Dreams Take Flight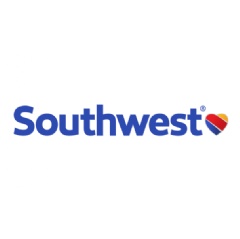 Southwest Airlines Co. (NYSE: LUV) and The Hispanic Association of Colleges and Universities (HACU) announced applications are open for the 2018 ¡Lánzate! / Take Off! Travel Program. This impactful program, which was recognized in 2015 by the White House Initiative on Educational Excellence for Hispanics, provides roundtrip air travel to selected Latino college students to travel home to see family. Applicants must write a personal essay addressing questions outlined in the application.  In the essay, applicants should demonstrate or discuss socio-economic need such as financial need or cultural considerations.  Applicants must be enrolled in an undergraduate or graduate degree program at least 200 miles from home. Students can submit applications through April 13, 2018, at www.hacu.net. 
Education advocates and HACU leaders from across the country will form a diverse selection panel this summer to choose the deserving students who will benefit from the 2018 program. In 2017, the panel selected 100 students to receive roundtrip travel from Southwest Airlines®. 
Emily Rojas, one of the students selected in 2017 shared, "When I moved from California to attend college across the country in Washington D.C., I always assumed I was going to travel back home for the holidays. However, when my family and I realized how much it would financially cost us for me to go back home, we knew it wasn't something we could afford. After two years away at school, I was finally able to make the trip back home for Thanksgiving thanks to the Hispanic Association of Colleges and Universities (HACU) and Southwest Airlines." Learn more about Emily's story at www.southwestaircommunity.com.
"For over three decades, HACU has been committed to Hispanic success in higher education, and we are proud to, once again, be part of the Southwest Airlines ¡Lánzate! / Take Off! Travel Program that helps continue that mission," said HACU President and CEO Antonio R. Flores. "Now in its 14th year, this program has helped thousands of students maintain the connection to their families and has lessened the financial burden many students face while pursing higher education."
"Each year when we read the essays of the students who apply, we are inspired by their personal stories and their commitment to obtaining a degree," said Christine Ortega, Southwest Airlines Senior Advisor for Community Affairs & Grassroots. "We are also truly touched by the love these students describe for their families. Many of the students share that keeping their strong connection with their families is what motivates them to boost their journey for higher education."
For more information about the program, please visit: www.hacu.net.
Basic Qualifications:
Student must be enrolled in a college at least 200 miles from their designated home at time of application.
Student must be in good academic standing as determined by his or her college.
Student must have a minimum 2.5 GPA.
Student must be 18 years old or older at time of application.
Recipient must be a legal U.S. resident.
All federal government regulations related to air travel and Transportation Security Administration rules must be adhered to, including, but not limited to, producing a valid government issued photo ID for air travel.
One application per student must be submitted online by the specified deadline of April 13, 2018 at 11:59 p.m. CT. Incomplete applications and applications not submitted online will be disqualified.
Needed travel must be to/from Southwest Airlines domestic destinations.
Students will be required to complete and upload an Enrollment Verification Form with their application (the "Required Documentation"). The Enrollment Verification Form must be signed by the college Registrar's Office and must verify enrollment and grade point average.
Selected student recipients will be required to complete and sign an IRS Form W-9 with the student's full social security number.
The student must identify direct or parental ties to a specific country to determine Hispanic origin on the application.
Essay:
The student must write a personal essay addressing questions as outlined in the application. The essay must be between 300 and 500 words demonstrating college level writing and grammar skills. Applications with essays with fewer than 300 words or more than 500 words will be disqualified.
In the essay, student should demonstrate or discuss socio-economic need such as financial need, cultural considerations, etc.
The essay may be written in Spanish, provided an English translation is included with the application.
Selection:
A selection committee comprised of national education advocates and HACU leaders will review all qualified applications and essays.
Students attending a HACU member institution will receive additional consideration in the individual review phase.
The decision of the selection committee is final.
The selection committee will determine the number of students who will receive Southwest flight e-passes, with a minimum of 125 recipients. Also, the selection committee will determine the number of Southwest flight e-passes each selected student will receive (between two to eight).
ABOUT HACU
The Hispanic Association of Colleges and Universities (HACU) represents more than 470 colleges and universities committed to Hispanic higher education success in the U.S., Puerto Rico, Latin America and Spain. The association's headquarters are located in San Antonio, Texas, with offices in Washington, D.C., and Sacramento, California. HACU is the only national association representing existing and emerging Hispanic-Serving Institutions (HSIs).  Information is available at www.hacu.net.
ABOUT SOUTHWEST AIRLINES CO.
In its 47th year of service, Dallas-based Southwest Airlines Co. (NYSE: LUV) continues to differentiate itself from other air carriers with exemplary Customer Service delivered by more than 56,000 Employees to a Customer base topping 120 million passengers annually, in recent years. Southwest became the nation's largest domestic air carrier in 2003 and maintains that ranking based on the U.S. Department of Transportation's most recent reporting of domestic originating passengers boarded. During peak travel seasons, Southwest operates more than 4,000 weekday departures among a network of 100 destinations in the United States and 10 additional countries. Southwest has announced its intention to sell tickets in 2018 for service to Hawaii, subject to requisite governmental approvals.
Southwest coined Transfarency® to describe its purposed philosophy of treating Customers honestly and fairly, and low fares actually staying low. Southwest is the only major U.S. airline to offer bags fly free® to everyone (first and second checked pieces of luggage, size and weight limits apply, some carriers offer free checked bags on select routes or in qualified circumstances), and there are no change fees, though fare differences might apply.
As launch customer of the Boeing 737 MAX 8 in North America, the Company operates the largest fleet in the world of Boeing aircraft, all of which are equipped with satellite-based WiFi. Customers who connect to the WiFi network may use their personal devices to view on-demand movies and television shows, as well as nearly 20 channels of free, live TV.
With a bold new look first unveiled in 2014, Southwest is progressing through a multi-year refresh of its fleet to showcase the carrier's Heart: a new logo, aircraft livery, interior design featuring new seats, Employee-designed uniforms, and an updated airport experience, all of which showcase a dedication of Southwest Employees to connect Customers with what's important in their lives.
From its first flights on June 18, 1971, Southwest Airlines launched an era of unprecedented affordability in air travel described by the U.S. Department of Transportation as "The Southwest Effect," a lowering of fares and increase in passenger traffic wherever the carrier serves. With 45 consecutive years of profitability, Southwest is one of the most honored airlines in the world, known for a triple bottom line approach that contributes to the carrier's performance and productivity, the importance of its People and the communities they serve, and an overall commitment to efficiency and the planet.
Book Southwest Airlines' low fares online at Southwest Airlines or by phone at 800-I-FLY-SWA.
( Press Release Image: https://photos.webwire.com/prmedia/7/220912/220912-1.png )
Related Links
WebWireID220912

This news content was configured by WebWire editorial staff. Linking is permitted.
News Release Distribution and Press Release Distribution Services Provided by WebWire.