NH Hotel Group exceeds all its targets triples recurring net profit in 2017
2017 Highlights: Revenue growth, efficiency gains and deleveraging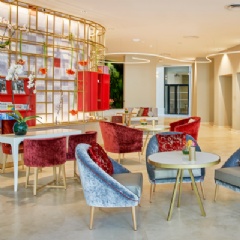 -NH Hotel Group's FY17 results-
Strong momentum across the hotel business, particularly in Benelux (+12.8%) and Spain (+11.8%), drove the Group's total revenue a solid 6.5% higher year-on-year to €1.57 billion in 2017
An effective strategy that combined growth in the ADR (+4.9%) and occupancy ratio (+3.4%) drove overall RevPAR 8.5% higher
Despite growth in business volumes, an effective cost control policy drove recurring EBITDA(1) 29% higher to €233 million, up €52 million from 2016 and €3 million above the guidance, which was revised upwards in September 2017
The Company managed to convert 54% of incremental revenue into EBITDA(1) in 2017, while the EBITDA(1) margin improved by 2.6 percentage points to 14.8%, while the cost efficiency target was surpassed with €11 million of savings registered
Recurring net profit tripled to €34.8 million in 2017, marking a €23.3 million improvement from 2016, all of which attributable to healthy business momentum
Reported net profit was €35.5 million, up 15.4% from 2016, comp affected by the net gains recognised on asset disposals in 2016 (€23 million higher than in 2017)
The growth in profits, coupled with deleveraging, puts the Company in a position to submit a proposal for the payment of a gross dividend of €0.10 per share at the upcoming AGM, in keeping with recently-announced dividend policy
- Financial targets and key milestones –
Since the end of 2016, strong cash flow generation has enabled the Company to reduce its indebtedness by €92 million to €655 million, implying a net debt-to-recurring EBITDA(1) leverage ratio of 2.8x, down from 4.1x at year ago and better than the 3-3.25x targeted for year-end 2017
Against the backdrop of the deleveraging strategy, last November, the Company redeemed the entire outstanding balance (€100 million) of its senior secured notes due 2019
In December 2017, NH Hotel Group entered into a sale and leaseback agreement over the property that houses the NH Collection Barbizon Palace hotel in Amsterdam for €155.5 million (€584.5k/room), unlocking net cash of €122.4 million, a transaction recognised in 2018
- Outlook for 2018 -
The Business Plan in progress contemplates EBITDA(1) guidance for 2018 of €260 million combined with a significant reduction in the net leverage ratio
The Group's growth drivers for the years to come include continuing to enhance the guest experience and quality; a sales strategy articulated around open pricing; and efficiency, while taking advantage of new repositioning and organic growth opportunities in parallel
Today, NH Hotel Group presented its 2017 results, reporting very strong trends in its key hotel business indicators which have translated into solid growth in overall Group revenue. The highlights last year include efficient management and control over operating expenses, significant growth in recurring profit and reduction of leverage. In fact, the Company topped all of the guidance provided for the year.
NH Hotel Group's CEO, Ramón Aragonés, said of these results "in 2017 we outperformed all the profit and leverage targets we had committed to. Our profitable management of the business, coupled with the effort made to strengthen our capital structure and create value for all of our shareholders by executing our business plan, has put NH Hotel Group in an ideal position to tackle the most ambitious targets in the Company's history with a solid success guarantee."
- NH Hotel Group's FY17 results -
Thanks to the momentum displayed by the hotel business all year long and the impact of the initiatives rolled out, particularly the brand and hotel repositioning work, 2017 was marked by significant growth in revenue of 6.5% to €1.57 billion, up from €1.47 billion in 2016. The solid growth registered in all its markets drove an increase in the Company's topline of €96.5 million.
Topping the ranking of growth in like-for-like revenue by market, it is worth highlighting the Group's excellent performance in Benelux, where revenue rose by 12.8%, driven by leading and secondary city destinations in the Netherlands, the strong performance of hotels refurbished the year before and the ongoing recovery of the Belgian market. Not far behind was Spain, where revenue was 11.8% higher, boosted by extraordinarily strong prices and demand in all destinations all year long and despite the tension in Catalonia that affected the Company's performance in Barcelona in the last quarter of the year. Italy, meanwhile, posted revenue growth of 4.5%, led by Milan and the secondary cities. Central Europe was affected by a favourable line-up of trade fairs in Germany in 2016 and the refurbishment of three key hotels in Berlin, Munich and Hamburg in 2017. This region registered growth of 0.2% in 2017; this figure rises to 2.2% stripping out the impact of the hotels under refurbishment. Lastly, revenue in Latin America was 4.5% higher, thanks to strong business volumes in Mexico and Argentina and despite currency devaluation in these markets.
The price management strategy rolled out last year drives a growth in revenue per available room (RevPAR) of 8.5%. Note that the RevPAR growth reported in 2017 was driven equally by strategic growth in the ADR of 4.9% to €95.2 and growth in occupancy of 3.4% to 70.8% across the Company's portfolio of hotels. This strategic focus once again enabled NH Hotel Group to outperform its direct competitors in its main destinations as a whole, posting growth in its ADR, occupancy rate and RevPAR that was 1.5, 2.0 and 3.6 percentage points, respectively, higher than that of its competitors, particularly in the key city destinations.
The strategic focus on efficiency all year long drove significant margin expansion. Specifically, the Group posted recurring EBITDA(1) of €233.1 million in 2017 compared to €180.9 million in 2016, exceeding guidance, which had been raised from €220-225 million to €230 million, and offsetting the adverse impact of the earthquake in Mexico last September and the political tension and instability in Catalonia (Spain) which affected the last quarter. Despite higher occupancy rates, the Company managed to convert 54% of incremental revenue into EBITDA(1). As a result, it lifted its EBITDA margin by 2.6 percentage points from 2016.
Thanks to the business evolution and its more efficient management, NH Hotel Group tripled recurring net profit from €11.5 million in 2016 to €34.8 million in 2017. Reported net profit was €35.5 million, year-on-year growth of 15.4%, despite the fact that 2016 net profit included €23 million more of net gains from asset disposals than this year's figure.
The growth in profits in 2017, coupled with deleveraging, puts the Company in a position to submit a proposal for the payment of a gross dividend against 2017 profits of €0.10 per outstanding share at the upcoming AGM, implying an estimated payout of €35 million.
Hotel business performance in 2017 by market
Ratios: like-for-like hotel data + hotels under refurbishment
EBITDA figures: Recurring EBITDA before onerous reversal and capital gains from asset disposals
-----     
Benelux was the Group's best-performing market, thanks to: significant business volume growth; the results of the refurbishment work carried out in 2016; and the ongoing recovery of the Brussels market, combined with strong momentum in Amsterdam and the secondary Dutch cities. Benelux posted growth in occupancy of 6.8% and in the ADR of 7.2% for RevPAR expansion of 14.4%. This market generated €339.4 million of revenue, up 12.8% from 2016, while EBITDA increased by €20.4 million (+41.9%) from 2016 to €69.2 million.
Spain performed excellently throughout the year, boosted by business dynamism in key cities such as Madrid and Barcelona, where revenue (excluding the impact of refurbishments) rose by 14.3% and 8.3%, despite a weaker fourth quarter in Barcelona as a result of political instability. Revenue generation in secondary city destinations was 7.8% higher. RevPAR in Spain registered like-for-like growth of 14.5%, driven by growth of 9.8% and 4.3% in the ADR and occupancy rate, respectively. Overall revenue in Spain climbed 11.8% to €396.8 million and EBITDA amounted to €59.4 million, up 75.1% from 2016 (+€25.5 million).
Italy presented like-for-like RevPAR growth of 6.5%, basically driven by growth in the ADR (+5.6%). Occupancy in Italy increased 0.8% during the year. Milan and the secondary cities were particularly strong in this market. Like-for-like revenue in Italy rose by 4.5%, including the impact of two hotels closed for refurbishment in Turin and Rome. Stripping out these hotels, revenue growth in this market rises to 6.3%. NH Hotel Group's EBITDA in Italy registered growth of 16.8% to €51.0 million in 2017.
Central Europe reported RevPAR growth of 1.4% in 2017, shaped by growth in the occupancy rate of 2.9% partially offset by a slight decline in prices (ADR: -1.4%) due to the tough comp in terms of trade fair timing in Germany. Despite this, revenue in the Central Europe was flat year-on-year at €389.9 million, while EBITDA amounted to €24.9 million.
Latin America also reported growth despite adverse currency trends in Mexico and Argentina. RevPAR rose by 3.4% in 2017, thanks to growth in the ADR of 1.3% and in occupancy of 2.0%. Revenue in this region climbed 4.5% to €136.8 million, while EBITDA was 1.6% higher at €25.7 million. By market, Mexico posted topline growth of 5.3% (current values), despite currency depreciation and the impact of the earthquake in September; in Argentina revenue growth in current values was 17.8%, driven by higher business volumes (occupancy: +11.8%) and prices (+6.7%); lastly, Colombia and Chile, affected by the refurbishment of a key hotel in Chile and new rooms coming onto the market in Bogota, reported a revenue contraction of 3.8% compared to 2016.
- Financial targets and key milestones –
Strong cash flow generation during the year enabled the Company to reduce its net debt by €92 million to €655 million between year-end 2016 and year-end 2017. As a result, the Group reported a net debt/ recurring EBITDA(1) ratio of 2.8x, compared to 4.1x at year-end 2016 and outperforming initial guidance for leverage of between 3x and 3.25x by year-end 2017.
Elsewhere, on 30 October 2017, the Company announced a transaction designed to reduce its leverage, prepaying and cancelling the full outstanding balance (€100 million) on its €250 million of senior secured notes due 2019. The notes were redeemed on 30 November and the prepayment was funded from available cash. This transaction will generate net interest savings of around €10 million between 30 November 2017 and 15 November 2019, which is when the bonds would have fallen due. Following the redemption, the average cost of the company's debt declined from 4.2% at 30 September 2017 to 3.9% at year-end and the average tenor, excluding subordinated debt, increased from 4.1 years to 4.3 years over the same timeframe.
Over the course of 2017, Fitch, Moodys and Standard & Poor's all improved their outlooks for the Company's credit ratings thanks primarily to an improved business performance and stronger liquidity position.
Under the scope of its portfolio optimization strategy, in December 2017, NH Hotel Group announced the sale and subsequent leaseback, under a sustainable long-term arrangement, of the property which houses the NH Collection Barbizon Palace hotel in Amsterdam for €155.5 million (€584.5k per room), unlocking net cash of €122.4 million. This transaction was recognised in 2018 for accounting purposes. With this deal, NH Hotel Group has taken advantage of the current liquidity window to reduce its exposure to real estate, while maintaining operation of the establishment under a sustainable variable-rent lease for 20 years, extendible to 60.
- Outlook for 2018 -
The Business Plan under execution contemplates EBITDA(1) guidance for 2018 of €260 million and a significant reduction in the leverage ratio, reinforced by the recent sale of the building in which the NH Collection Barbizon Palace hotel is located in Amsterdam. Assuming conversion of its bonds in November 2018, the Company should be in a position to end the year with a leverage ratio of between 1.2x and 2.1x (nearer the upper end of the range if the bonds are not converted). 
NH Hotel Group recently announced the growth drivers around which it plans to articulate its strategy for continued profitable growth and enhanced brand recognition in the years to come at its first Investor Day, held in Madrid in September 2017. The Company has thus mapped out its priorities to 2019, which are focused on improving the guest experience and quality, a commercial strategy shaped by dynamic price management and efficiency, while take advantage off its current strengths to new repositioning opportunities and organic growth. 
The new business plan contemplates noteworthy initiatives designed to enhance the user experience such as the upcoming relaunch of the NH Rewards loyalty programme, which already boasts over 8 million members.
In parallel, the system transformation work already carried out will enable the Group to implement a dynamic pricing strategy that will set prices automatically and optimally, reducing sales periods and optimising the demand curve.
The Company will also remain focused on growth over the next two years. To this end, NH Hotel Group has recently bolstered its business development team, whose mission is to capitalise on growth opportunities going forward, while working in tandem to reinforce the existing relationship of trust with the Group's current partners. At present the Group has a portfolio of signed projects encompassing 30 hotels and over 5,000 rooms to be opened in the coming years.
-------
About NH Hotel Group
NH Hotel Group is a world-leading urban hotel operator and a consolidated multinational player. It operates close to 400 hotels and almost 60,000 rooms in 30 markets across Europe, the Americas and Africa, including top city destinations such as Amsterdam, Barcelona, Berlin, Bogota, Brussels, Buenos Aires, Düsseldorf, Frankfurt, London, Madrid, Mexico City, Milan, Munich, New York, Rome and Vienna.
( Press Release Image: https://photos.webwire.com/prmedia/6/220868/220868-1.png )
Related Links
WebWireID220868

This news content was configured by WebWire editorial staff. Linking is permitted.
News Release Distribution and Press Release Distribution Services Provided by WebWire.