Study ECFB, BDO and Rabobank: outside influence creates cross-border perspective for family businesses
-Family businesses with an outsider CEO are 7% more active on the international front
-The greater the geographical distance, the more an outsider CEO contributes to the company's profitability, which can run up to an astonishing 11%
-Globalisation pays off thanks to a long-term orientation and a focus on sustainable business relations
WEBWIRE
–
Tuesday, February 20, 2018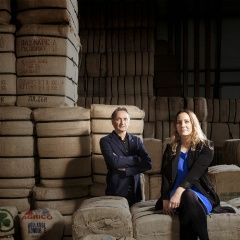 The greater the influence of non-family members on the strategy of a family business, the better the company does internationally and the higher the revenue it generates abroad. Family businesses set themselves apart in the global arena by their long-term orientation and their focus on sustainable business relations. International success is contingent on such factors as a well-functioning labour market and a high level of interpersonal trust in the country in question.
These are the main conclusions that are drawn in the report 'Expanding horizons', a study conducted by the Erasmus Centre for Family Business (ECFB), BDO Netherlands and Rabobank. The report looks at how family businesses tackle globalisation.
Although family businesses are known for being conservative, their approach to international business is nothing short of expeditious. Over 60% of the about 270,000 Dutch family businesses export products; 70% invest internationally or have a foreign associate. What is more, nearly 60% have one or more subsidiaries outside the Netherlands.
Cross-border growth opportunities and risk diversification
It is only natural for family businesses to look beyond the border, given that they clearly stand to benefit from pushing their boundaries. To illustrate: internationally operating family businesses post a gross profit margin of 7.9% on average; this margin stands at 4.8% for family business with domestic operations only. Foreign markets not only offer growth opportunities and a perspective of higher revenues, but they also allow family businesses to spread their risks better and give them the chance to expand their product offering.
"Technological developments and freer trade have made it increasingly convenient and appealing to do business internationally," says Pursey Heugens, Professor of Organisation Theory at the Rotterdam School of Management, Erasmus University (RSM) and Director of the ECFB. He goes on to say that family businesses are reaping the benefits of these opportunities too, especially in emerging economies. What is unique about family businesses is that they are looking for sustainable business relations with like-minded partners. "That's what gives them a particular strategic edge in countries that focus on the long term," says Mr Heugens.
Outsider gives that extra push
One of the factors that determine the degree to which family businesses focus on globalisation is the level of control family members want to keep of the company. "Companies that are open to welcoming an outside shareholder or CEO to provide input into their strategy are generally more internationally oriented than their counterparts that aren't open to that option," says Joost Vat, Partner at BDO and an expert in the area of family businesses. The home culture also plays a role in Vat's opinion: the more faith family businesses have in foreigners, the sooner they will decide to take their business across the border.
Challenges: labour and capital
Family businesses are not always successful abroad. A problem that affects them more than the average company is a relatively poorly developed labour market, for instance if workers do not have the required qualifications. "The scarce talent that is available then tends to prefer an established corporate rather than joining a relatively unknown foreign family business, which is usually a little smaller," says Mirelle Pennings, Director of Corporate Clients Netherlands at Rabobank. She goes on to explain that culture plays a role here too. "Conversely, in countries where there is a lot of interpersonal trust, such as Denmark and Germany, it's easier for family businesses to gain access to the labour market. The same goes for local financing."
About the study
The information on the globalisation of family businesses is based on two recent studies of the Erasmus Centre For Family Business (ECFB). The first study looks at a large number of countries and maps out how appealing the social and economic climate is to family businesses in particular. The study took a three-step approach. First, it was determined for 49 different countries whether family businesses did better or worse in that context than non-family businesses. In the second step, the 'family business bonus/penalty scheme' was linked up to a number of formal (statutory) and informal (cultural and social) location-based factors. The third step was to compile an international index based on factors that had a significant effect on the performance of family businesses; this index also included countries outside the original set of 49.
The second study is qualitative in nature and designed to find out more about how enterprising family businesses shift their operations to a foreign location. The study focused on companies from three European countries (i.e. the Netherlands, Italy and Switzerland).
( Press Release Image: https://photos.webwire.com/prmedia/6/220507/220507-1.jpg )
Related Links
WebWireID220507

This news content was configured by WebWire editorial staff. Linking is permitted.
News Release Distribution and Press Release Distribution Services Provided by WebWire.