JR Launches Regional Pass for Tohoku and South Hokkaido
WEBWIRE
–
Monday, February 19, 2018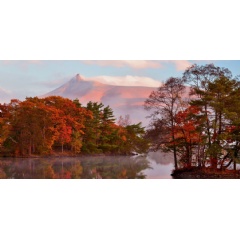 Exploring Japan's great north has just got even easier, with the launch of a brand new regional train pass by JR (Japan Railways).
Two branches of JR (Japan Railways), JR Hokkaido and JR East, have together launched the JR Tohoku-South Hokkaido Rail Pass, a special discount pass allowing holders to make unlimited journeys by train in the areas covered by both companies. 
Operating on a 'Flexible 5-day' system, the pass allows holders to travel on trains in the Tohoku and South Hokkaido areas in northern Japan on any 5 days of their choice during the 14-day period from the day the pass is issued.* The pass covers a wide area, including  the southern part of Hokkaido, the most northern of Japan's four main islands, and the Tohoku region, which lies sandwiched in between the north of Tokyo and south of Hokkaido.
The pass can be used on almost all trains, including the shinkansen (bullet train), in the covered areas, which include the key tourist areas of Sapporo, Hakodate and New Chitose Airport. It allows unlimited use of trains within a wide area of northern Japan, including the bullet train and limited express trains (ordinary car, reserved seating section), express trains, and local trains on the JR Hokkaido lines, JR East lines (BRT included), the Aoimori Railway Line, the Iwate Galaxy Railway (IGR) Line, and the Sendai Airport transit Line, within the free usage area.
With unlimited rides on some of Japan's fastest trains, the new pass enables visitors to the country's great north to transfer swiftly and easily between top regional destinations in northern Japan. These include Sapporo and Hakodate in southern Hokkaido and Sendai and Aomori in the Tohoku region. It is also convenient for travellers arriving in Hokkaido or Tohoku by airplane, as it covers travel between regional airports and the nearest big cities, such as Sapporo's New Chitose Airport and the greater Sapporo area in Hokkaido, and between Sendai Airport and the greater Sendai area in Tohoku.
The pass can be purchased either outside or inside Japan, but is slightly cheaper if purchased prior to arrival in Japan. When purchased outside Japan, it costs 19,000 jpy / 127 gbp for adults (ages 12 and up) or 9,500 jpy / 63 gbp for children (ages 6-11). When purchased within Japan, it costs 20,000 jpy / 134 gbp for adults and 10,000 jpy / 67 gbp for children. It can be purchased at major stations and airports in Tokyo and the north of Japan, including Tokyo, Shinjuku, Sendai, Sapporo, and Hakodate Stations and Narita, Haneda and Shin-Chitose Airports.
The pass is on sale from January 2018 through to the end of March 2019 for use from February 2018 to mid-April 2019.** It is available to foreign nationals who are holders of non-Japanese passports, who have entered Japan on a "Temporary Visitor" visa for stays in Japan of no longer than 90 days.*** 
When travelling around northern Japan, the JR Tohoku-South Hokkaido Rail Pass is simply too good to pass up! For more information on the new pass, how to purchase it, and where you can travel using it, visit www.jreasthokkaido.com/tohokuhokkaido/
 Discover Northern Japan with JR's New Pass!So, where can you visit with the new JR Tohoku-South Hokkaido Rail Pass? Here are some suggestions for some of the major destinations in northern Japan that you can visit with the pass, but there are plenty more! 
Today, Sendai is the largest city in the Tohoku region as well as one of Japan's fifteen largest cities, but formerly it was the stronghold of one of Japan's most powerful feudal lords, Date Masamune. Many of Sendai's top tourist attractions relate to the Date family, including gorgeously lavish temples, shrines and a mausoleum. 
If you're in town in early August, you'll also catch the Sendai Tanabata Festival, the largest and most famous iteration of this beloved summer star festival in Japan. During the festival, the entire town is decked out in colourful paper streamers and other decorations, and the occasion is marked with parades, concerts, music and dance performances, street food markets and fireworks displays.
Find out more about what there is to do in Sendai and the surrounding area here: www.seejapan.co.uk/press-release/consumer/2017/10/13/a-michelin-starred-bay-and-7-other-places-to-visit-in-miyagi 
Morioka
Come to Morioka, Iwate Prefecture's capital city, if you like noodles - oodles and oodles of them! Just 2.5 hours from Tokyo by bullet train, here noodle-lovers can have their noodles served every which way, from spicy to cold and everything in between. The city is also home to what must be one of the most bizarre belly-busting eating challenges in the world - the Wanko soba noodle challenge. 
Find out more about the Wanko soba challenge and other things to see and do in Morioka and the surrounding area here: www.seejapan.co.uk/press-release/consumer/2017/10/06/6-things-to-do-and-see-in-iwate 
Aomori
Ask any Japanese person, and they'll tell you that Aomori is famous for apples - but there is so much more than apples to Aomori. As the orchard of Japan, the prefecture offers ample opportunities for apple-picking and cider-quaffing, but it is also home to one of Japan's top cherry blossom viewing spots at Hirosaki Castle as well as one of its most impressive summer festivals in the form of the breath-taking Aomori Nebuta Festival.
Add on back-alley dining opportunities, modern art and ancient history sites side by side, and mind-blowing outdoor experiences such Hakkoda's lurking 'snow monsters' and Inakadate's rice paddyfield art, and Aomori will keep you coming back for more time and time again.
Find out more about what there is to see and do in Aomori and the surrounding area here: www.seejapan.co.uk/press-release/consumer/2017/09/18/8-things-to-do-in-aomori-japan-s-apple-prefecture 
Hakodate
Located at Hokkaido's southern top, the port city of Hakodate is the gateway to Japan's northern island and boasts a unique history as one of the first Japanese ports to open up to outside trade and influence after Japan's self-imposed period of isolation (sakoku). Today, the city is most famous for its ocean-fresh seafood, spectacular night views and traces of handsome, frontier-era architecture such as the jaw-dropping star-shaped Goryokaku Fort.
For a suggested sight-seeing route of Hakodate and a sneak peek of aerial views of magnificent Goryokaku Fort during the cherry blossom season, see here: www.seejapan.co.uk/press-release/consumer/2017/09/04/8-things-to-do-in-hakodate-the-gateway-to-hokkaido 
SapporoThe capital of Hokkaido and Japan's fifth largest city, Sapporo is also one of the country's youngest cities. The island of Hokkaido has been inhabited by indigenous people such as the Ainu since before recorded history began. However, in the late 1800s, Hokkaido's large-scale modern development was begun by the Japanese government, and Sapporo was chosen as the island's capital city. Foreign specialists, town planners, and architects were consulted during the city's development, resulting in a layout and architecture that is quite different to many other major Japanese cities. 
Spot examples of Sapporo's distinctive historical public architecture, enjoy a stroll in its urban greenery and sample some of its standout local foods on this suggested walking route, which takes in some of central Sapporo's biggest and best sights: www.seejapan.co.uk/press-release/consumer/2017/08/09/stroll-through-sapporo-8-things-to-do-in-central-sapporoRenewal of JR Hokkaido's Website
JR Hokkaido's official website has been redesigned and optimized for even easier and more convenient smartphone browsing. Check it out at www2.jrhokkaido.co.jp/global/index.html
*The day the pass is issued is either: the day it is exchanged (for passes purchased outside of Japan) or the day when it is sold (for passes purchased in Japan).
**Exact dates of sales period: Friday, January 5, 2018 to Sunday, March 31, 2019 (Thursday, February 1, 2018 to Sunday, March 31, 2019 for sales/exchanges made within Japan)
Exact dates of period of use: Thursday, February 1, 2018 to Saturday, April 13, 2019
***Purchasers will be asked to show their passports for eligibility confirmation purposes at the time of exchange or purchase.
( Press Release Image: https://photos.webwire.com/prmedia/7/220446/220446-1.jpg )
Related Links
WebWireID220446

This news content was configured by WebWire editorial staff. Linking is permitted.
News Release Distribution and Press Release Distribution Services Provided by WebWire.