Uncommon.co Launches Recruiting Industry's First Qualification-Based Talent Marketplace
Founded by entrepreneurial pioneers of data and automation with over $1B in exits, Uncommon.co comes out of beta with $18M in funding, and is already trusted to help find talent for Gap, Aflac, and Lyft

PALO ALTO, Calif. –
WEBWIRE
–
Thursday, February 15, 2018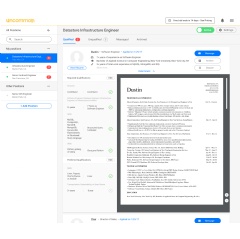 Today, Uncommon.co announces Uncommon IQ, the industry's first qualification-based talent marketplace that connects job seekers, employers, and job sites in a fully-automated, transparent and objective way. 
Using a proprietary AI algorithm to analyze career paths, experience, skill level and job interest, Uncommon IQ gives recruiters on-demand access to applicants that meet or exceed every job requirement and are ready to be interviewed, eliminating the costly and manual inefficiencies of traditional sourcing. 
Check out a video of how easy it is to use Uncommon IQ here: https://www.youtube.com/watch?v=_hzh08DotQE
Uncommon IQ also puts job seekers on the fast track to employment by allowing them to apply with confidence for jobs for which they know they are qualified. Uncommon.co candidates are 12 times more likely to be invited to an interview as they appear in a short list of pre-qualified candidates. For job sites who service both job seekers and employers, this enables them to provide a better experience and maximize revenue. 
For decades, the recruiting industry has been operating in the dark with no easy or effective way of connecting the right candidates to the right job positions. With the growth in online job boards and marketing sites, job seekers can easily apply to dozens of positions with a single click, but rarely hear anything back about their application. Employers blindly pay the outdated Cost Per Click (CPC) fee for every submission, then spend hours screening hundreds of resumes only to find a few that are actually qualified and interested in the job position.
"When I was hiring for my previous companies, I was stunned at how finding talent was based on a 'needle in a haystack' approach," said Teg Grenager, CEO of Uncommon.co. "Now, we're creating what I wish I had then: a simple and effective way to connect with only qualified applicants who are ready to be interviewed, allowing recruiters to spend less time sourcing and more time hiring great talent."
Using AI technology trained on over 50 million career paths, Uncommon IQ analyzes applicant resumes for hard skills, like expertise in data science or kinesiology, by looking for factors like degrees attained or years in a role; soft skills, like creativity and entrepreneurship, are found by extrapolating skills necessary for success in past jobs. 
With Uncommon IQ's first-of-its-kind Cost Per Interested & Qualified (CPIQ) pricing model, customers are only charged when a fully qualified candidate applies for a specified open position, and can even challenge irrelevant resumes for an immediate refund.
"My recruiting efforts typically consisted of posting positions on various job sites and then sifting through hundreds of applicants -- with most of them being unqualified," said beta customer Galia Schwarz, VP Business Development at Resonai. "With Uncommon.co, I am able to post my position in one place and know that they will take care of all the sourcing and screening for me. It's centralized and easy to use!"
"Uncommon's technology is unleashing a much-needed transformation in the job market." explained Amir Ashkenazi, Founder, President and Chairman of Uncommon.co. "The job market has not changed much since the classified ads era -- basically a black box for those on both sides of the hiring equation. At Uncommon.co, we're using best-in-class technology to fix the unfair, broken recruiting system and empower job seekers to find meaningful opportunities suited to their skill sets, while helping employers level the playing field for applicants and find the best talent. It's a win-win."
The company is also announcing $18 million in Series A funding from Canaan Partners, Spark Capital and Zeev Ventures. "Today's recruitment system is broken—the process is slow and rife with bias and it's stagnating growth for companies of all sizes, across industries," said Santo Politi from Spark Capital. "That's why I'm excited about what the team at Uncommon.co has created: a guaranteed solution for finding qualified talent on demand. They have created a system that will soon become the status quo and will disrupt the $428 billion global staffing industry."
"I've known Amir for almost 20 years, since our days at Shopping.com and I worked with both Amir and Teg on their prior startup Adap.tv. Together, we all experienced directly just how awful the recruiting experience can be," said Dan Ciporin, General Partner at Canaan. "I am thrilled to back Amir and Teg again with Uncommon, as they transform recruiting with a solution that finally gives companies only the candidates they want and gives job-seekers exactly the role they are looking for – at a company that wants to hire them."
Uncommon.co is led by Amir Ashkenazi and Teg Grenager, veteran entrepreneurs with extensive experience creating market-ready B2B products that eliminate marketplace inefficiencies. The team previously worked together to start programmatic video advertising startup Adap.tv, acquired by AOL for $405 million, the company's largest acquisition at the time. Ashkenazi also founded Shopping.com, which was acquired by eBay for $634 million. 
About Uncommon.co:
Uncommon.co is on a mission to deliver life-changing opportunities by removing obstacles that stifle employment prospects, to help people and businesses grow. Founded in 2016 by Amir Ashkenazi, a serial entrepreneur with a combined $1B+ in exits, Uncommon IQ is the industry's first qualification-based marketplace. Using a proprietary AI algorithm to analyze career paths, experience, skill level and job interest, Uncommon.co gives employers on-demand access to applicants that exceed every job requirement and are ready to be interviewed. 
 
Uncommon.co is based in Palo Alto, California. Learn more about Uncommon.co at Uncommon.co
( Press Release Image: https://photos.webwire.com/prmedia/42381/220369/220369-1.png )
WebWireID220369
Contact Information

Lauren Volkmann
Account Manager
VSC for Uncommon.co

This news content may be integrated into any legitimate news gathering and publishing effort. Linking is permitted.
News Release Distribution and Press Release Distribution Services Provided by WebWire.