Virgin Media reports preliminary Q4/ full year 2017 results
Rebased Revenue Growth of 4.4% in Q4
Total Lightning Build Over 1.1 Million, 159,000 Premises Added in Q4
WEBWIRE
–
Thursday, February 15, 2018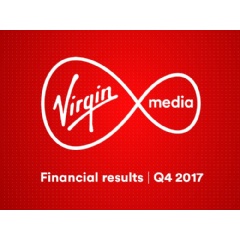 Virgin Media Inc. ("Virgin Media") is the leading cable operator in the U.K. and Ireland, delivering 14.4 million broadband, video and fixed-line telephony services to 5.9 million cable customers and mobile voice and data services to 3.1 million subscribers at December 31, 2017.
Operating highlights:
2017 RGU additions of 336,000 were up 34% YoY, driven by increased growth in our Lightning footprint, which represented 74% of 2017 RGU growth
- Q4 RGU additions of 8,000 were lower than the prior year, as improved performance in new build areas was offset by reduced growth in our existing footprint, reflecting our structured approach to promotions
- Focus on customer satisfaction led to an 8% YoY reduction in RGU disconnections in Q4, giving rise to a 30 basis points improvement in customer churn to 15.2% from Q3 to Q4
- Broadband RGU additions of 196,000 in 2017 included 25,000 additions in Q4. The profile of our broadband base continues to improve with more subscribers taking higher speeds
70% of broadband base now on speeds of 100+ Mbps, up from 52% a year ago
2.9 million or 53% of our broadband subscribers now have our best-in-class WiFi router
Plan to increase top U.K. consumer broadband speed to 350 Mbps from Spring 2018
- Added 86,000 Video RGUs in 2017, compared to a 36,000 loss in 2016
Over one million subscribers, 27% of our U.K. video base, have taken our

V6

set-top box since our December 2016 launch;

V6

subscribers have meaningfully higher NPS
Accelerating take-up of the

V6

box with the launch of a customer upgrade programme
Innovative 36-month Freestyle contracts and attractive 4G propositions supported strong postpaid mobile additions of 63,000, up 10x YoY. Total mobile net additions increased by 33,000 in Q4 as postpaid growth was partially offset by low-ARPU prepaid mobile losses
- 4G subscriptions now represent 55% of our postpaid mobile base
- Strong start for SIM migration to our full-MVNO platform in the U.K. which commenced in November; expect SIM migration to be completed by the end of 2019
B2B revenue growth was fueled by a 7% increase in the SOHO RGU base in Q4
- Q4 contract wins include a five-year, multi-million pound contract with TUI, the multinational travel company, for full fibre connectivity across the U.K. and Ireland
Added 536,000 Project Lightning marketable premises during 2017, taking total build since launch to over 1.1 million
- Lightning penetration, ARPU and cost per premise continue to be indicative of attractive returns
Implementation of our November U.K. consumer price rise led to 1% sequential growth in cable ARPU in Q4, a period in which we also experienced a sequential reduction in customer churn
Financial highlights:
Rebased1 revenue growth of 4% in Q4 and 2% for 2017 was driven primarily by growth in residential and SOHO RGUs; our Q4 revenue performance was also helped by a return to growth in mobile
- Q4 monthly cable ARPU at £50.29 was relatively flat YoY on a rebased basis
Rebased residential cable revenue growth of 2% in Q4 and 2.5% for 2017 reflects higher subscription revenue driven by RGU growth and higher non-subscription revenue due to higher installation revenue
Residential mobile revenue increased 17% in Q4 but declined 2% for 2017 on a rebased basis
- Q4 performance reflects a 64% rebased mobile non-subscription revenue increase driven by higher handset sales, partially offset by a 7% rebased mobile subscription revenue decline
- 2017 mobile subscription revenue declined 9.5% on a rebased basis primarily due to £78 million less revenue from our U.K. subsidised handset base, partially offset by a £31.5 million revenue increase from our U.K. Freestyle Split-Contract base
B2B revenue increased 6% in Q4 and 4% for 2017 on a rebased basis driven by higher SOHO revenue and a modest increase in B2B non-subscription revenue
Operating income decreased by £54 million in Q4 and £133 million for 2017 as an improvement in Segment OCF was more than offset by higher depreciation and amortisation charges, higher related-party fees and allocations and increased impairment, restructuring and other operating items
Rebased Segment OCF growth of 5% in Q4 and 4% for 2017 reflected the net effect of (i) increased revenue, (ii) higher handset and programming spend, (iii) higher network taxes following an April 1, 2017 increase in the rateable value of our U.K. and Irish networks (£8.5 million higher in Q4 and £25.5 million higher for 2017), (iv) an £8 million benefit in Q4 and a £30 million benefit for 2017 associated with a telecom operator's agreement to compensate Virgin Media for certain prior-period contractual breaches related to network charges and (v) lower staff-related and marketing costs
Property and equipment additions increased to 34% of revenue in Q4 and 2017 compared to 38% in Q4 2016 and 27% for 2016
 - 2017 property and equipment additions increased due to higher investment in (i) customer premises equipment as we began the roll out of our

V6

set-top box, (ii) new build arising from a 71% YoY increase in Lightning premises released and (iii) baseline expenditures
As of December 31, 2017, our fully-swapped third-party debt borrowing cost was 4.6% and the average tenor of our third-party debt (excluding vendor financing) was 7.4 years
- In November, we refinanced our senior credit facilities by entering into (i) $3.4 billion (£2.5 billion) Term Loan K due 2026 and (ii) £400 million Term Loan L and £500 million Term Loan M, each due 2027. Net proceeds were used to repay our existing Term Loan I and Term Loan J. These transactions extended the life of the relevant facilities by more than one year and reduced the associated borrowing costs by 25 basis points
At December 31, 2017, and subject to the completion of our corresponding compliance reporting requirements, the ratios of Senior Secured and Total Net Debt to Annualised EBITDA (last two quarters annualised) were 3.55x and 4.48x, respectively, each as calculated in accordance with our most restrictive covenants
As of December 31, 2017, we had maximum undrawn commitments of £675 million. When our compliance reporting requirements have been completed and assuming no changes from December 31, borrowing levels, we anticipate that the full £675 million will continue to be available to be drawn
( Press Release Image: https://photos.webwire.com/prmedia/7/220321/220321-1.jpg )
Related Links
WebWireID220321

This news content was configured by WebWire editorial staff. Linking is permitted.
News Release Distribution and Press Release Distribution Services Provided by WebWire.